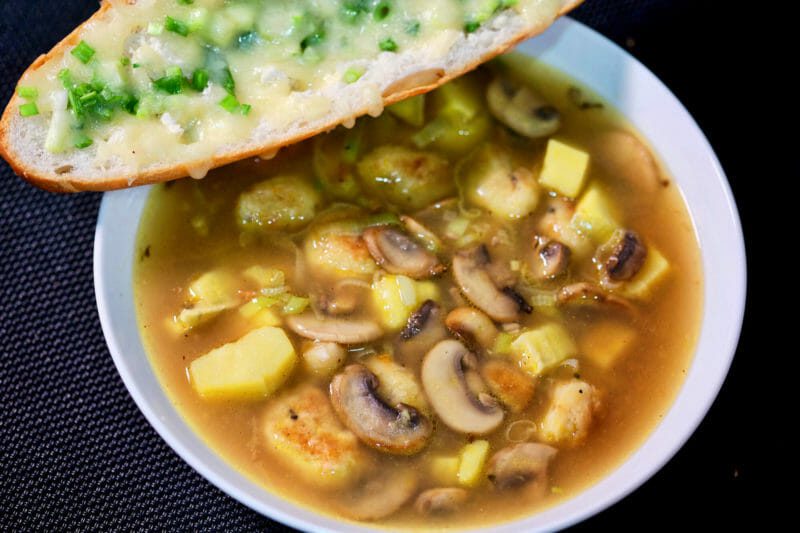 A hearty potato mushroom broth, great for the winter months. The sweet potato, mushrooms, and leeks add their own distinctive notes to the underlying beef stock. Though don't underestimate the contribution of the roasted garlic.
I strongly encourage you to make your own beef stock. It means a bit more pre-planning and prep work, but the stock will be so much better. Make way more than you need and freeze it for next time. There is no shortage of such recipes on the web. Here is my preferred beef stock recipe, though I am very tempted by this 48 Hour Beef Bone-Marrow Broth.
Roasted garlic is great on its own, with biscotti or baguettes, or for the sweetness and umami character it adds to this sweet potato mushroom broth. Instructions for preparing it are here.
I have become a fan of using egg yolks as a thickener. Whisk them into a 1/2 cup of cold stock and add that to the soup towards the end of the process. Using egg yolks results in a velvety soup texture, quite different from that resulting from using cornflour.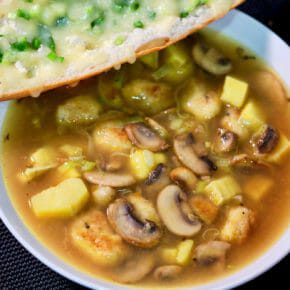 Sweet potato mushroom broth
Print Recipe
Ingredients
Broth
6

cups

beef stock

200

g

fresh shiitake mushrooms

1

cup

stalks and off-cuts from the button mushrooms

2

egg yolks

1

Tbsp

fish sauce

1

tsp

freshly ground black pepper
Vegetables
3

large sweet potatoes

3

medium leeks

200

g

button mushrooms

200

g

gnocchi

You could leave this out, but it does add a great texture

1

head garlic

20

g

butter

2

Tbsp

olive oil
On the side
4

baguettes

1/2

cup

spring onions

finely chopped

1/2

cup

mozzarella

grated
Instructions
Broth
Wipe or rinse the shiitake mushrooms and mushroom off-cuts to remove any grit.

Reserve 1/2 cup of cold beef stock and whisk in the egg yolks. Set aside.

Add the beef stock, fish sauce, pepper, shiitake mushrooms and mushroom off-cuts to a saucepan.

Bring the stock and mushrooms to the boil then reduce to a simmer and simmer for 40 minutes.

Strain the broth and check seasoning. Add salt if necessary.

Set aside to cool a little.
Vegetables
Brown the gnocchi in a little oil and set aside.

Dice the button mushrooms and saute in 10 g butter until soft (about 7 minutes). Set aside.

Clean and finely dice the leeks (the white and light green portion).

Saute the diced leeks in 10 g butter until soft, about 10 minutes. Set aside.

Allow the roasted sweet potatoes and garlic to cool a little after finished roasting.

Peel the sweet potatoes then dice into 10mm x 10mm pieces.

Squeeze the cloves of garlic out of the head, trying to keep them intact.
On the side
Slice the baguettes length wise.

Sprinkle with finely chopped spring onions and grated cheese.

Bake in the oven at 180 degC until the cheese is melted.
Assembly
Stir the egg yolks into the broth and bring back to a simmer. The yolks will cause the broth to thicken a little.

Add the diced sweet potatoes, leeks, button mushrooms, and gnocchi (if using) into the broth. Bring back to a simmer and simmer for 10 more minutes.

Spoon the broth and vegetables into a bowl, add several cloves of roasted garlic, and serve with a baguette.