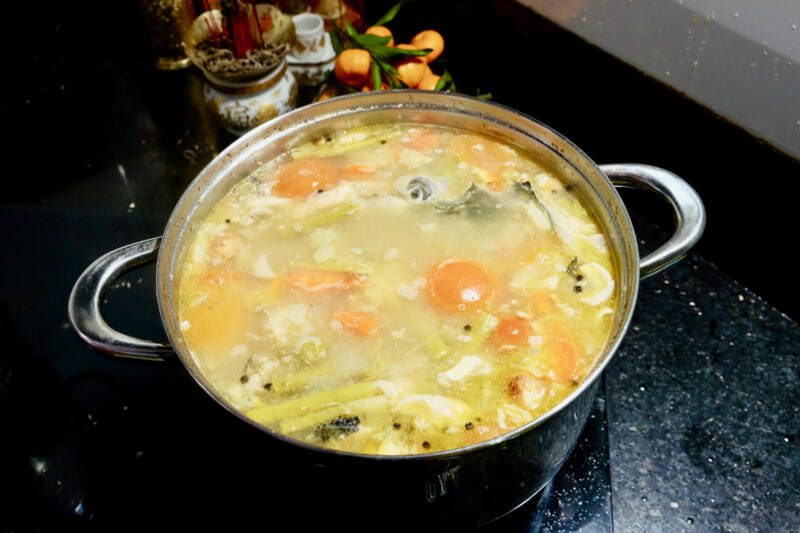 You will need a good fish stock to make seafood chowder, seafood curry, seafood pie, or salmon miso soup. This salmon head stock also includes salmon bones and a lot of vegetables.
Salmon heads
Most western cuisines do not make use of fish heads. Often they are just discarded or frozen and shipped to Asia. In Asia, fish heads are considered a delicacy. With the deep flavours and delicate flesh that comes from the head, it is not surprising why. Read more in this NPR article on why we should quit tossing fish heads.
You will likely find salmon heads in any supermarket that serves Asian communities. They will be in pride of place next to the much more expensive salmon fillets. Two crucial points: Ensure they are fresh or freshly defrosted, and remove the gills if they have not been already. They don't taste good.
Vegetables
Which vegetables you use in this salmon head stock is mostly about availability. Those used in this recipe work great in stocks, are widely available and are cheap. Feel free to use other vegetables as well. Fennel is a favourite of mine for stocks, especially fish stock, though it is harder to find and a little expensive. Corn on the cob works well. Also, cobs that have already had the corn kernels removed. There are still a lot of flavours to extract.
A good practice is to keep vegetable off-cuts in the freezer for your next stock. Whenever I cook asparagus, I cut off the woody ends, blanch them for a few seconds in boiling water, then freeze them for use in a future stock. The de-kernelled corn cobs is another example, as are inedible mushroom stalks.
Not all vegetables will make a positive contribution to this salmon head stock. I would avoid using cabbage, cauliflower, brussel sprouts, or anything bitter.
Put aside what you need for your dish today or tomorrow, and once cool, transfer the rest to plastic bags or containers and freeze. Perhaps not quite as versatile as chicken stock, a good seafood stock is nonetheless an essential ingredient to have on hand.
Did you see the salmon eye peering above the surface of the stock?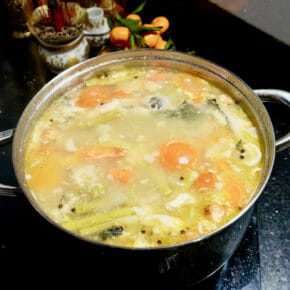 Salmon head stock
Print Recipe
Ingredients
1

kg

Salmon head and other bones

4

leeks

washed, trimmed, washed, and finely diced

1

large onion

peeled, finely chopped

10

cloves

garlic

5

stalks

celery

leaves discarded, washed and finely diced

5

carrots

washed and finely chopped

4

tomatoes

quartered

1

Tbsp

black peppercorns

2

bay leaves

10

g

butter

1

Tbsp

olive oil

3

litres

water
Instructions
Add the butter and olive oil to a large saucepan and put over a medium low heat until the butter melts

Add the onion, celery, leeks, carrots, and garlic to the saucepan

Sauté the vegetables until they start to soften, about 10 minutes. We want them to sweat, but not to brown.

Add the salmon head and bones to the saucepan. Cover and continue to sweat for 5 more minutes.

Add 3 litres of water to the saucepan, together with the tomatoes, bay leaves, and pepper.

Bring to the boil then reduce to a simmer. You should only see an occasional bubble.

Cook on a low simmer for 45 minutes, skimming off any froth as it accumulates on the top.

Allow to cool for 30 minutes, then strain through a fine strainer.

Use, or keep in the refridgerator once cool enough, or freeze for use at a later date.