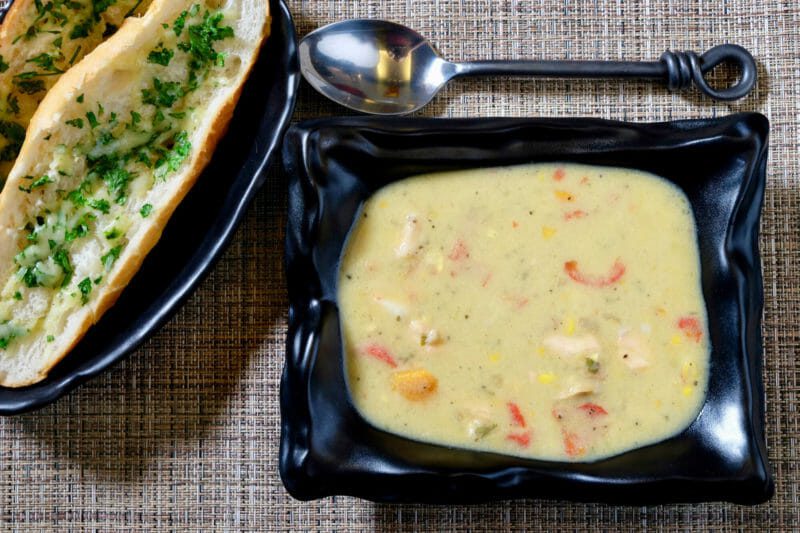 The base of this salmon chowder with coconut milk is a salmon head stock. Its great depth of flavour works with the coconut milk, mussels, and just-cooked salmon fillet to deliver a very comforting fish chowder.
I had a "taste defining" seafood chowder in San Francisco years ago and have been trying to recreate something as satisfying ever since. This one satisfied that craving. In reality, this seafood chowder bears little resemblance to what I enjoyed in San Francisco. For a start, the San Francisco version had clams, and I used mussels. But it is at least as satisfying. Those sourdough bread "bowls" used at many San Francisco outlets will have to stay on the to-do list for now.
The importance of stock
The stock is such an important component. Of course, you could use a good chicken or vegetable stock, but taking the time to prepare a big batch of salmon head stock will be so worth it. There really is no substitute for making it yourself, as is also the case with beef, pork, and chicken stock. Make a big batch and freeze what you don't use. Whether you are making seafood chowder, fish pie, or a salmon miso soup, that little extra effort will yield superior results.
Three ways this salmon chowder differs:
Using coconut milk instead of the dairy variety. Not only does coconut milk contribute its own distinct flavour, but it also brings many health benefits to this fish chowder.
Using mussels instead of clams. Specifically, New Zealand green-lipped mussels bought frozen in the half-shell are used in this chowder. These are big juicy, succulent mussels, perfect for seafood chowder.
Using egg yolks as a thickener. I really like this thickening technique. Using cornflour works, but whisking egg yolks into a cold ingredient (in this case, the coconut cream) before adding to the broth creates a superior mouthfeel. Give it a try.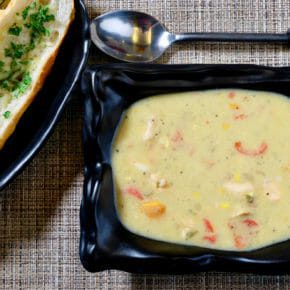 Salmon chowder with coconut milk
The base of this salmon chowder with coconut milk is a salmon head stock. Its great depth of flavour works with the coconut milk, mussels, and just-cooked salmon fillet to deliver a very comforting chowder.
Print Recipe
Ingredients
1

onion

finely diced

5

cloves

garlic

finely diced

10

g

butter

3

cups

salmon head stock

3

cups

water

1

400 ml can coconut milk

2

Tbsp

fish sauce

1

tsp

freshly ground black pepper

300

g

salmon fillet

10

mussels

pre-cooked and shelled

8

crab sticks or crab balls

2

cobs sweet corn

2

medium sweet potatoes

2

egg yolks

2

red peppers

or 1 red and 1 orange

1/2

cup

parsley finely chopped

1/2

cup

gruyere cheese grated

5

baguettes
Instructions
Roast the red peppers for 40 minutes at 190 degC.

Allow to cool then remove any loose skin and dice.

Wash the corn cobs and remove any stringy bits.

Peel the sweet potatoes and cut into quarters.

In a large saucepan, add 10g butter and finely diced onion and sauté until soft.

Add the garlic and continue to sauté until fragrant.

Add the 3 cups of water then drop in the corn cobs and the sweet potatoes. Return to the boil.

Remove the corn cobs after 8 minutes drain and allow to cool.

Remove the sweet potato when soft and allow to drain.

Simmer until the stock has reduced to 2 cups.

Add the salmon head stock.

Remove the corn kernels from the cobs and add them to the saucepan.

Add the diced red peppers to the saucepan.

Mash the sweet potatoes and add to the saucepan.

Add the fish sauce to the saucepan.

Bring back to a simmer, reduce heat, and simmer for 15 minutes, stirring occasionally.

Remove salmon skin if necessary and dice the salmon into roughly 15cm x 15cm pieces.

Dice the mussels into quarters.

If using crab sticks, dice into thirds.

Add the egg yolks into the coconut cream and whisk until combined.

Add the coconut milk to the saucepan and return to a simmer, stirring gently but frequently.

Add the salmon, mussels, crab sticks (or balls) to the soup.

Continue to stir gently but frequently as it returns to a simmer.

Combine the grated gruyere and diced parsley.

Halve the baguettes length-wise. Sprinkle on the cheese-parsley mixture and grill for several minutes until the cheese is melting.