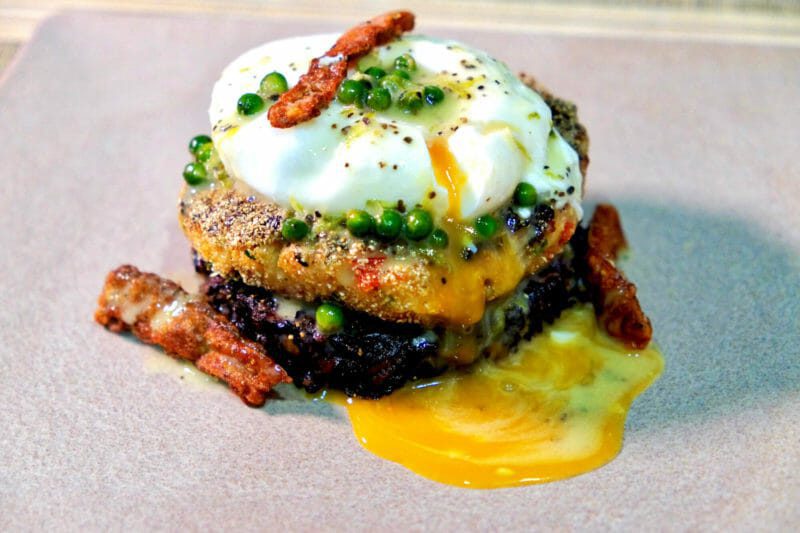 Reaction from those around the table: Make this again! The textures… chewy black rice, soft salmon cakes, crispy salmon skin, velvety egg yolk. The flavours… sweet, salty, sour, umami, and the mild heat of the green peppercorns. Wonderful. Add to favourites!
My wife is my ultimate critic. And critic she is. So when I get a complement, it means something. This dish, exploring some new ground, and not without some miss-steps along the way, will become a regular on the menu.
A couple of things I had to learn on this journey… There are some recipes for black rice cakes that says the gluten in the black rice is enough to hold them together. Maybe it was the brand of rice I used, but, that wasn't the case for me. I used an egg, together with the caramelised fennel, to hold the rice together. This worked, had a great texture, and was delicious!
You may not be able to get fresh green peppercorns. Vietnam grows and exports a lot of pepper. So fresh green peppercorns are easy to come by here. You should be able to easily find pickled green peppercorns though. They are widely available, at least in Asian markets.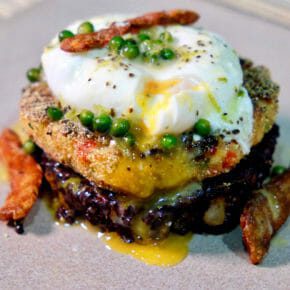 Crispy black rice cakes. Salmon cakes. Poached egg. Green peppercorn drizzle.
Print Recipe
Ingredients
Black rice cakes
1

cup

black rice

2

cups

water

2

tsp

salt

2

fennel bulbs

1

large egg
Salmon cakes
250

g

fresh salmon

skin on

150

g

smoked salmon

1

medium sized sweet potato

1

red pepper

small(ish)

1

small onion

5

cloves

garlic

10

g

butter

1

Tbsp

olive oil

1

Tbsp

mayonaise

1

lemon

juice plus zest from half the lemon

1/2

cup

parsley leaves

finely diced

1

large egg

1/2

cup

Panko breadcrumbs

1

tsp

freshly ground black pepper

1

tsp

fish sauce

or 1/2 tsp salt

1/2

cup

polenta
Poached eggs
4

eggs

as fresh as possible

1

Tbsp

white vinegar

2

tsp

salt
Green peppercorn drizzle
4

Tbsp

extra virgin olive oil

substitute 2 Tbsp with truffle infused oil if you like

zest from a lemon

juice from a lemon

1

Tbsp

fresh green peppercorns

crushed

1

Tbsp

fresh green peppercorns

while

1

tsp

Dijon mustard

1/2

tsp

smoked kelp

optional

1/2

tsp

salt
Instructions
Black rice cakes
In a medium saucepan, mix together the black rice, water, and salt.

Bring rice to a boil, then reduce heat to a simmer, cover, and cook until all the water is absorbed, about 40 minutes.

Turn off heat and allow to cool, keeping the cover on.

Refrigerate when cool. Can be cooked the day before.

Finely dice the fennel bulbs.

Sauté slowly over a low heat until they start to caramelize (turn a golden colour). Be careful not to burn them.

Lightly whisk the egg.

Mix the caramelized fennel and egg into the cooked black rice.

Rub some oil on your hands and form the rice into patties, pressing them together firmly.

Cover and refrigerate until required.

Fry in oil until crispy, about 3 – 4 minutes per side.
Salmon cakes
Wash the sweet potato and bake, skin on, for 1 hour.

Dice the red pepper into very small pieces. Dice a small onion into very small pieces. Add finely diced garlic.

Fry onion, pepper, and garlic in olive oil until softened. Let cool.

Peel the skin from the sweet potato and add the flesh to a bowl.

Remove the skin from the salmon and set the skin aside.

Dice the fresh salmon into 5mm chunks.

Dice the smoked salmon into 5mm pieces.

Lightly whisk the egg.

Add half the diced fresh salmon to the bowl with the sweet potato.

Use a potato masher to mash the sweet potato and salmon together.

Add to the bowl the fresh salmon chunks, the diced smoked salmon, lemon juice and zest, mayonnaise, egg, panko crumbs, parsley, sautéed onion and red pepper, fish sauce (or salt), and ground black pepper.

Mix together until all ingredients are evenly distributed.

Form into patties the same size as the black rice cakes, dust with polenta, cover and refrigerate until required.

Once the oil is hot, add the salmon patties to the pan, in batches, and cook for 3-4 minutes on each side until browned.
Green peppercorn drizzle
Combine all ingredients in a shaker and shake until combined and emulsified. Refrigerate.
Poached eggs
Immediately transfer to iced water to stop the cooking.

When ready to serve, reheat in hot (80 degC) water.
*Salmon skin
Cut the salmon skin from the fillet into 10mm strips.

Sprinkle with salt.

Heat olive oil in a skillet over medium high heat.

Add the salmon skin, skin side down.

Fry until crispy, then turn over and fry the fleshy side.

Drain on paper towels.
To Serve
Put a salmon cake on top of a black rice cake. Put a poached egg on top of the salmon cake. Add some crispy salmon skin. Drizzle with the green peppercorn drizzle.
Notes
Serve with a green salad. The green peppercorn drizzle can also serve as a salad dressing.