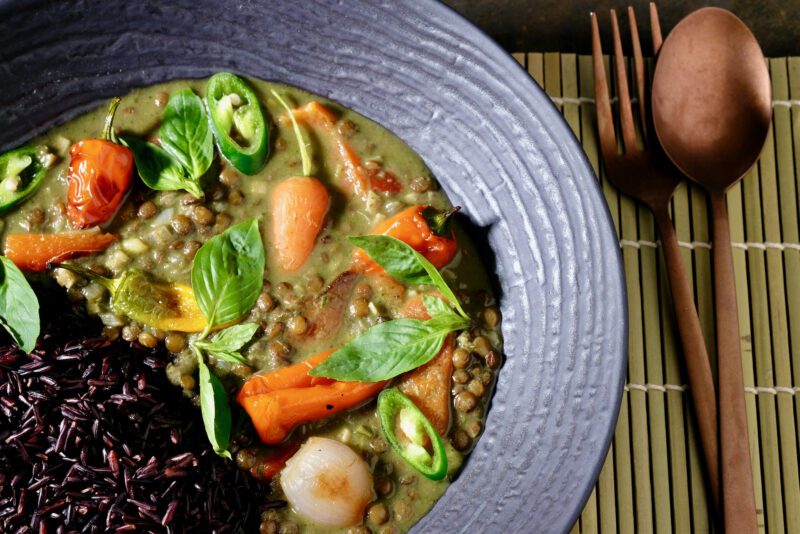 A vegetarian green lentil curry recipe so packed with flavor you will surely be ladling more of it over the satisfyingly chewy black rice.
Green lentils are not an ingredient that typically features in Thai cuisine. However, they do pair exceptionally well with the flavours of Thai green curry. While a Thai Massaman curry boldly exhibits its South Asian origins, Thai green curry is so much more a pure expression of Thailand.
South Asian curries are a complex interplay between many distinct spices. A Thai green curry, however, has an endearing simplicity. The combination of green chillies, shallots, garlic, lemongrass, galangal, and coriander root, are the key ingredients of green curry paste. Together with the ubiquitous coconut milk, we have a sparkling canvas to highlight the flavours of the vegetables, proteins, and herbs that we use to complete our dish.
Why Lentils?
Lentils are a legume that features prominently in South Asian, Middle Eastern, and Mediterranean cuisines, often in the form of a soup or stew. In South Asian cooking, and by extension, Fiji, Mauritius, and Singapore, lentils are a common ingredient in vegetable curries.
Lentils generally have quite an earthy taste. Green lentils, as used in this recipe, add peppery notes. Another type, red lentils, tend to be more sweet and nutty. Whichever variety, lentils should be classified as a superfood. They are rich in protein and nutrients, soluble fibre, and essential vitamins and minerals. Yet, they are low in calories. See this Healthline article for an in-depth analysis of the benefits of eating lentils.
What is black rice, and how to cook black rice?
Black rice is a variety of rice that, while incredibly healthy, also has a sweet and nutty flavour. In Southeast Asia, sticky black rice is a common ingredient in desserts. The East Asian variety, as used in this recipe, has additional fruity notes and a wonderfully chewy texture – a perfect complement to the softer texture of the lentil curry. 
This East Asian variety of black rice, in my experience, needs some special treatment to avoid ending up with a "gluggy" mass. I like my non-sticky rice to consist of distinct grains. The most failsafe way to achieve this is to steam the rice. This method will take a little longer but will result in separate grains that have retained their beautiful flavours and all their valuable nutrients. The time it takes, between 40 and 60 minutes, will depend on the condition of the rice itself, including its age.
How is Thai Basil different from Sweet Basil?
Thai green curries are typically served with Thai basil, as is phở in Vietnam. It is ubiquitous in markets and supermarkets across Southeast Asia. Sweet basil, common in Europe and North America, has a distinctly different taste. Thai basil has an anise flavour that is absent from sweet basil.
While these basil varieties are distinctly different, both taste amazing, and both work perfectly in this vegetarian green lentil curry recipe. If you cannot find Thai basil, by all means, use sweet basil.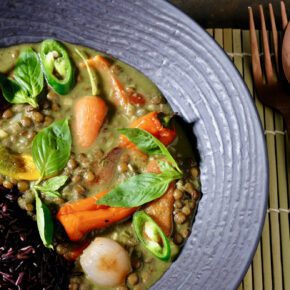 Green Lentil Curry with Black Rice
A vegetarian green lentil curry recipe so packed with flavor you will surely be spooning more of it over the satisfyingly chewy black rice.
Print Recipe
Ingredients
Green lentil curry
1

Tbsp

vegetable oil

6

green onions

1

onion, finely diced

4

cloves

garlic, finely diced

30

g

fresh ginger, finely diced

thumb sized piece

60

g

green curry paste

700

ml

vegetable stock

or brown chicken stock if not vegetarian

1/2

tsp

salt

or 1 Tbsp fish sauce if not vegetarian

150

g

green lentils

400

ml

coconut cream

1

cup

Thai basil leaves, coriander leaves, mint leaves

or sweet basil if you cannot get Thai basil
Toppings
Thai basil leaves

or sweet basil if you cannot source Thai basil

Fresh green chilli finely diced

Roasted red cocktail peppers

Roasted shallots
Instructions
Black rice
Use a steamer, or a colander that fits nicely into the top of a large saucepan, with a tight fitting lid. Lay a layer of muslin into the upper steamer container or collander.

Put the black rice on top of the muslin.

Add enough water to the saucepan (base of the steamer) in order for it to boil for up to an hour without boiling dry (about 4cm of water should suffice).

Add the lid and bring to a boil.

Steam until done. Start checking for doneness at about 40 minutes. It is done when the softness/chewiness is to your liking.
Green lentil curry
Separate the white sections from the green sections of the green onions.

Finely dice the white sections. Coarsely dice the green sections and set aside.

In a wok or skillet, sauté the onion and white parts of the green onions over a medium-low heat until softened.

Add the garlic and ginger and sauté until fragrant (2 minutes).

Add the green chilli paste, stir in and sauté until fragrant (another 2-3 minutes).

Rinse the lentils then add to the wok together with the vegetable stock and 1/2 tsp salt.

Simmer for 20 minutes or so, until the lentils are just cooked but not mushy.

While the lentils are simmering, in a blender combine the diced green onion, the cup of mixed herbs, and the coconut milk.

When the lentils are cooked, add the coconut milk and herb mixture to the wok.

Return to a low simmer and test seasoning. Add more salt (or fish sauce if not vegetarian) to taste.

Simmer for 5 minutes and it is ready to serve.
Plating
Add a portion of steamed black rice to each bowl.

Ladle in some green lentil curry.

Top with finely diced green chilli, roasted red cocktail peppers and shallots, and fresh basil.