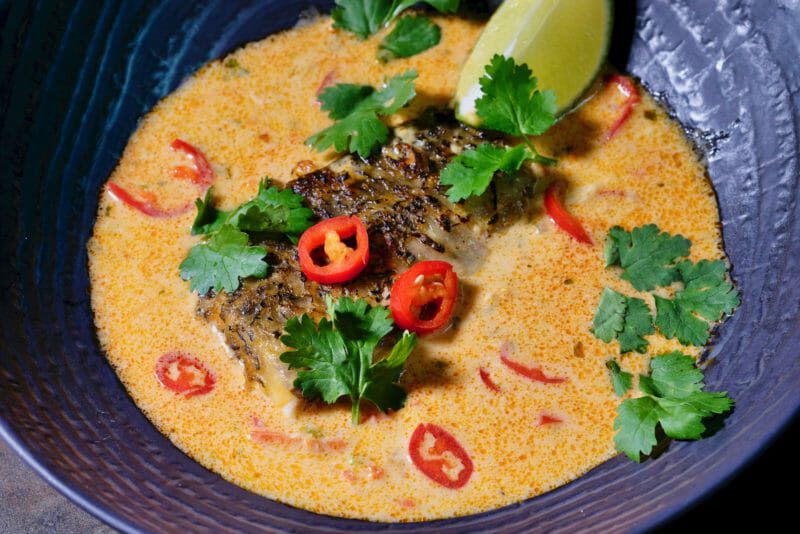 This Thai red fish curry takes a succulent fillet of barramundi and poaches it in a lively broth of coconut milk and Southeast Asian flavours. Healthy and so delectable.
Barramundi
Barramundi is also known as Asian sea bass and is a close relative of Chilean sea bass. Caught around northern Australia and Indonesia, it also lends itself to sustainable ocean fish farming. Perhaps due to its shellfish diet, it is a delicious fish with a firm and succulent texture. And, it has the highest proportion of omega-3 fatty acids among any white flesh fish.
Recently an Australian company, The Better Fish®, has started exporting frozen barramundi fillets around the world. Buying packaged frozen fish can be a hit-and-miss affair. Often the fish ends up dry and bland tasting once cooked. Not so with this barramundi. Thawed overnight in the refrigerator, it emerged from the packaging looking and smelling like a piece of freshly filleted fish. And when cooked – buttery and succulent.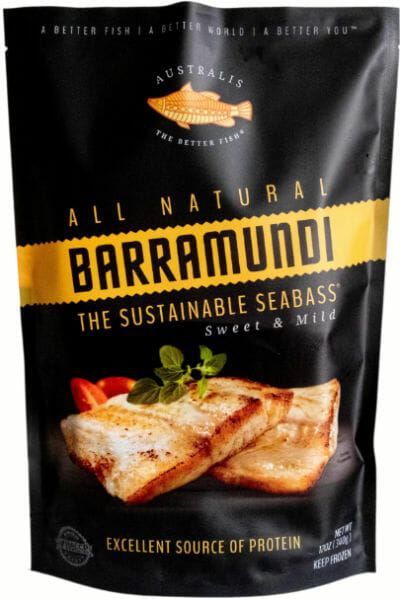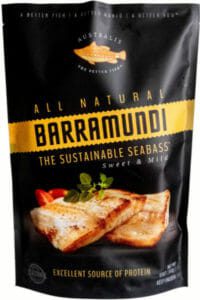 Thai red curry
When making a Thai curry, the big question is whether to prepare the curry paste yourself or buy a packaged curry paste. With easy access to good quality Thai curry pastes throughout North America, Europe, and Australasia, you would only make your own if you had the time and patience to pound the ingredients in a mortar and pestle until smooth. Taking the time to make your own Indian curry spice mixes is absolutely worthwhile, but for Thai curries, I tend to convenience.
However, be sure to buy authentic Thai curry pastes – those produced in Thailand. In Europe, look for the deSiam brand. I used their red curry paste for this dish and their Massaman curry for this confit duck leg curry. In North America, the Mae Ploy brand is a great choice. Again, beware of Thai curry pastes not made in Thailand.
Serve with rice
I live in Asia, where rice is effectively sacred. Even so, I generally avoid eating white rice – empty calories – though I make an exception for dishes such as this Thai red fish curry. The broth is so tasty you really do need something to soak up that goodness before putting it in your mouth.
Thai Red Fish Curry featuring Barramundi
This Thai red fish curry takes a succulent fillet of barramundi and poaches it in a lively broth of coconut milk and Southeast Asian flavours. Healthy and so delectable.
Print Recipe
Ingredients
Barramundi in Thai Red Curry
400

g

barramundi fillets

Australis Barramundi

2

Tbsp

vegetable oil

1

onion, finely diced

2

large mild red chillis, pips removed and diced

2

Tbsp

crushed garlic

1

Tbsp

grated fresh ginger

3

Tbsp

Thai red curry paste

300

ml

salmon head stock

or other fish stock

400

ml

coconut milk

1

Tbsp

fish sauce

1

juice of a lime

50

ml

salmon head stock

or water

1

Tbsp

cornflour
Garnish
Large red chilli, diced

Quarters of a lime

Coriander
Instructions
Barramundi in Thai Red Curry
Heat 1 Tbsp oil in a skillet

When smoking, lay the barramundi fillets in the skillet, skin side down.

Sear for 2-3 minutes until skin has become crisp. Reduce to a medium-low heat, remove the fillets from the pan and set aside.

Add the other Tbsp of vegetable oil to the pan together with the onion and diced chilli.

Sauté until the onion has softened.

Add the crushed garlic and grated ginger. Sauté until very fragrant, about 2 minutes.

Add the 3 Tbsp Thai red curry paste and stir to combine.

Slowly add the salmon head stock, stirring so that no lumps remain.

Add the coconut milk and fish sauce.

Bring the curry up to a simmer and simmer for 5 minutes.

Add the barramundi fillets to the pan, skin side up.

Poach the barramundi fillets until they reach an internal temperature of 60 degC.

Stir the Tbsp cornflour into the 50 ml salmon head stock to create a slurry.

Remove the barramundi fillets from the curry.

Stir the cornflour slurry into the coconut curry, together with the lime juice, stirring until it thickens a little.
Plating
Serve with sliced red chilli, coriander leaves, and a wedge of lime.