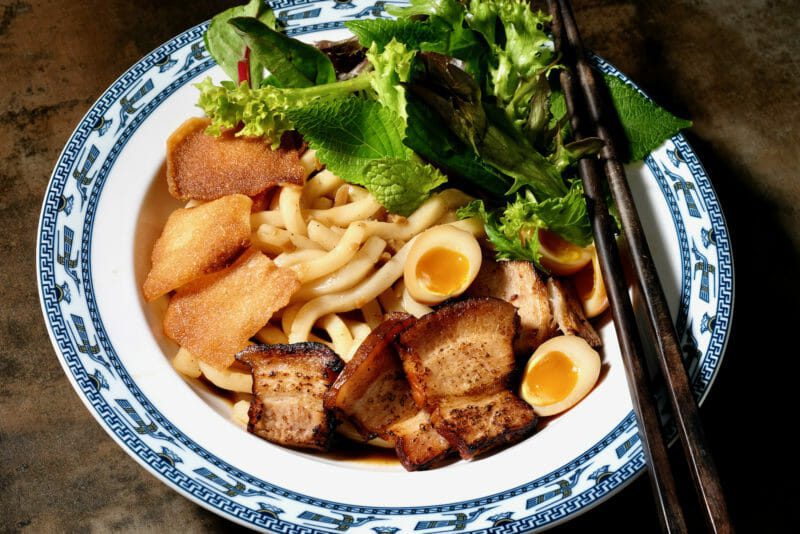 Inspired by Cao Lau and Hoi An's Japanese Bridge, these pork udon noodles combine fresh and herbal greens and crunchy garnishes with the deep flavours of the slow-cooked broth and braised pork belly.
Cao Lầu, the essence of Hoi An in a bowl
Many of Vietnam's iconic noodle dishes have their origin in a particular region but are now available throughout the country. Bun Bo Hue is a good example. One dish that remains tied very much to its origins is Cao Lau. Its place of origin is Hoi An, a small town on the coast of central Vietnam. Famous for its rich history, architecture, and cuisine, Hoi An often appears in lists of top tourist attractions. A major trading port in the 16th century, the town still celebrates its Chinese, Japanese, and European heritage.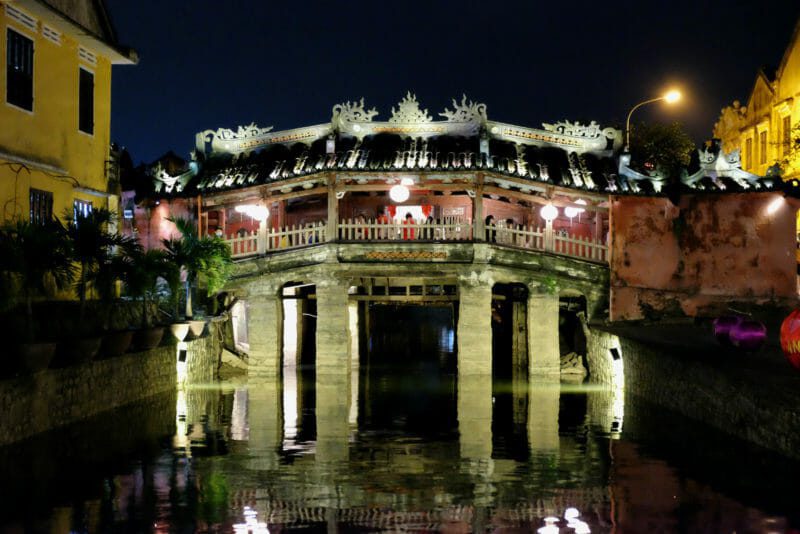 The Japanese bridge and Chinese shophouses are architectural reminders of Hoi An's rich heritage. In terms of the cuisine, it is Cao Lau. Water from a local well, infused with ash from trees grown in the area, results in the delightfully chewy rice noodles. According to research documented by David Farley in this Afar article, the origins of Cao Lau is unclear, though either Chinese and Japanese traders very likely had a role. The alkaline component introduced by the water and ash is not unlike how ramen noodles get made. And the resulting chewy texture is not unlike Japanese udon—chewier than other Vietnamese rice noodles.
You will not find authentic Cao Lau outside of Vietnam. I am lucky to enjoy Cao Lau regularly from a great little place in South Saigon. They ship their key ingredients directly from Hoi An. So what is one to do if you are not able to enjoy Cao Lau in Hoi An? Easy – Japanese udon noodles make a great substitute.
Ise Udon
Not only do udon noodles have a satisfyingly chewy character, not unlike Cao Lau noodles, but there is an udon noodle dish that bears a striking resemblance to Cao Lau. That dish is called Ise Udon. Like Cao Lau, there is no big bowl of soup. The udon noodles get coated in a small amount of a rich soy infused broth. In addition to seasoning, this broth delivers loads of umami, making the other ingredients in the dish so much more delicious.
Should you like a lot more soup with your udon noodles, try this very tasty Duck Curry Udon or this vegetarian Udon in Mushroom Curry Broth.
The broth
Like so many Vietnamese noodles dishes, a lot of time, effort, and secrets (!) go into the broth. You won't find many Cao Lau broth recipes as each vendor has their secret ingredients – their special sauce! This pork udon noodles recipe, to me, represents the best of the broths from the hundreds of bowls of Cao Lau I have enjoyed. It consists of umami-packed pork and chicken bone stock plus a few seasonings and spices. An alternative to making the stock yourself is to use a good low sodium commercial pork or chicken stock, or both.
Be mindful of sodium levels in commercial stocks as it affects your options concerning seasonings added later in the process. In this case, you may have to reduce the soy sauce or fish sauce quantities to compensate. Reducing these ingredients will also reduce the other flavours that they introduce. Important flavours! Take the time to make your own stocks if you have the time and the freezer capacity to store them.
The braised pork belly
Like the broth, how the thinly sliced pork gets prepared can vary significantly from vendor to vendor. This pork udon noodles recipe uses a very traditional Vietnamese braised pork belly preparation known as thịt kho nước dừa, or pork braised in coconut juice and fish sauce. The tender, tasty slivers of pork are so delicate and delicious. Check out these other recipes that use this braising technique: Saigon Ramen with street food toppings and these Braised Pork Belly Tacos.
If you examined the photograph above closely, you would have noticed the quail eggs. While the quail eggs are not a typical Cao Lau ingredient, some vendors do include them. I have not included them in the recipe below, but if you like the idea, and I do recommend it, check out how to make them in the Braised Pork Belly Tacos recipe.
The crackers
I am unaware of another Vietnamese noodle dish that includes crispy crackers. These add a delightful crunch to your mouthful of chewy noodles, delectable pork belly, and fragrant fresh herbs and greens. In Hoi An, they get made from the same dough that produces the noodles. Here we substitute wonton wrappers. Gyoza wrappers would also do a great job.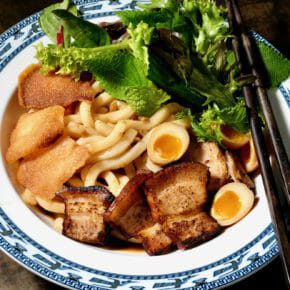 "Japanese Bridge" Pork Udon Noodles (≈ Cao Lau)
Inspired by Cao Lau and Hoi An's Japanese Bridge, these pork udon noodles combine fresh and herbal greens and crunchy garnishes with the deep flavours of the slow-cooked broth and the braised pork belly.
Print Recipe
Ingredients
Braised pork belly
400

g

pork belly in one piece, often sold as strips

1

piece

ginger, thumb sized piece coarsely chopped

1

piece

ginger, thumb sized piece finely diced

4

cloves

garlic, finely diced

4

shallots, finely diced

1

tsp

Chinese five-spice mix

2

Tbsp

cooking oil

1/2

tsp

salt

1

tsp

freshly ground black pepper

1

Tbsp

coconut caramel

3

Tbsp

fish sauce

1

litre fresh coconut juice
Noodles
700

g

pre-cooked udon noodles

or 400 g dried udon noodles
Other toppings
5

Won ton wrappers cut into quarters

to make the cao lầu crackers

200

g

bean sprouts

Mixed small leaf greens and herbs such as Thai basil, Vietnamese mint, and perilla.

Chilli jam

according to your preference

1

lime
Instructions
Braised pork belly (thịt kho nước dừa) (do a day ahead)
Wash and dice the ginger.

Put the pork belly and the coarsely chopped ginger in a saucepan and fill with cold water to 30mm or so above the pork.

Bring to a boil. Boil for 5 minutes, skimming off the scum regularly.

Drain, discarding the water.

Rinse the pork belly under running water, then allow to drain and dry a little.

In a heavy based, high sided pan, heat the oil.

Add the pork belly and brown each side.

Add the finely diced ginger, onion, and garlic and stir until very fragrant and starting to brown.

Add to the saucepan the coconut juice, five-spice mix, the fish sauce, and the coconut caramel.

Bring to a boil then reduce to a simmer. Skim off any scum that collects on the top.

Cover and simmer for 2 hours, turning the pork belly over half-way through.

Remove the pork belly from the braising liquid, allow to cool, then cover with plastic wrap and store in the refrigerator until required.
Broth
Sauté the garlic in the duck fat or vegetable oil until fragrant but don't let it brown.

Add the other broth ingredients and stir.

Bring to a boil then reduce to a high simmer.

Simmer until reduced by 25%.
Noodles (1 hour prior to serving)
Cook the noodles according to the instructions on the packet.

Soak the cooked noodles in cold water until ready to serve.
Final prep
Shallow fry the pieces of won ton wrapper until crisp.

Drain on paper towels.

Unwrap the braised pork belly and slice into thin pieces. Lay out on a baking tray and blast with a blow torch or broil in the oven for a few minutes.

Refresh the noodles in boiling water for 30 seconds before adding to the bowl.

In the same saucepan of boiling water you refreshed the noodles in, blanch the bean sprouts for 10-15 seconds.
Serving
Place a portion of noodles and some blanched bean sprouts into a serving bowl.

Top with slices of pork and ladle over about 150 ml of warm broth.

Top with some cao lầu crackers, some fresh herbs and greens, a spoonful of chilli jam, and a 1/4 of a lime.