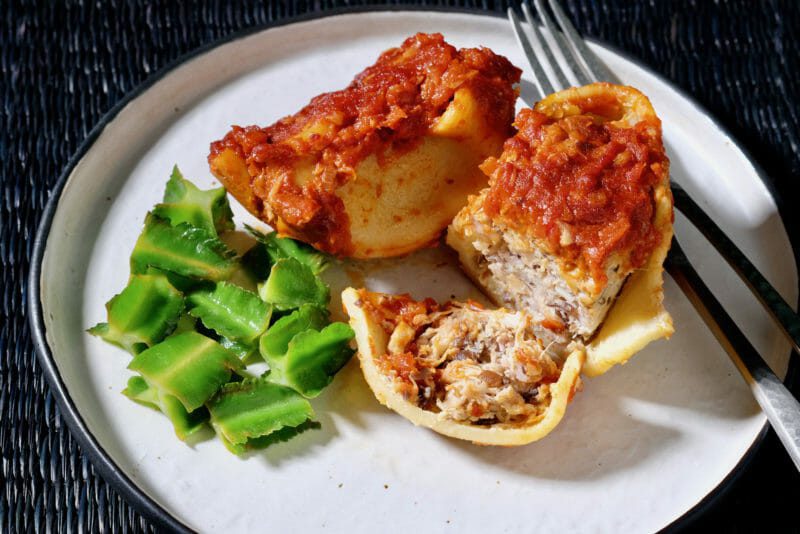 Conchiglioni, or large pasta shells, are stuffed with a tasty pork and crab mix inspired by popular Thai and Vietnamese dishes. These are baked together with a spicy gochujang and tomato sauce.
Conchiglioni is a variety of pasta shaped like a small conch shell. Their size and shape make them perfect for encapsulating a tasty filling and being baked with a complementary sauce. With this dish, we combine Korean and Southeast Asian influences with this very Italian pasta style.
The pork and crab stuffing
Crab shells stuffed with a pork and crab mixture are popular in Thailand (poo cha) and Vietnam (chả cua farci). In the spirit of culinary influences across regions, the Vietnamese chả cua farci likely has links to a similar French dish (farci is French for stuffing).
Another example of such a pork and crab mixture is chả trứng, egg meatloaf, a standard component of cơm tấm or steamed broken rice with various toppings, a lunchtime favourite in Saigon.
While having a few key ingredients in common, regional differences exist in preparing the pork and crab cake. Components such as wood-ear mushrooms and bean thread noodles may or may not be present, for example. The pork and crab mix in this dish is a synthesis of different styles. Included are wood ear mushrooms – such a great texture! No bean thread noodles, though, as they are effectively a filler to make a filling go further. Here we want a strength of flavour that is going to stand up to the spicy sauce.
The spicy sauce
Gochujang is of those magical ingredients that punch above their weight in the same way that miso, tomato paste, and dried mushrooms do. The umami, or glutamates, in these ingredients contribute a savoury flavour in addition to elevating the dish's other flavours.
This marinated and grilled gochujang tofu, a popular dish on delectabilia, is another excellent example of gochujang working its magic. And these kimchi waffles are enhanced by a very different style of gochujang sauce.
In this recipe, we add gochujang to a typical tomato sauce base, as we would use for a pizza topping or pasta. We need it to be more liquid so that the steam produced during baking can cook the large conchiglioni pasta shells stuffed with pork and crab. To achieve this, we add chicken stock, which also contributes to the overall flavour of this dish.
Winged beans
The green vegetable in the picture above is called a winged bean or dragon bean. They a native to New Guinea and are grown extensively across Southeast Asia. They have a delightfully crisp texture and a fresh, clean taste that nicely complimented the stuffed shells. Substitute with what you have available. A green salad works exceptionally well.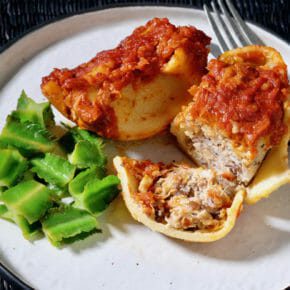 Large Pasta Shells Stuffed with Pork and Crab in Spicy Sauce
Conchiglioni, or large pasta shells, are stuffed with a tasty pork and crab mix inspired by popular Thai and Vietnamese dishes. These are baked together with a spicy gochujang and tomato sauce.
Print Recipe
Ingredients
Crab and pork pasta shells
400

g

minced pork

200

g

crab meat

30

g

dried wood-ear mushrooms

5

cloves

garlic, crushed

2

shallots, minced

1

Tbsp

fish sauce

1

tsp

freshly ground black pepper

2

eggs, whisked

300

g

dried large pasta shells
Instructions
Crab and pork pasta shells
Add the wood-ear mushrooms and shiitake mushrooms to a large bowl and pour over boiling water. Allow to rehydrate for 30 minutes.

Cook the pasta according to the packages instructions. Ensure they are cooked "al dente" (still firm to the tooth) as they will cook further in the oven.

Once the mushrooms are rehydrated, squeeze out any moisture from the shiitake mushrooms.

Remove the tough stalks from both the shiitake and wood-ear mushrooms.

Julienne the mushrooms first, then cut the strips into small pieces.

Combine the diced mushrooms with all the filling ingredients and mix well.

Stuff the pasta shells with the pork and crab filling.

Arrange the stuffed shells in a suitable baking dish.
Spicy sauce
In a non-stick pan, sauté the onion in the butter until soft. Add the garlic and sauté for a few more minutes.

Add the gochujang and stir into the onion and garlic. Cook for 2 or 3 minutes.

Add the can of tomatoes, the chicken stock, and the paprika.

Stir to combine and then simmer for 10 minutes to allow the flavours to merge.
Assembly
Preheat the oven to 180 degC.

Pour the spicy sauce over the stuffed pasta shells in the baking dish and cover with foil.

Bake in the oven for 1 hour.

Remove from the oven and allow to sit for 10 minutes before serving.

Serve with a salad.