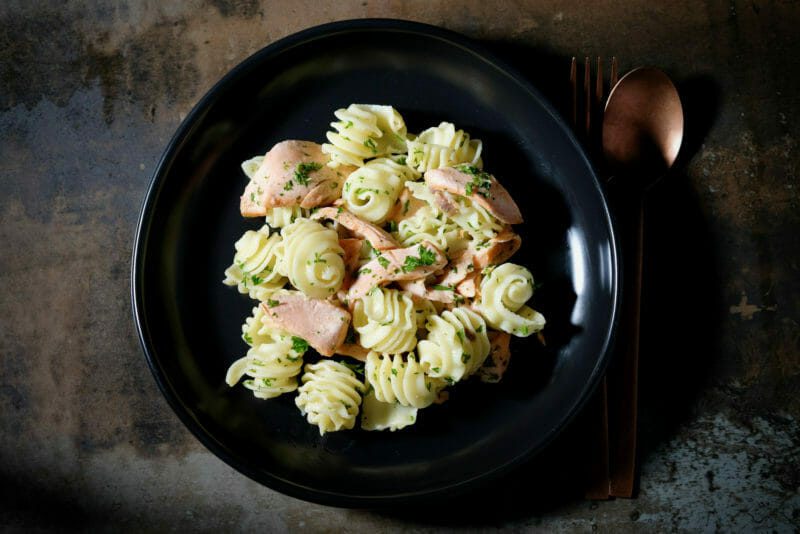 Radiatori pasta, coated in a simple but elegant extra virgin olive oil-based sauce, is tossed together with flakes of succulent tequila glazed salmon.
No matter how great that pasta sauce tastes, if that is the only taste you get for the whole dish, you may be hoping for some new flavours by the time you have finished that dish. One great flavour can become less attractive if there are no complimentary flavours to highlight it. In this dish, the pasta and its sauce, and the tequila glazed salmon, are prepared separately and only tossed together before serving.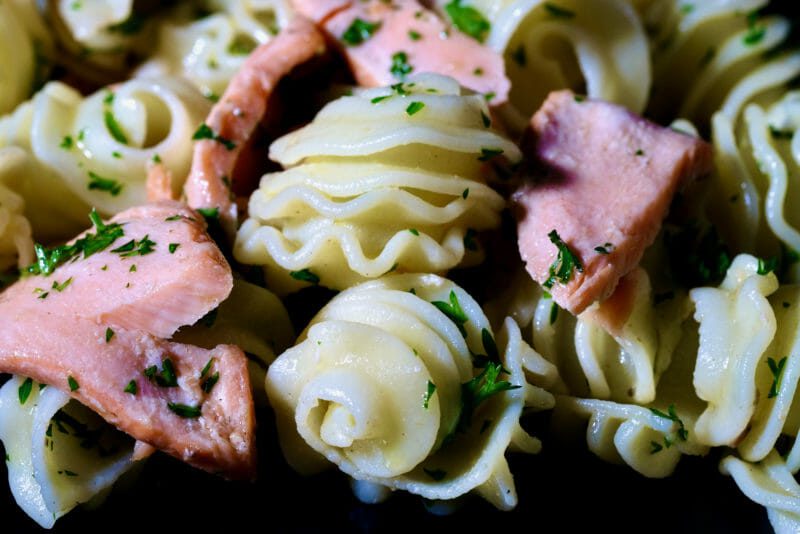 Radiatori Pasta
I love fusilli pasta because the ridges trap so much of the delicious sauce that you serve with it, such as with this Fusilli in tomato sauce. And then I discovered radiatori. Even bigger ridges!
The word radiatori is Italian for radiators, as in the ridged heat exchangers—an appropriate description. It is similar to fusilli pasta, though radiatori is thinner and the ridges are more prominent. The "springiness" when eating this pasta is one reason it is now my favourite type of pasta.
According to Jacqui at the very useful the-pasta-project.com, radiatori pasta is a relatively recent creation, as recent as the 1960s. It was, according to some, inspired by the radiators of Italy's classic cars.
If you can, buy it fresh. The radiatori pasta used to develop this recipe was fresh pasta purchased from a local gourmet store. Most definitely superior to buying dried pasta. But I was lucky. It is also readily available in dried form, such as this Garofalo brand pasta from Amazon.
The pasta sauce for the radiatori pasta is a simple Dijon mustard, anchovy, and extra virgin olive oil combination. However, with a simple sauce like this, the quality of the ingredients is critical. Spend a little more on the anchovies, and get the best extra virgin olive oil you can find.
Tequila Glazed Salmon
Salmon is an incredibly versatile ingredient. And one of the more healthy kinds of seafood you can eat. The only thing that can go wrong is overcooking it, which leaves lots of room for experimentation. The process of flambéing an ingredient can instil flavours that are impossible to get any other way. Flambé is the French word for "flamed" or "flaming". A spirit like rum or brandy is poured over the ingredient and set alight. As the alcohol burns off, the flavours and sugars of that spirit form a very flavourful glaze on that ingredient.
Rum and vodka don't have quite such a distinct character as bourbon or tequila. Matching the spirit to the ingredient is essential. Rum and cognac go well with bananas, for example. So, tequila and salmon?
Like scotch, bourbon, and brandy, tequila has a distinct character. Gin can have that character too, which is why it works well in this cucumber and gin sorbet. I like gin, but it didn't add the type of character I was looking for in this glazed salmon dish. Tequila did provide that character. There are other spirits to explore: ouzo would be very interesting if you are a fan of anise flavours.
A word of advice and a word of warning: use a stainless steel pan. Do not use non-stick, and do not use a cast-iron skillet. I learned the hard way with my skillet. It took quite a while to re-season it. And the warning, do not pour the spirit onto the salmon near an open flame. Move the pan away from the stovetop before adding the tequila. Light with a long match or blow torch and return to the heat. Remember, this is a fire we are working with. Be safe.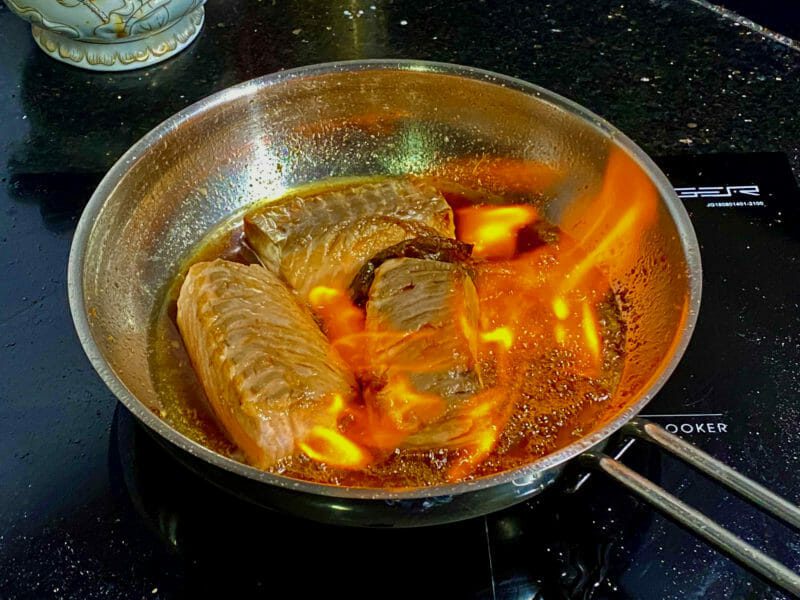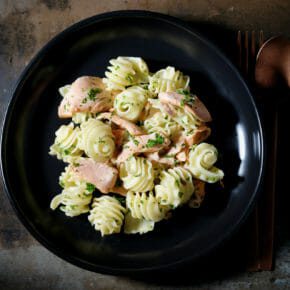 Radiatori Pasta with Tequila Glazed Salmon
Radiatori pasta, coated in a simple but elegant extra virgin olive oil-based sauce, is tossed together with flakes of succulent tequila glazed salmon.
Print Recipe
Ingredients
Salmon
500

g

salmon fillets

in 3-4 pieces from the belly area, skin on, pin bones removed

1

Tbsp

vegetable oil

10

g

butter

2

anchovy fillets

finely diced

2

Tbsp

honey

50

ml

tequila

1/2

tsp

salt
Instructions
Salmon
Combine the honey, tequila, and salt in a bowl.

Place a stainless steel pan over a medium heat.

Add the oil and butter. When the butter smelled and the mixture is starting to bubble, add the 2 diced anchovies. Allow to simmer for a minute.

Add the salmon pieces, skin side down.

Cook 3 to 4 minutes until you can see the salmon becoming pink about a third of the way up.

Turn the salmon fillets over and sear for another couple of minutes.

Turn the salmon back to skin side down and pour the honey tequila mix over the fillets.

Use a blow torch or long match to light the tequila.

Once the flames have burnt out, remove the salmon from the pan and allow to cool a little.

Once cool enough to touch, remove the skins. Either retain the skins and dice into 10x10mm pieces, or discard.

Flake the salmon fillets. This should happen very easily if the fillets were from the belly area due to the seams of fat.

Spoon 2 Tbsp of juices from the pan over the flaked fillets and toss to coat.
Pasta
Cook the pasta as per instructions for dried pasta, or about 5 minutes for fresh pasta.

Drain well.

Toss the pasta together with the extra virgin olive oil, Dijon mustard, diced anchovy fillets, and diced parsley.
Serving
Carefully toss the flaked salmon and the pasta together and serve. If it is not still warm, give it 30s in the microwave.

Top with a drizzle of fresh lemon juice.