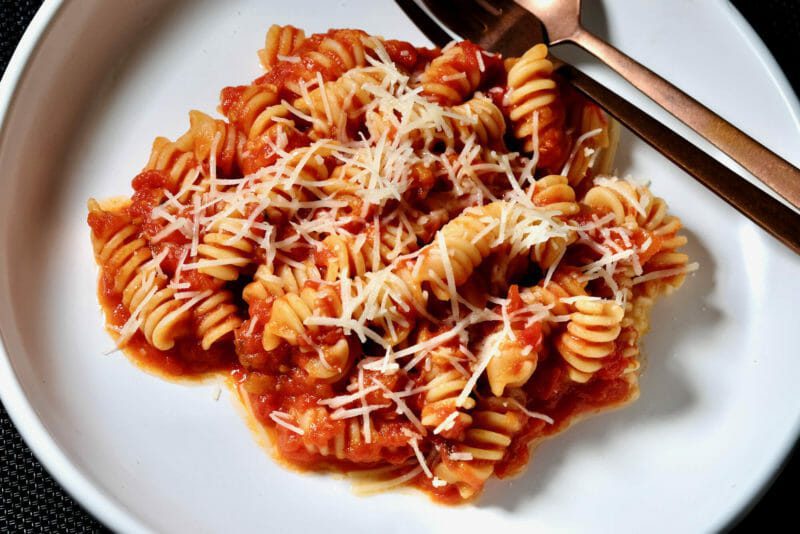 Sometimes a simple dish can be a truly amazing dish. This fusilli in tomato sauce is one such dish.
Credit where credit is due, and the credit here is to Marcella Hazan. What Julia Child is to French cooking, Marcella Hazan is to Italian cooking. She is most well known for her book Essentials of Classic Italian Cooking. Her recipe for pasta in tomato sauce is one of her most famous and one of her simplest.
Simple, because it is just three ingredients – canned tomatoes, onion, and butter. If the sauce is host to another ingredient, for example, meatballs or clams, this simplicity highlights those added flavours. But if the sauce will be the feature, I like to add a little more character in the form of garlic and chilli flakes.
And if the sauce is to be the feature, you want to ensure the pasta keeps that sauce in the spotlight. Fusilli is the perfect complement to the tomato sauce. The spiral (corkscrew) shaped pasta traps lots of sauce within its spirals, making each mouthful a perfect balance of chewy pasta and silky sauce.
This Fusilli in tomato sauce is not alone amongst pasta dishes on delectabilia. Though, it is not comparable to any of the others. Simple ingredients, simple technique. yet so delicious.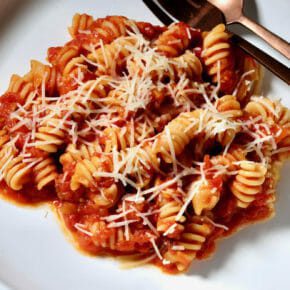 Fusilli in tomato sauce
Sometimes a simple dish can be a truly amazing dish. This fusilli in tomato sauce is one such dish.
Print Recipe
Ingredients
800

g

can of whole peeled tomatoes

1

large onion

5

cloves

garlic

1

tsp

crushed chilli flakes

70

g

unsalted butter

salt to taste

500

g

Fusilli pasta
Instructions
Wash and peel the onion. Keep the root end intact as that will help keep the onion from falling apart. Halve the onion vertically (through the root end and the top).

Peel the garlic and slightly crush under the side of a knife

Place all the ingredients, except the fusilli, in a saucepan and place over a medium heat.

Cook for 45 minutes, stirring occasionally.

Adjust seasoning if necessary.

When cooking is complete, remove the onions.

Cook the fusilli pasta as per the instructions on the packet (something like 5-7 minutes in salted water).

Drain the pasta, add it to the sauce, and stir to coat.

Serve topped with some freshly grated or shaved Parmigiano-Reggiano or Parmesan.