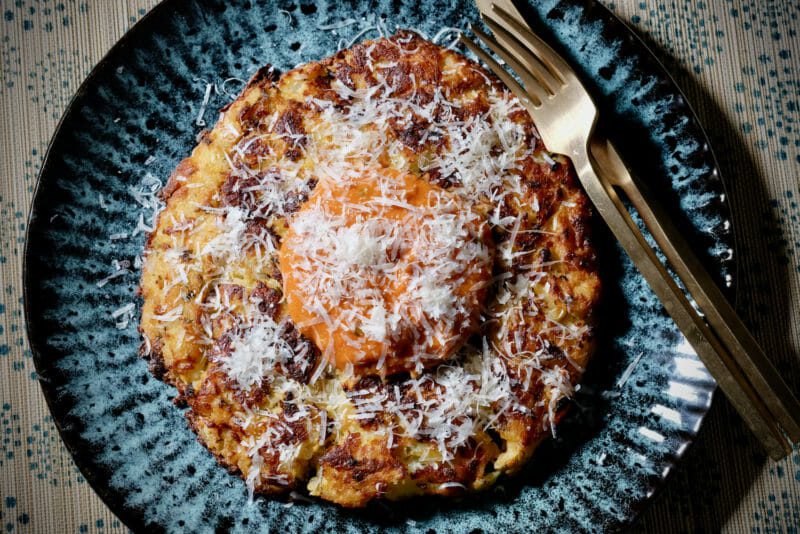 A dish of potato, rice, and tomato sauce doesn't sound anywhere near as impressive as this potato risotto al salto with roasted tomato sauce turned out to be. Pan-frying leftover potato risotto transformed it from something good to something outstanding.
I had made a potato risotto. Paired with some duck and balsamic vinegar, it was good, but it needed more work. What to do with the leftover risotto? The answer to that question in Italy would be a risotto al salto, a pan-fried risotto with a crisp browned surface.
Potato Risotto
Although the stand-alone potato risotto didn't justify a post here on delectabilia, that was because I wasn't happy with the pairing with the duck and balsamic. The risotto itself was delicious, and I will be revisiting it soon.
One thing that made this potato risotto unusual was using the nigori sake to deglaze the pan after sauteing the onion and rice. Typically white wine is used at this step, as in this mushroom risotto with scallops wrapped in pancetta. Nigori sake is unfiltered so contains unfermented rice solids. It is milky white, nigori meaning "cloudy". Together with this sake's astringent and savoury/umami flavour, these creamy rice solids contribute to making this potato risotto work so well.
One should not discount the importance of good chicken stock and good parmesan cheese. Together with the sake, these are what make this potato risotto special.
Potato Risotto al Salto
Risotto al Salto involves frying leftover risotto in ample butter to form a crisp golden crust. This method would not work for all risottos, but it worked incredibly well for this potato risotto. Starchy potatoes fry up very well of course (fish and chips anyone?) So combined with starchy arborio rice, one can rightly expect something exceptionally crisp and crunchy. And indeed it was.
The quantities in this recipe will make 4 risotto "pancakes". Don't be tempted to make them too big. They become very difficult to keep intact when flipping.
Roasted Tomato Sauce
What would fried potato be without tomato sauce? Perhaps a bit of my UK influenced New Zealand upbringing showing through there. In this sauce, roasting the tomatoes brings a delicate sweetness to balance the tomatoes natural acidity. The roasted bell pepper further adds to this sweetness. A good source needs more than just sweetness and acidity. The anchovies contribute seasoning as well as their own unique pungency. And last but not least, the smoked paprika adds a subtle smokiness.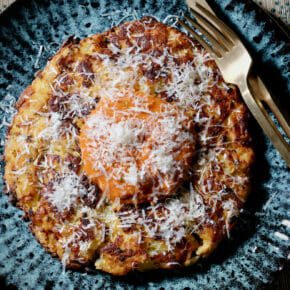 Potato Risotto al Salto with Roasted Tomato Sauce
A dish of potato, rice, and tomato sauce doesn't sound anywhere near as impressive as this risotto al salto turned out to be. Pan-frying leftover potato risotto transformed it from something good to something outstanding.
Print Recipe
Ingredients
Roasted tomato sauce
4

tomatoes

1

red bell pepper

4

cloves

garlic

2

Tbsp

soy sauce

2

Tbsp

olive oil

1

tsp

smoked paprika

1

Tbsp

red wine vinegar
Potato risotto
600

g

potatoes

1

tsp

salt

1.5

litre water

500

ml

chicken stock

1

onion

5

cloves

garlic

10

g

butter

to cook the onions and garlic

300

g

arborio rice

or carnaroli will work just as well

1

Tbsp

vegetable oil

200

ml

nigori sake

or normal sake, or white wine

80

g

parmesan cheese

grated

60

g

butter

to stir into the risotto

1/4

cup

finely chopped parsley

120

g

butter

30 g to fry each risotto pancake
Topping
1/2

cup

parmesan cheese

grated
Instructions
Roasted tomato sauce
Preheat the oven to 120 degC.

Peel and coarsely chop the garlic.

Halve the tomatoes lengthways and cut out any solid core.

Quarter the red bell pepper and trim off the stalk and pith.

Lay the tomatoes and red bell peppers on a baking tray. Sprinkle the chopped garlic on to the each tomato and pice of bell pepper.

Drizzle the soy sauce and olive oil over the tomatoes and peppers.

Put the tray in the oven and roast for 1.5 hours.

Remove the tray from the oven and allow to cool.

Blend the tomatoes and red bell peppers together with the paprika, chilli, vinegar, and anchovies.
Potato risotto
Peel the potatoes and cut into cubes about 1cm square.

Add the potatoes to a saucepan with the litre of water and 1 tsp salt.

Place the saucepan over a medium heat and bring the water up to a vigorous simmer, but not quite a boil.

Simmer the potatoes for 10 to 15 minutes, or until the cubes get soft, but not yet breaking up.

Strain the potatoes, retaining the cooking water in another saucepan. Set the potato cubes aside.

Add the chicken stock to the potato water and keep warm.

Finely dice the onion and the garlic.

In a high sided fry pan or wok, sauté the onions and garlic in 10 g of butter over a medium heat until transparent but not brown.

Add the rice and stir fry until the rice becomes more opaque and smells fragrant and nutty, about 5 minutes.

Add the sake (or white wine) to deglaze. Stir until the wine has been absorbed.

Add half a cup of the potato and chicken stock and stir.

When the stock has been absorbed, add another half cup of stock and stir.

Repeat until the rice is al dente. If you run out of stock, use water or more chicken stock.

Add the potato cubes, butter, and 60 g of the parmesan and stir together until the butter and cheese has melted and integrated.

Check seasoning and adjust if necessary. It should be OK because the parmesan is quite salty.

Add the finely chopped parsley and stir in.

Place a lid on the pan and let sit for 5 minutes.
Potato risotto al salto
Oil the surface of two plates to aid us in flipping the risotto "pancake".

Melt the butter in a non-stick pan or well seasoned skillet.

Put about 1.5 cups of risotto into the pan. Spread evenly so that it is like a thick pancake.

Cook until well browned.

Using a spatula, carefully make sure the risotto is not stuck to the pan.

Put an oiled plate over the risotto and flip the pan so that the risotto pancake falls onto the plate.

Place the other plate over the risotto pancake and flip again so that the risotto pancake has its uncooked side up.

Put the pan over the plate and flip again, returning the pancake to the pan uncooked side down.

Cook until well browned.

To transfer the risotto pancake to a plate, either slide the pancake out of the pan on to a plate, or invert the pan over a plate as above.
Plating
Top with roasted tomato sauce and sprinkle with the remaining parmesan cheese.