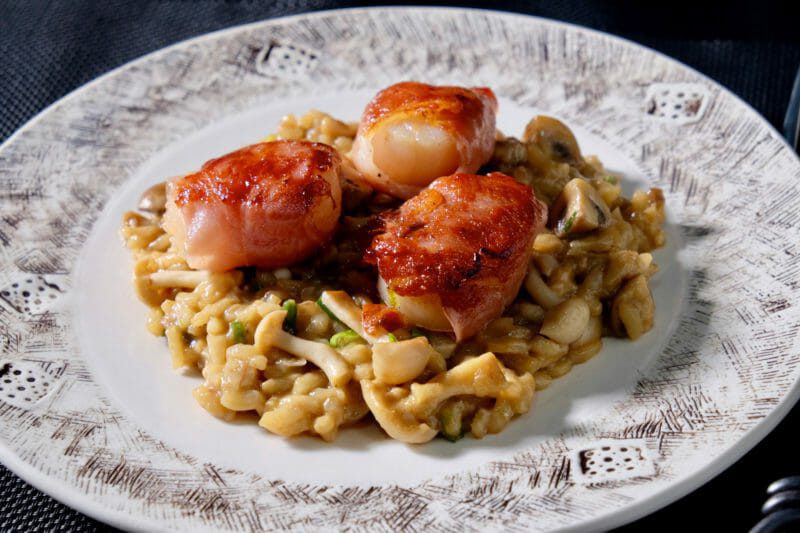 Umami packed mushroom risotto topped with scallops wrapped in salty-sweet pancetta. These two delicious components work so perfectly together.
How to make a mushroom risotto?
There is a lot of debate about how to make the perfect risotto. The Food Lab does a great job of summing up the pros and cons of different techniques. As with so many such dilemmas, there really is no one correct answer. If it works for you, it works. I have experimented with a few techniques and can confirm that ending up with a gluey mush is part of the learning experience. The technique used in this recipe has worked well, consistently well. A crucial point, though, and one made in the Food Lab article, different rice types will yield different results.
This mushroom risotto with scallops starts with a mushroom stock whose principal ingredient is dried porcini mushrooms. Using dried mushrooms produces much more concentrated mushroom and umami flavours. Porcini mushrooms have an amazing earthy depth. If you can't source dried porcini, look for a wild mushroom mix, or use dried shiitake mushrooms.
Scallops and pancetta – a perfect match
I love scallops, and until recently, I had only been able to enjoy quality specimens at better restaurants. Now my favourite gourmet supplies shop has excellent frozen scallops. Needless to say, there are more scallop based recipes in the pipeline.
There are many recipes for bacon-wrapped scallops, but I find that bacon too easily overpowers the delicate sweet taste of the scallops. Pancetta, a more refined form of bacon cut very thinly, makes a much better companion for the scallops. They are wonderful together.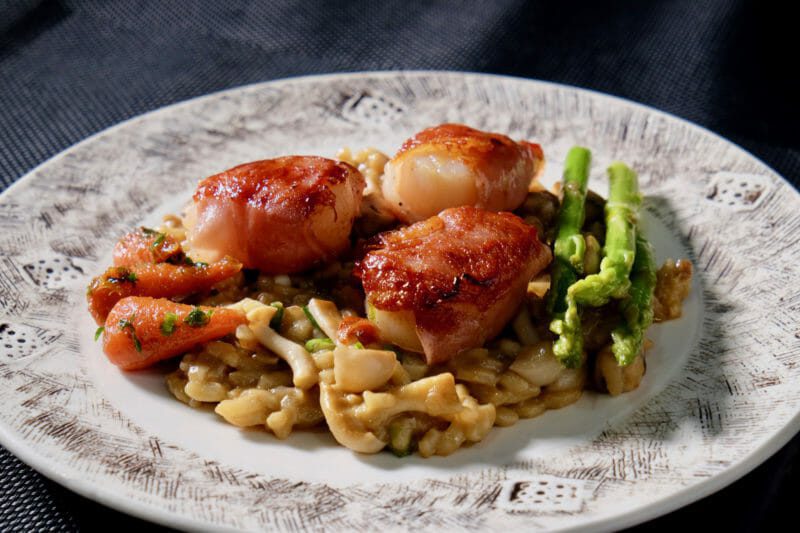 To complement this dish, I recommend asparagus blanched in salted boiling water, then coated in a salad dressing such as this which adds a complementary sour dimension. Some glazed baby carrots rounded out this serving.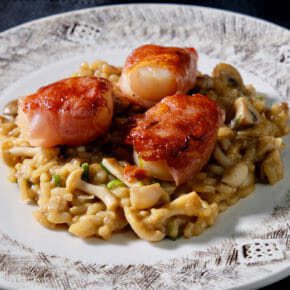 Mushroom risotto with scallops wrapped in pancetta
Umami packed mushroom risotto topped with scallops wrapped in salty-sweet pancetta. These two delicious components work so perfectly together.
Print Recipe
Ingredients
Mushroom stock
1

onion

2

carrots

2

stalks

celery

1

red pepper

2

tomatoes

4

cloves

garlic

20

g

butter

150

g

large brown mushrooms

1

cup

warm water

1

cup

very hot water

5

cups

water

1/2

cup

white wine

1

tsp

salt
Mushroom risotto
150

g

white button mushrooms

150

g

white beech, enoki, or similar small mushrooms

1

onion

5

cloves

garlic

1 1/4

cup

carnaroli rice

20

g

butter

100

ml

white wine

1

tsp

salt

1

Tbsp

truffle oil

5

spring onions

trimmed, cleaned and finely diced

3/4

cup

parmesan

finely grated

1/4

cup

finely chopped spring onions
Scallops wrapped in pancetta
15

large scallops

15

pieces

of pancetta of a suitable size to wrap around a scallop
Instructions
Mushroom stock
Wash the onion (keeping the skin on), carrots, and celery stalks.

Wash the garlic cloves and crush.

Wash the red pepper, coarsely chop, removing the white pith.

Melt the butter in a large saucepan and add all the prepared vegetables.

Cook in the butter until just starting to brown, stirring regularly, about 8 minutes.

Add the water and salt and bring to a boil, then reduce to low simmer.

Dice the brown mushrooms and add to the stock.

Wash and quarter the tomatoes and add to the stock.

Immerse the dried porcini mushrooms in the cup of warm. After a few minutes, agitate to loosen any grit, then remove the mushrooms. Discard the water.

Add the mushrooms to a cup of hot water and leave to sit for 20 minutes, stirring occasionally.

After 20 minutes, remove the porcini mushrooms and set aside.

Add the porcini mushroom water, which will be quite brown by now, to the stock, being careful not to add any grit that has settled to the bottom.

Continue simmering the stock for 2 hours.

Strain the stock and discard the vegetables.
Mushroom risotto
Quarter the button mushrooms.

Remove the base from the enoki or white beech mushrooms.

Sauté the mushrooms in 10g butter until starting to brown. Set aside.

Finely dice the onion and the garlic. In a high sided fry pan or wok, sauté in the other 10g butter over a medium heat until transparent.

Add the rice and stir fry until the rice becomes more opaque and smells fragrant and nutty, about 5 minutes.

Add the wine to deglaze. Stir until the wine has been absorbed.

Add half a cup of the mushroom stock and stir.

Finely dice the rehydrated porcini mushrooms and add to the rice.

When the stock has been absorbed, add another half cup of stock and stir.

Repeat until the rice is al dente.

Stir in the enoki or white beech mushrooms, diced spring onions, truffle oil, and finely grated parmesan.
Scallops wrapped in pancetta
Rinse and dry the scallops with paper towels.

Wrap a piece of pancetta around each scallop.

Add a little olive oil to a fry pan. Bring to a high heat.

Add A few of the scallops and sear for a minute or two, then flip and sear the other side. The pancetta should have become golden and crispy.

Remove from the pan and drain on paper towels.
Serving
Serve by spooning some risotto onto a warmed plate, and adding some scallops on top.

Serve with some green vegetables – asparagus or a salad work well.