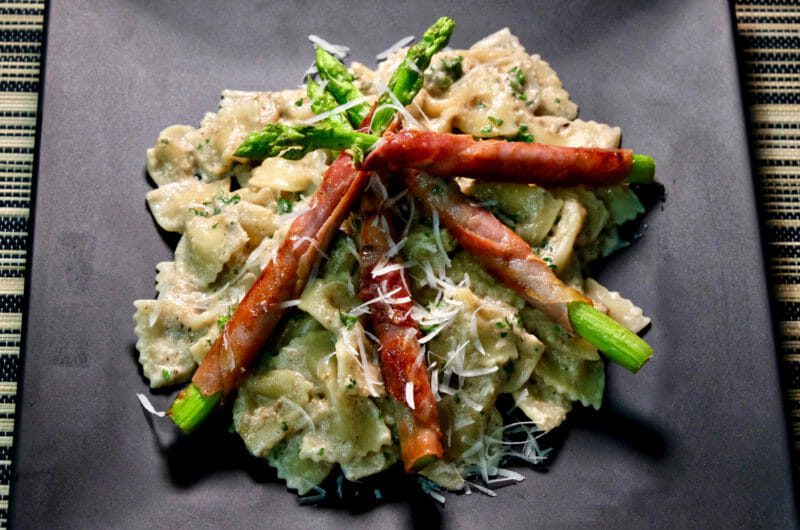 Speck wrapped asparagus is such a spectacular combination. Great appetizer or tapas dish. When served with this earthy mushroom cream pasta, a deeply satisfying main course is the result.
The mushrooms
The origin of this recipe was discovering some "wild" mushrooms at a supermarket. While no doubt cultivated, they did look like they had been picked from the forest. I had to do something with them and a mushroom cream sauce on pasta seemed a great way to bring these beautiful mushroom flavours centre stage.
The easiest way to maximize that "wild" forest mushroom flavour is to use porcini mushrooms. I could only get them dried (very "wild" right?), but using dried porcini mushrooms is preferable anyway as the flavours are intensified.
The challenge with using dried mushrooms is the grit. thekitchn.com has a great post on this topic. One important learning is that the water you use to rehydrate these mushrooms is at least as important as an ingredient as the mushrooms themselves. I really hate grit in my food, so I was fastidious during the soaking-rinsing process. The mushroom broth needed to be strained through a very fine strainer, but it was amazing. It should be a crime to discard, which is what you might do if you follow the instructions on the jar/pack.
For this mushroom cream pasta recipe, especially if time was a constraint, just add the dried mushrooms to the vege stock. Then strain through a fine sieve or cloth. You will have 95% of the amazingness of dried porcini mushrooms, and have saved some time.
Speck?
The speck in the speck wrapped asparagus is a cured pork from Italy. It has a great complex taste due to all the curing ingredients (juniper, bay leaves) and wood used for the smoking. As an alternative to speck, use smoked pancetta, or a prosciutto. Food Republic has a nice infographic of some popular cured meats.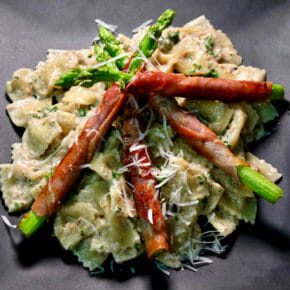 Speck wrapped asparagus on a mushroom cream pasta
Print Recipe
Ingredients
1

pack farfalle

bow-tie pasta (400g or so)

Mixed greens for a salad

delectabilia dressing

here
Mushroom cream sauce
400

g

mushrooms

mix may include porcini, shiitake, cremini, or whatever you can get

1/2

cup

dried porcini mushrooms

or a forest mushroom mix

1

onion

coarsely chopped

1

onion

finely diced

2

carrots

coarsely chopped

5

cloves

garlic

washed and crushed with skins

5

cloves

garlic finely diced

1

bell pepper

2

cups

hot water

2

tbsp

olive oil

20

g

butter

1

glass of a good dry white wine

150

ml

cooking cream

1/4

cup

grated parmesan

1

tsp

freshly ground black pepper

1/4

cup

finely chopped parsley

1

tbsp

truffle infused oil.
Speck wrapped asparagus
24

larger sized spears of asparagus

24

slices

speck (1 per asparagus spear

or 1/2 if they are big enoug(use prosciutto if you can't get speck)
Instructions
Rinse the dried mushrooms, then soak in 2 cups warm water for 1 hour.

Drain the dried mushrooms, retaining the water

Wash the other mushrooms and dice, setting aside the stems

Individually rinse the dried mushroom pieces to remove grit (grit can ruin a dish)

Any pieces of dried mushroom that appear tough or stubbornly gritty, add to the mushroom stems. Add the good bits to the chopped mushrooms

Too a large saucepan, add 1 Tbsp olive oil, 1 coarsely chopped onion, 5 cloves crushed garlic, carrot, bell pepper, mushroom stems.

Saute the vegetables until onion is transparent

Add the broth the dried mushrooms were rehydrated in, and hot water.

Bring to the boil, then reduce heat and simmer for an 40 minutes.

Prepare the asparagus, wrapping the speck around them. Not to much speck per spear, as it is quite salty and smoky.

Strain the vege stock through fine gauze filter

Saute the diced mushrooms, diced onion, and diced garlic until starting to brown

Add 2 cups of the vege stock and the glass of wine to the mushrooms and simmer for 10 minutes

Allow to cool a little, then transfer to a suitable container and blend using a hand blender. (Alternatively use a tabletop blender, but pulse blend to retain some chunkiness)

Return mushroom mixture to the pan and add the cream and pepper. Bring back to a simmer.

Cook the pasta until al dente. Stop cooking when it is still a little firm, as it will cook some more in the mushroom sauce

While the pasta is cooking, saute the spec wrapped asparagus.

Drain the pasta and add to the pan with the mushroom sauce. Retain some of the pasta cooking liquid in case you need to water it down a bit.

Turn off the heat, add the parsley and truffle oil and gently combine.

Serve with a mixed green salad and delectabilia dressing