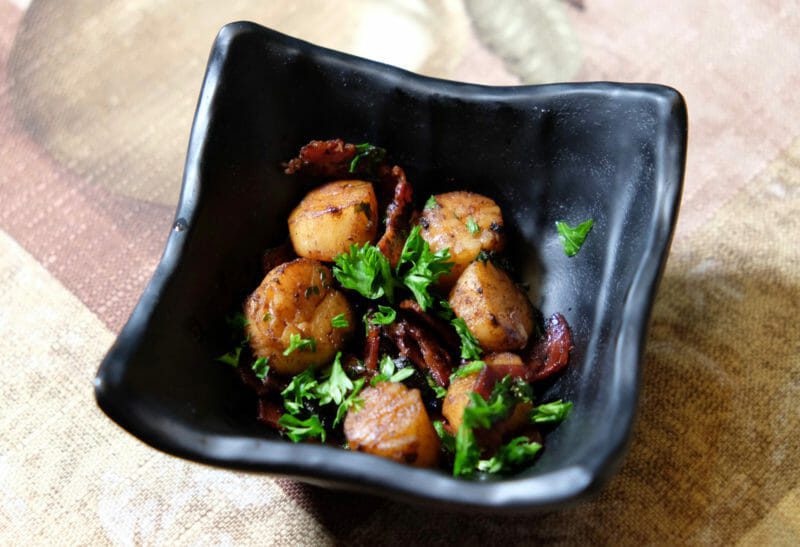 Chorizo brings a smoky salty dimension to these succulent scallops. The umami of the black garlic and the freshness of the lemon and sake perfectly prepare your mouth for the next course.
The purpose of an appetiser is to stimulate the appetite. This is usually accomplished with a small quantity of something very tasty. That certainly describes this wonderful scallops chorizo combination.
Thanks to the recipe on blackgarlic.com (no longer reachable) for the inspiration for this dish. If you cannot find black garlic in your local food stores, it is available to buy from a number of online vendors. Otherwise, try this dish with slow roasted garlic.
The scallops in this recipe were quite small. If you can get bigger ones, scale the numbers accordingly. Since I cooked this dish, options for scallop sourcing expanded. Larger succulent Japanese scallops appear in subsequent dishes such as this scallops on caramelised fennel.
Chorizo is another ingredient that varies widely in style and quality. As we are pairing it here with subtle flavored scallops, we don't want to overpower them. If you can find it, use Ibérico chorizo, perfect for this scallops chorizo dish. The Great British Chefs site has a very useful guide to different styles of chorizo.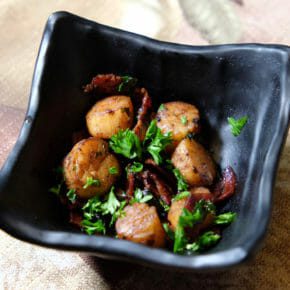 Scallops, chorizo, black garlic, and sake
Print Recipe
Ingredients
250

g

scallops

50

g

chorizo sausage

finely diced

5

cloves

black garlic

peeled and very finely sliced

1

Tbsp

freshly squeezed lemon juice

1

Tbsp

parsley

freshly chopped

2

Tbsp

sake
Instructions
Rinse and dry the scallops on a paper towel.

Heat a large frying pan (no oil). Fry the chorizo sausage for 2 – 3 minutes. Drain on paper towels, keeping as much of the rendered fat in the pan as possible.

In the same pan, quickly sear the scallops in the rendered fat from the chorizo.

Add chorizo and diced black garlic back to the pan and stir-fry for a minute.

Add 1/2 the parsley, lemon juice, and the sake to the pan and cook for one more minute.

Sprinkle with the remaining parsley