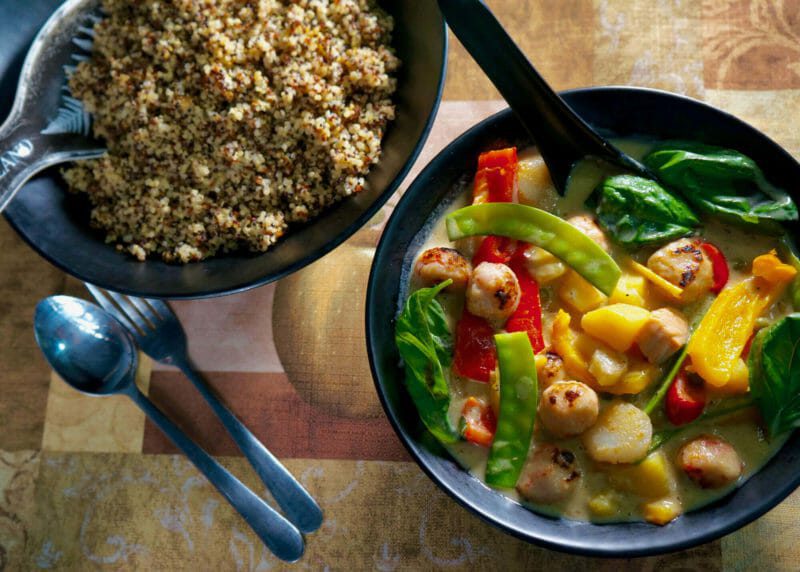 The green curry paste and coconut cream provide a versatile foundation for building layers of flavour, resulting in this delectable Thai seafood green curry.
A true curry purist would have made their curry paste from scratch. I used a purchased curry paste in this dish, though it was quite a good one from a Bangkok gourmet market. When looking for Thai curry pastes in your local super/Asian markets, make sure it is actually produced in Thailand. If not, look somewhere else, make your own, or buy online.
If you do have the time to prepare the curry paste yourself for this seafood green curry, I highly recommend this Thai Green Curry Paste guide by the High Heel Gourmet. It provides a detailed description and lots of pictures. One very novel suggestion in this guide is to replace the shrimp paste with Vegemite or Marmite in order to produce a vegetarian green curry paste. This is a suggestion also very relevant to Vietnamese cuisine which uses a lot of shrimp paste.
And what's with the quinoa? Certainly not traditional, it does provide a tasty and healthy alternative to white rice. While white rice is merely a way to soak up some of the flavours, quinoa adds its own nutty notes and a slightly chewy texture.
I do love a good curry, whether Thai, Indian, Vietnamese, or Japanese.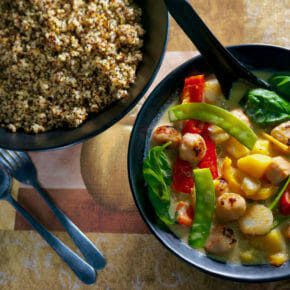 Thai seafood green curry with quinoa
The green curry paste and coconut cream provide a versatile foundation for building layers of flavour, resulting in this delectable Thai seafood green curry.
Print Recipe
Ingredients
3 – 4

Tbsp

Thai green curry paste

the best you can find. Using 4 Tbsp will be a bit more spicy.

400

ml

chicken stock

home made is best

400

ml

coconut cream

1 can

1/2

Tbsp

vegetable oil

10

g

butter

1

onion

5

cloves

garlic

5

spring onions

1/2

Tbsp

plain flour

1

large red pepper

1

yellow pepper

200

g

snow peas

1

bunch of fresh basil

1

large or 2 medium sweet potatoes

100

g

green peas

shelled

250

g

fresh salmon

skin off and pin bones removed

250

g

scallops

250

g

crab surimi balls

1

cup

uncooked quinoa
Instructions
Green Curry
Dice sweet potatoes to 1cm pieces.

Cook peas and sweet potato in the chicken stock.

Remove the vegetables from the stock and set both aside.

Roast red and yellow peppers for 30 minutes at 200 degC. Cut into strips.

Steam the snow peas until just done (a brighter shade of green and still crisp).

Pick out the best leaves of basil for the garnish. Crop up the rest.

Finely dice the onion, garlic, and spring onions. Reserve the diced green parts of the spring onion for the garnish.

Salute the onion in the butter and 1/2 Tbsp vegetable oil until softened. Add the garlic and white parts of the spring onion and cook until fragrant.

Add the green curry to the pan and cook together with the onions for 5 minutes. The curry fragrance will be quite strong at this point.

Add 1/2 Tbsp plain flower and stir well.

Slowly add the chicken stock stirring constantly.

Slowly add the coconut cream.

Simmer for 10 minutes.

The curry should have a slightly thickened consistency. If too thick, add a few Tbsp water, or better yet, fresh coconut juice.

Allow to cool, or carry on…

Quickly sear the scallops.

Brown the crab balls a little.

Dice the salmon fillets into 15ml pieces.
Quinoa
Rince quinoa.

Cook in a rice cooker with 2 cups of water.
When nearly ready to serve…
Bring curry back to a simmer should it have cooled down.

Add the steamed snow peas, chopped basil, roasted peppers, sweet potatoes, peas, crab balls, scallops, and diced salmon.

Simmer for a few minutes to allow the flavours to meld and the salmon is just cooked through.

Garnish with the reserved basil and green parts of the spring onions.
Notes
To serve, spoon some quinoa on to a plate, then ladle some curry on top of it.