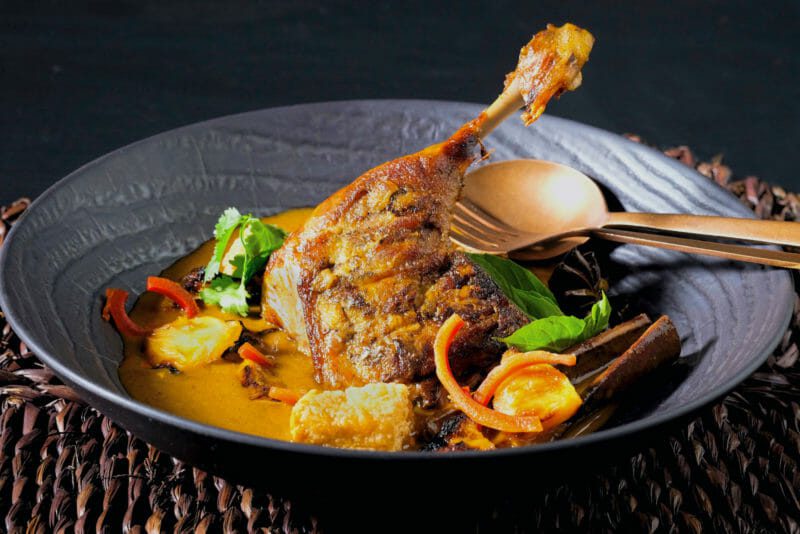 A fusion of curry influences, including Indian, Malay, and Thai, the warm and flavourful duck Massaman Curry recipe is one of those dishes that keeps drawing you back. The tender and succulent confit/sous vide duck leg is a perfect pairing, as is the bittersweet charred pineapple.
The first mention of Massaman Curry dates back to the 17th century when a Persian spice trader helped introduce Malay and Indian spices to Thailand. So loved was this curry by King Rama II, he features it in a segment of a poem he wrote in 1800:
Massaman, a curry made by my beloved, is fragrant of cumin and strong spices. Any man who has swallowed the curry is bound to long for her."

Kap He Chom Khrueang Khao Wan. Translation of the opening kap stanza, from Heather Arndt Anderson
Since then, it has grown significantly in stature and popularity. In 2011 and again in 2018, CNN Travel named Massaman Curry as number 1 of the world's 50 best foods.
The curry paste
Spices such as cumin, coriander seeds, cloves, star anise, cinnamon, and cardamom are rarely found in Thai cooking. They appear in Massaman curry recipes by way of Indian and Malay influences. Garlic, lemongrass, coriander, chilli, and coconut, are the staples in Thai curries. These two very different curry styles integrate into something truly distinctive, a curry style unlike any other.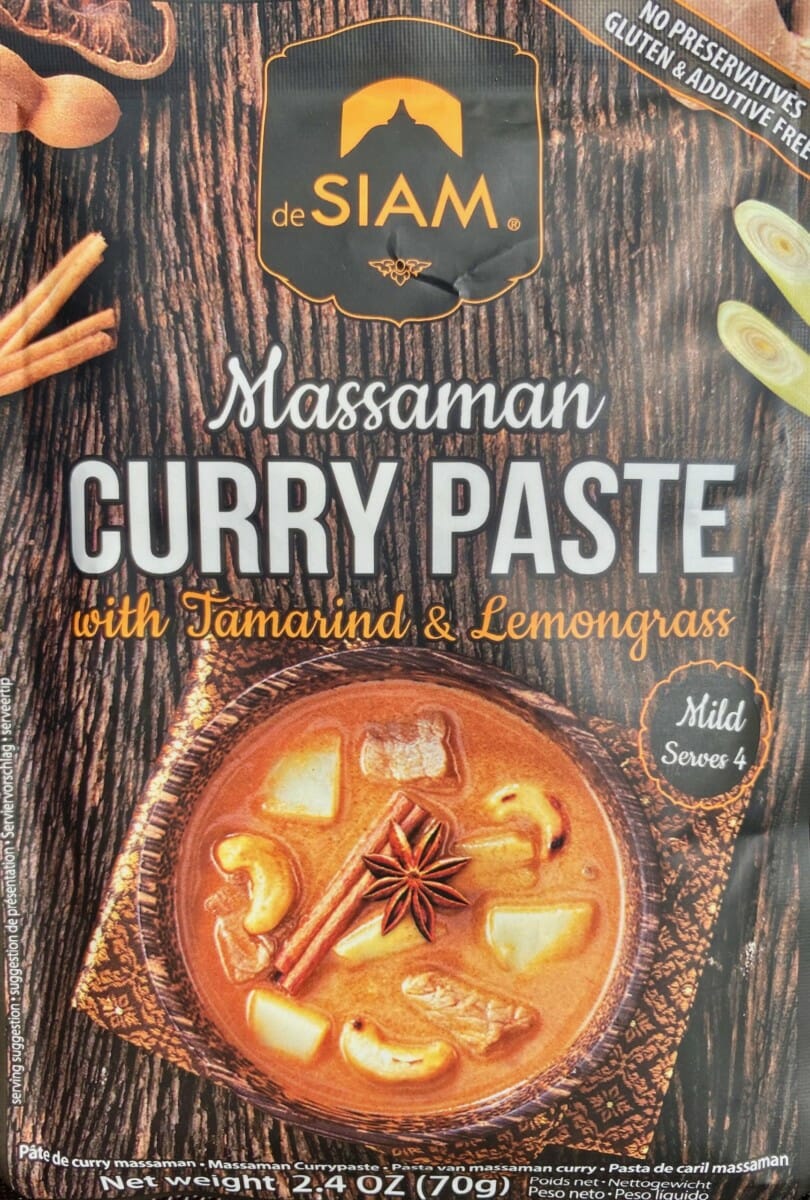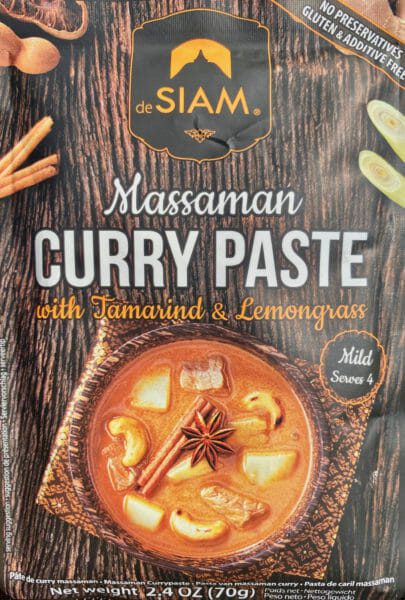 As is typical for Thai curries, it starts with a paste. You can buy Massaman Curry paste in any good Asian store and many supermarkets. Using a store-bought curry paste results in a great tasting curry. However, if you make the curry paste yourself, the Massaman Curry will be even better. If you have the time, do it. If not, know that a store-bought curry paste will still result in a fantastic curry. Highly recommended is this deSIAM curry paste.
Credit for the Massaman curry paste recipe used here goes to ThaiTable.com. Note that to save time I used their suggestion to use a food processor to break down the ingredients, then finish off in the mortar and pestle. As they point out, "pounding in the mortar crushes and separates the fibres as opposed to cutting which you get with a food processor." Another curry paste option is the recipe from Hot Thai Kitchen. Pai's video for this recipe is great, as are all her videos.
Pineapple and Tofu
Typically a Massaman Curry recipe would include potatoes and onions and be served over rice. Some styles use oranges, orange juice, or pineapple juice. Drawing from that, this implementation of Massaman Curry replaces the potato and onion for pineapple pieces brushed with duck fat and charred. With a touch of bitterness from the char, the sweet pineapple is right at home in this Thai duck curry.
Rice does a great job of soaking up the delicious curry sauce, but spongy fried tofu does even better. You should be able to buy packs of this tofu in an Asian store, already cubed and partly fried.
The Confit/Sous Vide Duck Leg
Duck breast, cooked using the sous vide method, is delectable and no stranger to delectabilia. Duck leg requires a substantially longer cooking time but rewards you with tender, juicy, and delicious mouthfuls of duck, a perfect compliment for Massaman Curry.
Cooking sous vide duck leg is effectively the same as the confit method. The duck is cooked slowly in its own fat, though that is where the comparison ends. You can read more on this and why I use the cooking time I did at this comprehensive Serious Eats article. The result is a Thai duck curry with distinct flavours and textures – the crispy tofu, the charred pineapple, the succulent duck, and to draw it all together, the warm and complex Massaman curry sauce.
Sidenote
The tagline of the 2011 version of the CNN Travel article referenced above struck a chord with me:
Some foods you eat to stay alive, others you eat because not to would be a crime. Here are those foods worth travelling the world to gorge on.

CNN Travel 2011
This is one of the reasons I love living in South East Asia. The food is amazing. And because of the influences from around the globe over the centuries, it is diverse. To develop this recipe, I have eaten duck Massaman curry at several low-end and high-end Thai restaurants and crafted this recipe to be as good as any. And, you too can make it at home.
If you enjoy the South Asian spices featured in this recipe, do try this Beyond Meatball Biryani, a vegetarian take on classic rice dish.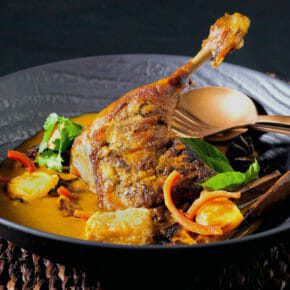 Massaman Curry with Confit Duck Leg and Charred Pineapple
A fusion of curry influences, including Indian, Malay, and Thai, the warm and flavourful Massaman Curry is one of those dishes that keeps drawing you back. The tender and succulent confit duck leg is a perfect pairing, as is the bittersweet charred pineapple.
Print Recipe
Ingredients
Massaman curry paste
1

head

garlic

3

shallots

1

stalk lemongrass

6

dried whole chillies

30

mm

piece peeled galangal or ginger

thinly sliced

1

Tbsp

chopped coriander root

4

cardamon pods

5

cloves

1

Tbsp

coriander seeds

1

cinnamon stick

1/2

Tbsp

cumin seed

1/2

Tbsp

peppercorns

1/2

tsp

ground nutmeg

1

Tbsp

salt

1

Tbsp

shrimp paste

or red miso
Confit duck legs
4

duck legs

vodka

sake, or Shaoxing wine to wash the duck

salt

5

spice powder

1

head

roasted garlic
Massaman curry
1

Tbsp

vegetable oil

70

g

Massaman curry paste

make per this recipe, or use store bought

400

ml

coconut cream

200

ml

brown chicken stock

1/2

cup

unsalted toasted peanuts

2

bay leaves

3

cloves

3

star anise

1

cinnamon stick

4

cardamon pods

lightly crushed

1

Tbsp

fish sauce

if more seasoning is needed

1

Tbsp

tamarind paste

omit if using a commercial curry paste that includes it

1

Tbsp

brown sugar
Other ingredients
150

g

fried tofu cubes

the very spongy variety, see pic

Oil for frying

1

pineapple

skin removed

Fresh red chilli julienned

Thai basil or coriander

Freshly cooked rice
Instructions
Massaman curry paste (Do ahead of time. Keeps in refrigerator for a month)
Grill or broil the unpeeled garlic and shallots until charred. When cool, remove the charred skins.

Remove the stems from the dried chillies. Also remove the seeds if you don't want the curry to be too hot.

Julienne the galangal or ginger.

Finely dice the lemongrass. Use the 100mm of the stalk closest to the root.

Toast the chillies in a skillet until starting to brown. Allow to cool a little then use a spice grinder to grind to a powder.

Add the cardamon pods, cloves, coriander seeds, cinnamon stick, cumin seed, and peppercorns to the skillet and toast until fragrant, 2-3 minutes. Allow to cool a little then use a spice grinder to grind to a powder.

Add all the curry paste ingredients to a food processor and process into a paste.

Optionally, add the paste to a mortar and pestle and pound for a few minutes to crush the fibres to release more of the aromatics.
Confit duck legs (2 days early)
Wash the duck legs in vodka, sake, or Shaoxing wine. This helps remove any "gamey" odours.

Score the skin to allow the fat to render out more easily. Even better, use one of these…

Sprinkle with salt and 5-spice.

Arrange on a plate and store uncovered in the refrigerator for 12 to 24 hours.

Wash off any salt from the duck legs and dry them.

Lay the duck legs skin side down in a cold skillet.

Put over a low heat. When the you can see some fat being rendered, increase the heat to medium low. Continue cooking until about 2 Tbsp fat has rendered. The duck skin should now be golden brown.

Remove the duck legs from the skillet and allow to cool. Reserve the duck fat for roasting the pineapple.

Squeeze the cloves of roasted garlic from the head.

When the duck has cooled, smear some roasted garlic on each duck leg and put the duck legs into zip-lock or vacuum seal bags. Remove the air and seal.

Sous vide at 68 degC for 24 hours. Remember to top up the water level as needed.

Plunge the bagged duck into ice water, then store in the refrigerator until ready to do the final assembly.
Massaman curry
Toast the cloves, star anise, cinnamon stick, and cardamon pods in a hot skillet until fragrant. Set aside.

Add the vegetable oil to the skillet over a medium high heat.

Add the Massaman curry paste and sauté for 20 – 30 seconds until fragrant.

Add the coconut cream, the chicken stock, bay leaves, toasted spices, tamarind paste, sugar, and toasted peanuts. Stir to combine.

Over a medium heat bring up to a simmer. Reduce heat to low, cover and simmer for 30 minutes.
Final assembly
Preheat the broiler.

Cut the pineapple into quarters length wise, then cut off the hard core from each piece.

Cut each quarter into bite sized pieces, lay on an over tray, and brush with duck fat.

Put the pineapple pieces under the broiler until starting to char. Remove and set aside.

Put the duck legs under the broiler, skin side down, and broil until the duck meat has browned.

Turn the duck legs over so that they are skin side up. Broil until golden and crisp.

Refry the fried tofu cubes in the oil. Drain on paper towels.

Add tofu cubes, charred pineapple, and a duck leg to a high sided plate (or low sided bowl).

Pour over some of the curry sauce, including some nuts.

Ganish with julienned chilli and coriander and/or Thai basil.