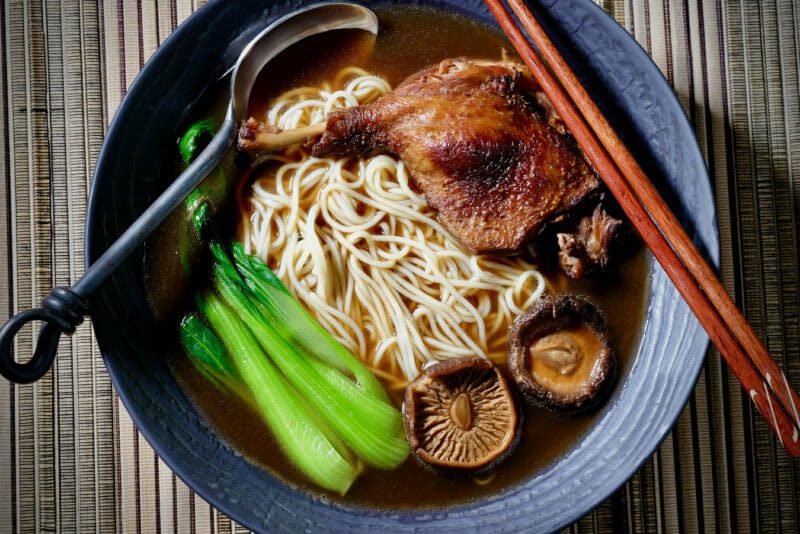 Medicinal herbs add an unusual complexity to the rich dark broth of pork and chicken bones and braised duck. This Vietnamese duck noodle soup (mi vit tiem) really does make you feel better.
Mì=Noodle Soup, Vịt=Duck, Tiềm=Slow cooked in medical herbs
Though widely available in Saigon, the character of different interpretations of Mì Vịt Tiềm can be quite diverse.
This variation is mostly in the type and amount of medicinal herbs used. I am sure some dispense with this ingredient altogether. And that is fine. The resulting bowl of noodles is still great. But using a selection of medicinal herbs not only adds a flavour profile very hard to find outside of your nearest Chinatown, but you really will surely feel better after eating this braised duck noodle soup.
Traditional herbal medicine
I used to be a sceptic about the benefits of Chinese or Vietnamese traditional herbal medicine. Living in Vietnam for a few years has eliminated that scepticism. This stuff works – perhaps not so much as a cure, but certainly, as a way to maintain health and vitality. Learn more about Vietnamese traditional medicine here.
Chinese herbal medicine was the key influence of traditional herbal medicine in Vietnam. This occurred during the Chinese occupation, although its use predates that occupation. Today, not only can you study traditional herbal medicine across Asia, Australia's largest university offers a Masters degree in herbal medicine.
When I started investigating exactly which medicinal herbs to use, things got a bit blurry. There are so many and so many combinations intended for specific health benefits. While sourcing traditional herbal medicine in Vietnam is not a problem, it will be for many delectabilia readers.
Luckily there are herbal medicine packs available for purchase online. You can get packs from Amazon, which include the most commonly used herbs. Alternatively, you can purchase more targeted medicinal combinations from Root + Spring or Eu Yan Sang. If you live in a big international city, you can probably find a good selection at an Asian grocery like this one.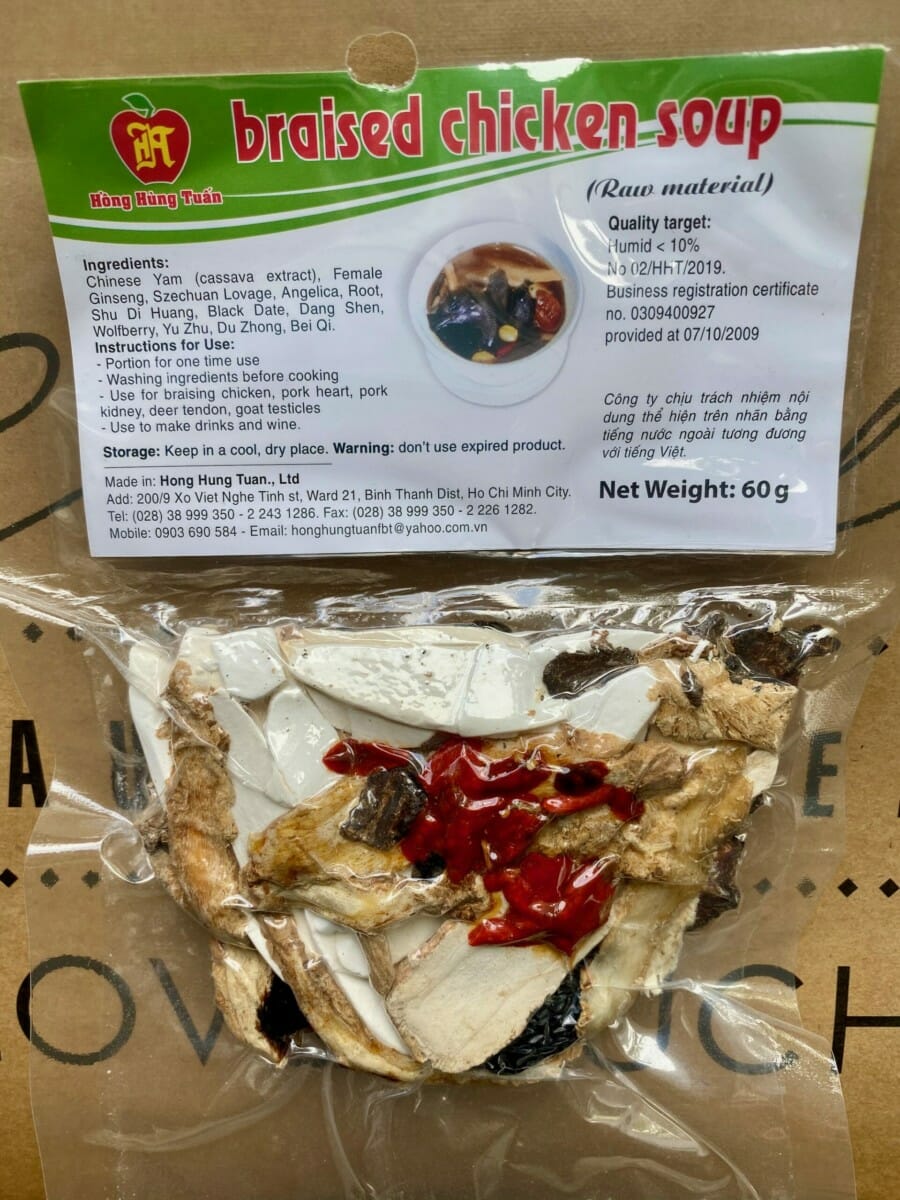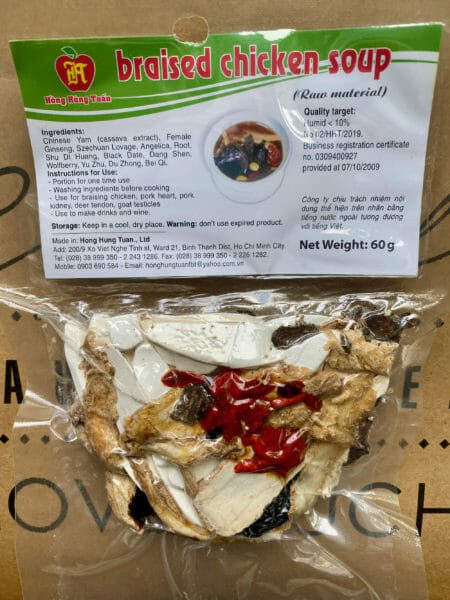 The medicinal herbs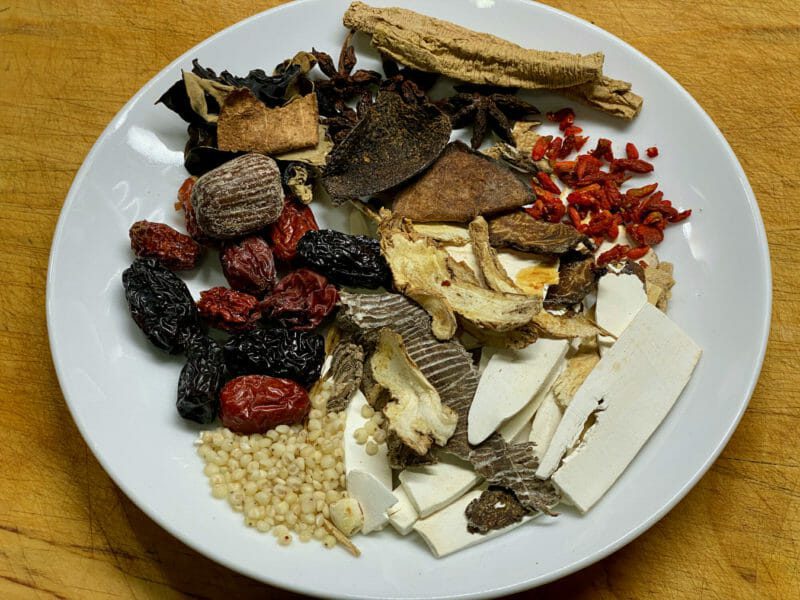 Braised duck noodle soup, or Mì Vịt Tiềm, is likely to include at least some of the following medicinal herbs:
Astragalus Root (Huang Qi)
Strengthens the inner energy of the body, and boosts the immune system, increases energy levels, builds up resistance particularly when your immune system is lowered by overworking and stress. Astragalus is one of only 13 herbs in the world that are labelled as scientifically "adaptogenic", which means that it has the unique capability to reduce the levels of stress hormones in your blood, helping you to "adapt" more easily to difficult environments, such as cold, a stressful work situation, or fatigue.

Codonopsis Root (Dang Shen) – An excellent anti-ageing herb that helps combat tiredness, chronic fatigue, stress, adrenal fatigue and digestive problems. Also assists in immune functions, digestive and urinary health, and brain function.

Dried Chinese Yam (Huai Shan) – Long been credited with tons of health benefits because of its effectiveness at tonifying kidney and spleen. This herb enhances energy, aids digestion and absorption, repairs worn-out tissue, and helps alleviate bodily weakness.

Dried Goji Berries (Gou Qi Zi) – Benefits the liver, which manifests in improving eyesight especially if poor eyesight is caused by malnutrition, vessel expansion, inflammation or eye strain from staring at computer screens and documents for long periods of time.

Ginseng (Xi Yang Shen) – Ginseng's effect is adaptogenic, which means it tends to return the body to normal while increasing resistance to adverse influences on the body. This herb will help boost your immune system all while cooling your body temperature, clearing the heat, and nourishing yin.
Longan (Longyan) – High nutritional value, full of vitamins and contains active anti-ageing ingredients. Helps to promote restful sleep, replenishing blood and Qi.

Red Dates (Hong Zao) – Also known as jujubes, red dates are widely considered as the "living vitamin pill" by the Chinese. It contains Vitamin B, C, E, P, phosphorus, calcium, iron and more. It helps calm the central nervous system, protects the liver, inhibits cell mutation, and improves the strength of muscles.

Thanks to Root + Spring for this information.
The duck
Duck is no stranger to delectabilia. The duck legs in this Mì Vịt Tiềm are first washed in rice wine to remove the gamey flavour. After marinating in a soy sauce-based marinade for a couple of hours, brown the legs under the broiler. The duck legs will now be dark brown and crispy. Simmering in the broth for 90 minutes results in a duck leg that is tender and succulent, yet packs in the rich complexity that makes duck meat such a treasure. For another braised duck leg recipe, try this braised duck pie.
The supporting cast
What would a braised duck noodle soup or mi vit tiem be without the noodles? Here we use a traditional Chinese style egg noodle. Of the varieties described in this Serious Eats article, use the thin wanton noodles. They retain a great bouncy texture, even after sitting in the soup for a while.
The dried shiitake mushrooms used in the mi vit tiem soup are retained and used as a topping. Cut off the stems and serve atop the noodles. They would have contributed many flavour-enhancing compounds to the soup, but lots of the unique earthy mushroom flavour remains.
Something green helps make a noodle dish look great. Green vegetables also complement the rich flavours of the soup and duck. Use what you can get, sautéed spinach, asparagus, or use baby bok choy if you can get it. Blanch it just a little so that it is still crunchy.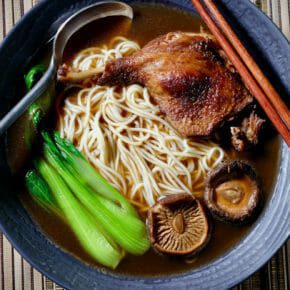 Braised duck noodle soup (Mì Vịt Tiềm)
Medicinal herbs add an unusual complexity to the rich dark broth of pork, chicken, and braised duck. This Vietnamese noodle soup really does make you feel better.
Print Recipe
Ingredients
Duck legs
4

duck legs

200

ml

rice wine or sake or soju

1

Tbsp

ginger

finely grated

2

Tbsp

dark soy sauce

1

Tbsp

oyster sauce

4

garlic cloves

crushed

1

tsp

ginger juice

1

tsp

5 spice powder
Soup
1

liter

pork and chicken bone broth

500

ml

coconut juice

500

ml

water

1

large carrot

1

onion

35

g

fresh ginger

35 g = 1 thumb sized piece

8

cloves

garlic

100

g

medicinal herbs

see notes above

4

star anise

2

Tbsp

soy sauce

1

Tbsp

oyster sauce

1

Tbsp

fish sauce
Other Ingredients
2

baby bok choy

1/2

Tbsp

salt

1

Tbsp

vegetable oil
Instructions
Duck legs
Wash the duck legs in the rice wine and ginger. This will reduce the gamey taste of the duck.

Rinse the duck legs and pat dry.

Stir together the dark soy sauce, oyster sauce, crushed garlic, and the five-spice powder.

Pierce the duck skins with a skin piercer, like this…

Smear the marinade all over the duck legs, getting some in under the skin if possible.

Allow to marinate for 1 to 2 hours in the refrigerator.

Preheat the broiler to high.

Place the duck on a baking tray skin side up.

Broil the duck until the skin is dark brown and crisp, 15 to 20 minutes.

Turn over and broil for another 10 minutes.
Soup
Wash and quarter the carrot.

Peel and halve the onion.

Peel the garlic.

Rinse the shiitake mushrooms, rehydrate a little by soaking in warm water for 5 minutes. Remove the stems.

Toast the thumb of ginger over a flame then cut in half length-ways.

Rinse the medicinal herbs and star anise well and leave to soak in water for 10 minutes.

Put the medicinal herbs and star anise into a small muslin bag, or soup infuser.

In a large saucepan, add the stock, water, coconut juice, carrot, onion, garlic, ginger, shiitake mushrooms, soy sauce, oyster sauce, and soup infuser.

Lay the duck legs into the broth.

Bring up to a boil then reduce to a simmer.

Simmer for 90 minutes. Skim off any foam while simmering.

Carefully remove the duck legs and set aside. The duck meat will be "fall off the bone" tender by this stage.

Remove the shiitake mushrooms and set aside.

Remove and discard all the other vegetables and medicinal herbs.

Strain the soup.

Taste the soup to access seasoning. It will likely require more, so add the 1 Tbsp fish sauce.
Serving
Bring another large saucepan of water to a boil. Add 1/2 Tbsp salt and 1 Tbsp vegetable oil.

Blanch the bok choy for 1 minute. Allow to drain, cut in half length-ways, and set aside.

Blanch the egg noodles until cooked. 1 – 2 minutes if fresh, 4 – 5 minutes if dried.

Add one portion of noodles to a bowl. Top with a duck leg, 2 shiitake mushrooms, and a piece of bok choy. Ladle over the soup.