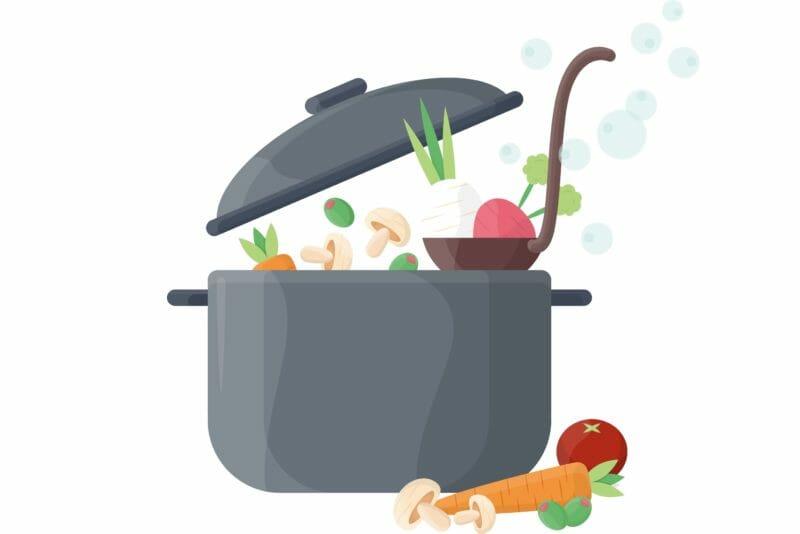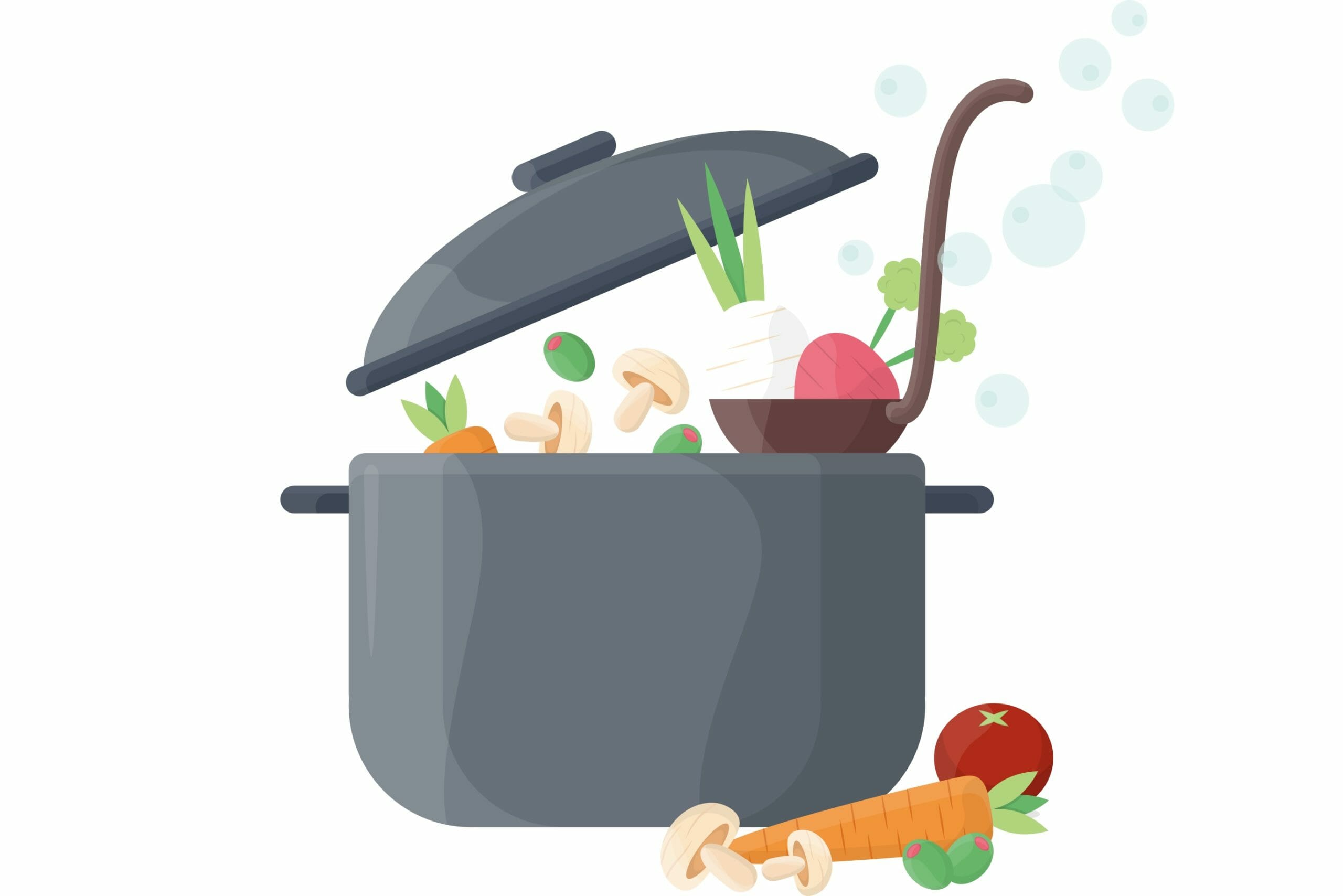 A good stock is a key ingredient in a wide range of dishes – from soups to sauces to casseroles. This chicken and pork bone broth delivers an amazing depth of flavour and a silky texture.
Please excuse the placeholder graphic, as good as it is. I didn't take a photograph of this batch but had a couple of recipes to post that relies on this delicious stock. Check out this fermented fish consommé and this ramen with tastes of the ocean.
A South American proverb says that "Good broth will resurrect the dead." While perhaps a slight exaggeration, a good bone broth has more than just amazing flavour to enhance your dishes. It also has worthwhile nutritional benefits. A great resource on broths and stocks is the Sally Fallon Morell book Nourishing Broth.
Bone broth, with its rich dissolves of collagen, cartilage, bone, and marrow, gives the body "the right stuff" to rebuild and rejuvenate. These components include vitamins and minerals, the conditionally essential amino acids glycine, proline, and glutamine, and healing "essential" sugars known as proteoglycans.

Nourishing Broth by Sally Fallon Morell
The components
The key ingredients in this chicken and pork bone broth or stock are the bones. As important as the bones are, the cartilage, tendons, and skin attached to them are at least as important. I have used a combination of pork bones and chicken bones, as each makes a distinct contribution to the flavour of this stock. I used pigs' trotters and knuckles for the pork bones as these produce an incredibly rich gelatinous broth due to the abundance of cartilage and tendons.
The chicken wings and leg bones add that dimension that only chicken stock can.
Chicken stock is the secret ingredient of restaurant food. A good chicken stock should have decent body, along with a mild savory flavor that enhances, rather than competes with, the sauces, glazes, and soup bases you make with it.

Daniel Gritzer – Serious Eats
The contribution of the vegetables should not be underestimated. The carrots and onion contribute a subtle sweetness. And the daikon, garlic, and lemongrass add a little edge to the otherwise smooth taste of the broth.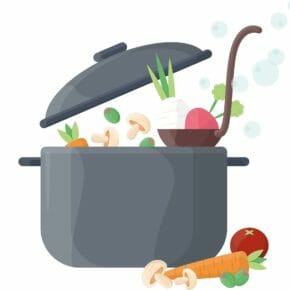 Pork and chicken bone broth
A good stock is a key ingredient in a wide range of dishes – from soups, to sauces, to casseroles. This pork and chicken bone broth delivers an amazing depth of flavor and a silky texture.
Print Recipe
Ingredients
600

g

pork bones

pigs trotters and knuckles work well

600

g

chicken leg bones and wings

3

carrots

washed and quartered length-ways)

4

stalks celery

1

large daikon

if available

1

onion large

halved. Leave the skin on if it is in good condition. Just wash it

1

head

garlic

Halved width-wise

1

stalk lemongrass

smashed a little

1

bay leaf

6

litres water
Instructions
Preheat the oven to 200 degC

Put the pork bones in a large saucepan and fill with cold water to 30mm or so above the bones.

Bring to a boil. Boil for 10 minutes, skimming off the scum regularly.

Drain, discarding the water.

Rinse the pork bones under running water, then allow to drain and dry a little.

Roast the pork bones, chicken wings, carrot, and onion until becoming crisp, about 45 minutes.

Put the roasted pork bones, chicken wings, carrot, and onion into a large saucepan. Add in the garlic, lemongrass stalk, celery, and 3 liters of water.

Bring to a boil then reduce to a low simmer.

Simmer for 8 hours. Top up with hot water occasionally to maintain the same water level.

Remove the solids and strain through a fine strainer.

Add some ice cubes to chill the broth quickly.

Store in the refrigerator overnight. Discard any congealed fat.