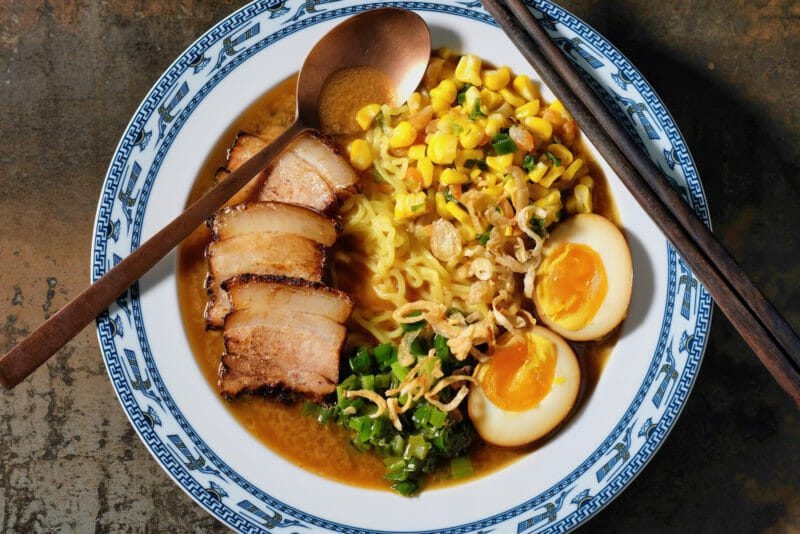 Saigon Ramen is a spicy miso style ramen recipe with flavours and toppings inspired by some of Saigon's most iconic street food.
Ramen originated in China and made its way to Japan in the mid-19th century. That original version consisted of wheat noodles topped with Chinese-style roast pork. The dish became considerably more popular in the period immediately after WWII when rice was scarce. Multiple versions of ramen evolved, and by the 1980's it had become a Japanese cultural icon, famous around the world.
Interestingly, the story of Vietnam's banh mi is very similar. Originating as a French baguette during the French occupation, it became a cheap and widely available food during the 10,000-day war (book) and its aftermath. It too has evolved into several styles and has become famous around the world.
In the spirit of adopting a dish from a foreign cuisine and incorporating local flavours, I present Saigon Miso Ramen. The toppings used for this spicy miso ramen recipe are inspired by some of Saigon's most iconic dishes and street food, while the broth features elements of both Phở and Bún bò Huế.
The pork and chicken bone broth (nước canh gà heo)
The base broth in this Saigon Miso Ramen is very similar to this pork and chicken bone broth. There is more lemongrass, an ingredient that gives Bún bò Huế its distinctive character. There is also charred onion, charred ginger, and star anise. These bring a hint of beautifully fragrant Phở broth.
Simmering the aromatics together with the pork and chicken bones for many hours produces a wonderfully flavoured broth with hints of Saigon.
Miso tare (tương đậu nành)
Vietnam has its own form of fermented soybeans known as tương. It is most commonly used to make dipping sauces for tofu, vegetables, or gỏi cuốn. As it is not easy to find outside of Vietnam, we use Japanese miso in this spicy miso ramen recipe. If you can buy it, use tương instead of the red miso.
A key component in this tare is the spicy chilli bean paste or doubanjing. This hot and savoury Chinese bean paste is made from fermented broad beans, chilli peppers, soybeans. It adds a little heat and brings even more depth to the Saigon Miso Ramen broth.
Pork braised in coconut juice (thịt kho nước dừa)
Pho may be the best known Vietnamese dish internationally. However, in Vietnam, people don't cook pho at home. One of the most popular home-cooked dishes, especially in the south, would have to be thịt kho nước dừa – pork belly and eggs cooked in coconut juice and seasoned with fish sauce. It is considered a special dish to prepare during Tết (or Vietnamese New Year).
Our Saigon Miso Ramen recipe substitutes the traditional chashu for thin slices of thịt kho. This is different from how thịt kho is typically prepared – with chunky pieces of pork belly. Instead of cutting it up before cooking, we cook the strip of pork belly whole. We then chill it so that it is easier to cut into thin slices. Finally, a blast from a cooking torch warms these slices up and nicely chars the cut surfaces.
Marinated eggs (trứng ướp)
As mentioned above, thịt kho nước dừa includes eggs as well as the pork belly. Because they are cooked for a long time, they inevitably become hard-boiled eggs. But for many, marinated eggs with runny yolks are an indispensable component of ramen.
The solution is to marinate soft boiled eggs in the braised pork belly cooking liquid. The sweetness of the coconut juice, together with the depth of flavour from the braised pork belly, enhanced with soy sauce and rice vinegar, resulted in really delicious marinated eggs.
Sautéed corn (bắp xào)
Scallion and garlic oil (mỡ hành tỏi)
Crispy fried shallots (hành phi)
The bowl (Đông Sơn drum motifs)
Meanwhile, in Japan
Ramen in Japan continues to evolve. Tsuta was the first-ever ramen restaurant to receive a Michelin star. The ramen styles on their menu today demonstrate just how far the art of ramen has progressed.