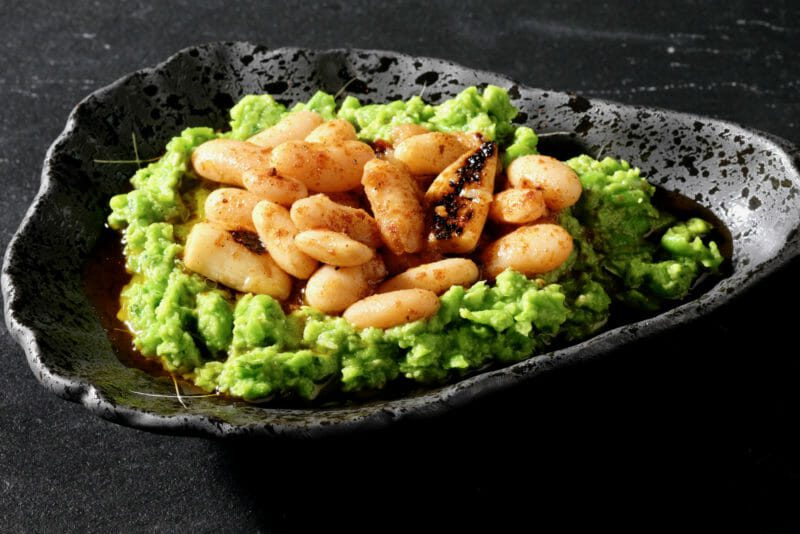 Freshly cooked white beans, marinated in a smoky and spicy infused olive oil, sit atop a fresh and sweet pea and herb mash. These are two very different components that lift each other to new heights.
A Yotam Ottolenghi dish was the inspiration for this recipe. His key ingredient was feta cheese, marinated in a similar spicy garlic olive oil. White beans, however, are a much healthier alternative. Like the feta, they take on the smoky olive oil marinade's flavours while retaining their wonderful creaminess.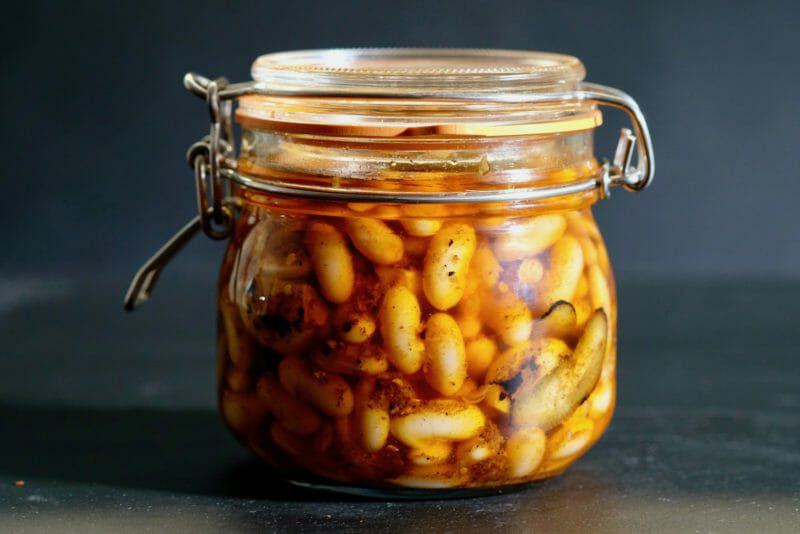 Smoky Marinated White Beans
Be sure to start with fresh white beans or dried beans that have been soaking overnight. Canned beans have their place, but not in this recipe. Cooking the beans together with onion, garlic, and a few sprigs of a herb like thyme adds such sweet aromatic notes to the beans natural creaminess. Being able to cook the beans with aromatics is one of the most significant advantages of using fresh or dried beans. Another recipe that benefits from this approach are these black and white beans in a phở inspired broth.
The smoky marinated white beans' get their smokiness from charring the garlic cloves, lemon peel, bay leaves, and chilli flakes before infusing their flavours, together with smoked paprika, into the olive oil. Be careful when adding the chilli flakes to the hot pan. If it is too hot, the chilli flakes will burn, creating a lot of smoke. Allow the pan to cool down a bit before adding the chilli flakes. Even so, be sure your kitchen is well ventilated. Not only can it get smoky, but the fumes given off by the charring chilli flakes is also sure to make you cough.
Once there is a good char on the aromatics, pour in the olive oil and add the salt and smoked paprika. Simming the aromatics for a few more minutes helps develop the flavours as well as soften the garlic. Finally, combine the infused oil and aromatics with the white beans and marinate for at least a day before using.
Pea and Herb Mash
The marinated white beans are very versatile. For example, they are great mashed on toasted sourdough bread. Here, a tasty pea and herb mash highlights the beans delectable qualities. This mash's freshness provides a great counterpoint to the smokiness of the white beans and infused oil.
Also, on delectabilia, mashed peas provide a great accompaniment to these mussel spring rolls.
The recipe says to use your favourite herbs, but be sure to use a herb or herbs that compliment the peas' fresh sweetness. Mint, of course, works perfectly. So would marjoram, tarragon, or basil. Rosemary, sage, or thyme, however, may be a little overpowering.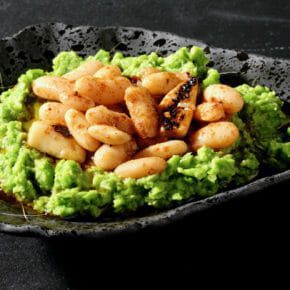 Smoky Marinated White Beans on a Pea and Herb Mash
Freshly cooked white beans, marinated in a smoky and spicy infused olive oil, sit atop a fresh and sweet pea and herb mash. These are two very different components that lift each other to new heights.
Print Recipe
Ingredients
White beans
300

g

fresh white beans

150 g dried white beans, soaked overnight in lightly salted water

1

onion

5

cloves

garlic, skin on but lightly crushed

A few sprigs of thyme

optional

1

tsp

salt
Smoky marinated beans
10

garlic cloves, peeled

1

lemon or lime, skin peeled into 6 strips

4

bay leaves, fresh

2

tsp

chilli flakes

250

ml

extra virgin olive oil
1 tsp flaky sea salt

2

tsp

smoked paprika

The cooked white beans
Pea and herb mash
500

g

frozen peas

defrosted

20

g

your favorite herbs

of course mint goes very well with peas

1

clove

garlic, crushed

grated zest of a lime

about 1.5 tsp

Juice of a 1/2 lemon/lime, plus the other half on standby

4

Tbsp

olive oil

1/2

tsp

salt, plus another 1/2 tsp if needed.

1

tsp

freshly ground black pepper
Instructions
White beans (Several days ahead)
Peel the onion, leaving the root in place to hold the onion layers together. Cut in half through the root end.

Add the onion halves, garlic cloves, thyme, and fresh/soaked beans to a saucepan. Add enough water to cover the beans by about 20 mm.

Bring to a boil then reduce to a simmer. Simmer for 20 minutes.

Add the 1 tsp of salt to the saucepan.

Simmer for 20 more minutes, or until the beans have an edible consistency.

Drain. Discard the thyme stalks, onion halves, and garlic cloves.
Smoky marinated beans (Several days ahead)
Bring a skillet to a medium-high heat and add the garlic cloves. Cook 3 to 4 minutes until starting to char.

Add the lemon or lime strips and bay leaves and cook for a minute or two until they start to char.

Remove from the heat and remove garlic, lemon, and bay leaves from the pan. Set aside.

After the skillet has cooled a little, add the chilli flakes. They should smoke, but but burn. If they burn, start again. BEWARE: The fumes produced in this step are quite strong and may cause you to cough. Be sure to have adequate ventilation/extraction.

Once the chilli flakes are toasted (about 30 seconds), add the garlic, lemon, and bay leaves back to the skillet.

Add the olive oil, salt, and paprika to the skillet.

Over a medium low heat bring up to a simmer and gently simmer the aromatics in the oil for 5 minutes.

Add the beans to a suitable jar that has been well cleaned. Pour over the infused oil including the charred garlic, lemon peel, and bay leaves.

Once cool, store in the refrigerator until for several days until needed.
Pea and herb mash
Blend all ingredients in a food processor.

Add more salt and/or lime juice to taste.
Plating
Spoon some pea and herb mash on to a plate. Top with some marinated beans and the marinating oil.