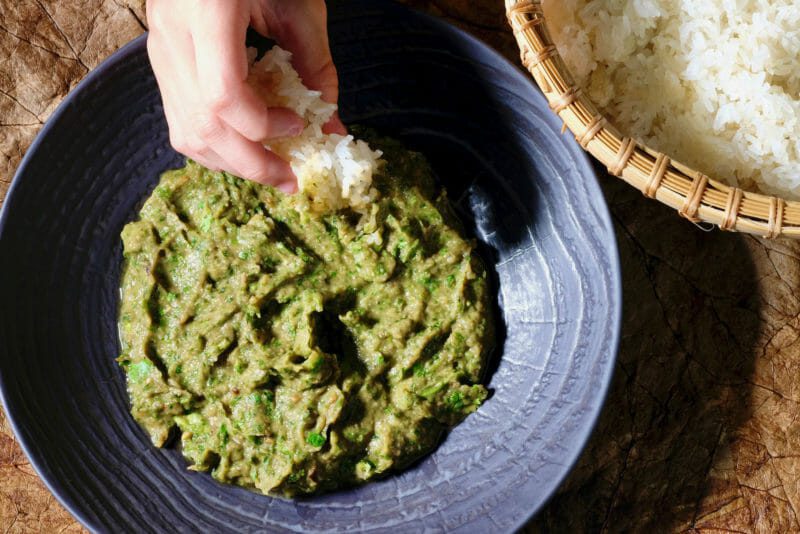 Use a handful of sticky rice to scoop up some of this spicy and smoky grilled eggplant dip. Not only is it delicious, but this dish, inspired by jeow mak keua from Laos, is also fun to eat.
A couple of decades ago, quite early on in my South-East Asian journey, I spent a week staying with a family in rural Laos, an hour or so north of Vientiane. The life lessons learned during this trip were significant, but this is not an autobiography. A couple of dishes from that trip have remained firmly lodged in my memory. Both involved taking a handful of sticky rice and using it to scoop up a delicious concoction (jeow), fresh from being pounded in a mortar and pestle.
Inspired by Lao country food
One of those concoctions involved smoky grilled eggplant and herbs (jeow mak keua) — the other, mashed grasshoppers. Both were memorable in only the best of ways. While edible grasshoppers are available and used in this insect and mushroom carpaccio recipe, making that will have to wait for when I have sufficiently adventurous guests. The smoky eggplant and herbs, however, will please a much more diverse range of diners.
This is one of those times when trying to make an authentic version of a dish is pointless, even for me in Saigon, a lot closer to rural Laos than most of my readers. What we can do is be inspired by this dish and create something as exciting and delicious as the original (or at least my memory of it!)
I didn't have the charcoal fire to grill and smoke the eggplants. I could not get padaek, a fermented fish used in Lao cooking. And I couldn't get the Lao herbs. The substitutes, though, do result in a truly delectable and unique dish.
The substitute for the padaek is perhaps the most important, even though the recipe only specifies two teaspoons of this ingredient. Padaek is a fermented fish sauce and has quite a strong flavour. It is very similar to the Thai condiment pla ra. Vietnam's mắm nêm is another condiment made from fermented fish. However, padaek and pla ra are made with freshwater fish, while mắm nêm uses fish, usually anchovies, from the ocean. I substituted pla ra, as I could purchase that at a local market. You can get it on Amazon. If none of these work for you, use a good oyster sauce. 
As well as the substitutes, I also took a shortcut. I used a food processor instead of a mortar and pestle. I do acknowledge that pounding ingredients like garlic and chillies can bring out flavours that chopping cannot. If you have the time (allow 30 minutes), use a large mortar and pestle. Otherwise, a food processor does do an excellent job and does it very efficiently.
Sticky rice
Sticky rice features in a wide range of dishes served across South East Asia, from Thai desserts with mango and coconut cream to Vietnam's savoury bánh chưng. Often it is used in place of regular rice at the Lao table. The rice performs double duty for this style of eating—no knives, forks, spoons, or chopsticks here. You take a handful of sticky rice to use to scoop up a portion of the dip. This eating style can undoubtedly be a lot of fun when you have a group of people participating.
You do not cook sticky rice the same way that you cook regular rice. The best guide I could find online was by Pai of Hot Thai Kitchen. Pai presents seven ways to cook sticky rice. I steamed it in a bamboo basket, and it was perfect.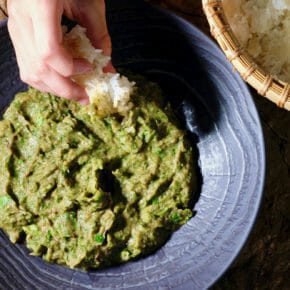 Sticky Rice with a Smoky Eggplant Dip
Use a handful of sticky rice to scoop up some of this spicy and smoky eggplant dip. Not only is it delicious, but this dish, inspired by jeow mak keua from Laos, is fun to eat.
Print Recipe
Ingredients
Eggplant dip
3

eggplants, the medium sized long thin type

5

cloves

garlic, large, skin on

4

shallots, skin on

5

green chilies

Small Thai bird type. Use more if you like it spicy

1/2

cup

mint leaves

coarsely chopped

1/2

cup

cilantro leaves

coarsely chopped

4

stalks

green onions

washed, whites ends removed, diced into 20 mm pieces

2

tsp

fish sauce

2

tsp

pla ra

as a substitute for padaek
Instructions
Sticky rice
Steam the sticky rice according to the instructions here.
Eggplant dip
Preheat the oven or broiler to 220 degC.

Smear some vegetable oil on the eggplants, shallots, and garlic then place on a baking tray.

Use a knife to pierce each eggplant several times to allow steam to escape (otherwise they tend to explode).

Broil or grill the eggplant, shallots, and garlic until skins are starting to char. Turn over to ensure all sides are getting charred.

Remove from the oven and allow to cool.

Remove the eggplant flesh from the charred skins.

Remove the charred skins from the garlic and shallots.

Add all the ingredients except the herbs and green onions to a food processor and process to combine.

Add the herbs and green onions and pulse a few times. The herbs should still be a distinct component.
Serving
Take a clump of sticky rice (a thumb sized clump) and scoop up some of the eggplant dip with it. Enjoy.