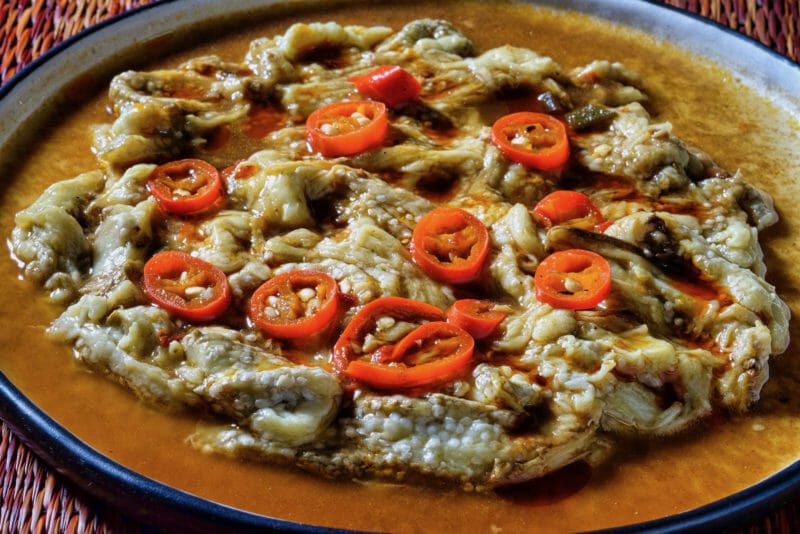 A spicy Sichuan málà style sauce gets drizzled over smoky grilled eggplant. Serve this Sichuan eggplant with rice, or use it as a side or appetiser.
Inspiration – Cà tím nướng mỡ hành
Although eggplant is no stranger to Sichuan cuisine, the inspiration for this particular dish was a Vietnamese dish called cà tím nướng mỡ hành. Translated as grilled eggplant with green onion sauce, this is a delicious traditional Vietnamese dish. If you are interested in exploring it, check out this video from the wonderful Helen of Helen's Recipes. Also, check out her Simply Pho cooking book, a valuable resource if you love cooking Vietnamese food.
Here in this Sichuan eggplant dish, we swap out the mỡ hành, the green onion sauce, for something with a very different flavour profile. This málà sauce, while indeed different, is just as delectable.
Grilled eggplant is a very versatile ingredient. Are you interested in exploring other ways of using this smoky delicacy? Check out this Laos inspired grilled eggplant dip with sticky rice. This Japan-inspired soba noodles with grilled eggplant is also a delicious diversion.
The Málà Experience
A málà sauce is both spicy from the chilli and numbing from the Sichuan peppercorns. Wikipedia informs us "The term málà is a combination of two Chinese characters: "numbing" (麻) and "spicy (picant)" (辣), referring to the feeling in the mouth after eating the sauce."
My first experience of the málà sensation was at a Sichuan restaurant in Melbourne. I ordered a beef noodle dish with a "3 chilli" rating. "Are you sure?" they said. Rather than justify my choice with an explanation of where I have lived for the last couple of decades, a simple "yes" sufficed.
It was such a satisfying bowl of noodles. My lips were indeed numb. I did break a sweat. But I felt great. Taking the essence of this encounter and pouring it over smoky grilled eggplant resulted in this delicious and memorable Sichuan eggplant experience.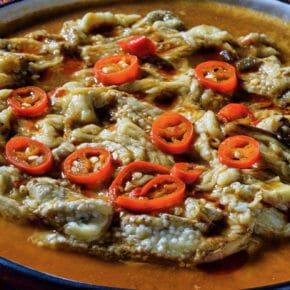 Sichuan Eggplant (Grilled Eggplant with a Málà Sauce)
A spicy Sichuan málà style sauce gets drizzled over smoky grilled eggplant. Serve this Sichuan eggplant with rice, or use it as a side or appetiser.
Print Recipe
Ingredients
Eggplants
600

g

Japanese eggplants

around 4 of the long thin variety
Instructions
Málà sauce
Dice the spring onions, reserving the green parts for the garnish

Dice the mushroom very finely.

Stir fry the mushrooms and white parts of the spring onion in the oil until the mushrooms have stopped reducing in size (about 6-7 minutes). Set aside, keeping the oil in the pan.

Stir fry the garlic and ginger in the same oil for a few minutes.

Add the stir fried mushrooms, chilli flakes, chilli bean paste, and fermented black beans to the garlic and chilli. Cook for a few more minutes.

Add the vegetable stock, Shaoxing wine (or dry sherry), and black vinegar (or balsamic), sugar, and soy sauce.

Bring to a boil then reduce to a simmer.

Add the ground Sichuan pepper.

Simmer for 10 minutes.

Dice up the greens of the spring onions.

Add the spring onion greens and half the cornstarch paste and stir well until the soup starts to thicken a little (a couple of minutes). Add the rest of the cornstarch and cook for a little longer if the sauce is not thick enough. Remove from the heat.
Eggplants
Poke the eggplants multiple times with a toothpick. This stops them exploding when being grilled.

Char the eggplants on all sides over a grill. The skins should be blackened. Charing under a very hot broiler would also work. A real bbq, if you have one, grill adds a nice smokiness.

Allow to cool a bit then peel off the skins.

Lay on a serving plate then drag a fork through the eggplants length ways. This is to break them up a little so that the sauce coats more of the eggplant.
Plating
Pour the sauce over the eggplants

Top with fried shallots and chilli oil