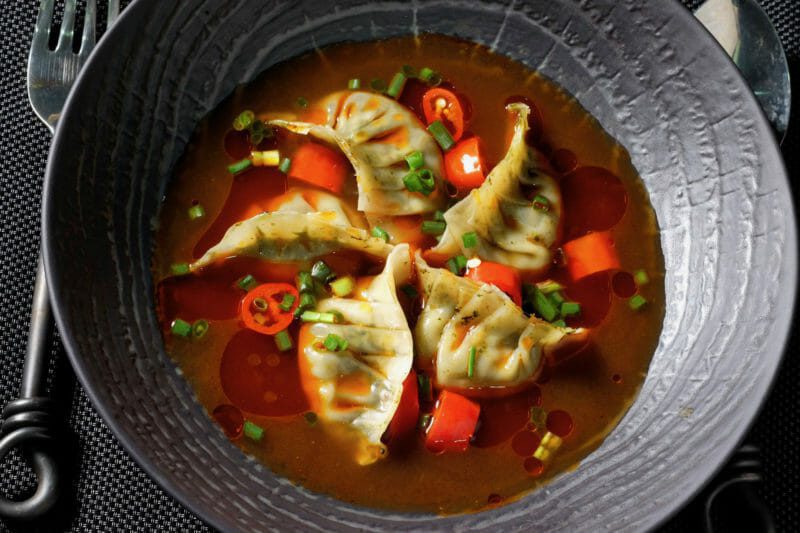 Dumplings are a great way to package flavours and differentiate them from their surroundings. Here, umami-packed spinach and mushroom dumplings sit in a spicy, lip numbing, yet delicious mala broth.
The spicy málà broth
A málà broth is both spicy from the chilli and numbing from the Sichuan peppercorns. Wikipedia informs us "The term málà is a combination of two Chinese characters: "numbing" (麻) and "spicy (picant)" (辣), referring to the feeling in the mouth after eating the sauce."
My first experience of the málà sensation was at a Sichuan restaurant in Melbourne. I ordered a beef noodle dish with a "3 chilli" rating. "Are you sure?" they said. Rather than justify my choice with an explanation of where I have lived for the last couple of decades, a simple "yes" sufficed. And it was so delicious. My lips were numb. I broke a sweat. But it was so delicious.
After further exploration of this style, including this great place, I was ready to start experimenting with mala broth. This dish is the first result of that exploration (and there are more to come).
One crucial component of so many Sichuan dishes is the chilli oil. You can buy chilli oil, but the chilli oil used in this recipe exhibits the málà profile. A neutral vegetable oil infused with spices, chilli, and Sichuan pepper. I make my own. It is so good and so easy.
The mushroom and spinach dumplings
Creating these mushroom and spinach dumplings could be a little intimidating at first. You need to allow a little time for that, especially if you are making your own dumpling wrappers. For your first dumpling creations, I suggest buying the wrappers. The wrapping of your ingredients in the dumpling wrapper is a challenge in itself. This guide is worth bookmarking.
There is a striking resemblance between these dumplings and the gyoza recipes on delectabilia. Though they are essentially the same, I called them dumplings in this recipe because they are in a soup or broth, as with these duck dumplings.
One more ingredient worth a comment… the chilli bean paste, or doubanjiang. It is fermented broad beans and chilli, and you will likely find a jar in a nearby supermarket. Or on Amazon.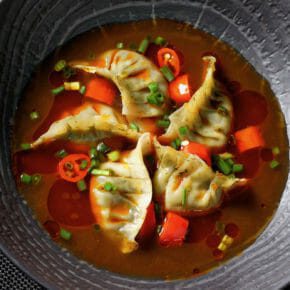 Spinach and mushroom dumplings in a mala broth
Dumplings are a great way to package flavours and differentiate them from their surroundings. Here, umami-packed spinach and mushroom dumplings sit in a spicy, lip numbing, yet delicious mala broth.
Print Recipe
Ingredients
Mushroom and spinach dumplings
1/2

cup

cooked spinach

all moisture squeezed out

30

g

dried forest mushrooms

shiitake, porcini etc

200

g

fresh shiitake mushrooms

4

cloves

garlic

20

g

butter

2

Tbsp

chives

finely chopped

1

tsp

dark soy sauce

1

tsp

sesame oil

1

egg yolk

1

Tbsp

diced truffle slices

the sort you get preserved in oil. This ingredient is optional

20

gyoza or wonton wrappers
Garnish
4

red chillis

the long mild variety

8

green onions

green parts
Instructions
Mushroom and spinach dumplings
Soak the dried forest mushrooms in warm water for 10 minutes. Agitate occasionally to dislodge any grit.

Remove the mushrooms from the water, without disturbing any grit that has settled to the bottom. Discard this water.

Soak the dried mushrooms in 1 cup of boiling water for 30 minutes. Agitate occasionally.

Remove the mushrooms from the water, squeeze any remaining moisture out, and set aside. Retain the soaking water for the mala broth.

Dice the garlic.

Dice the fresh mushrooms. Sauté in the butter until moisture has evaporated off and they are starting to brown.

Add the diced garlic and sauté another minute or two.

Remove from heat and set aside.

Squeeze out any remaining moisture from the spinach.

Add the rehydrated forest mushrooms, sautéed mushrooms, spinach, chives, soy sauce, egg yolk, truffle slices (if using), and sesame oil to a food processor.

Pulse process the ingredients so that they are still a little chunky.

Take a gyoza wrapper and add 1/2 Tbsp of filling to the centre. Wrap according to your preference. See the video.

Sit each dumpling on a slice of carrot in a steamer.

Steam the dumplings for 10 to 12 minutes.
Sichuan style broth
Preheat the oven to 120 degC.

Whisk together the miso and vegetable oil.

Dice the carrots, leeks, celery, onions (rinse, but keep skin on), red pepper, white parts of the green onions, and ginger.

Separate the head of garlic into cloves and rinse. Smash under a knife, keeping skin on.

Pit all the ingredients on a baking tray, drizzle with the miso oil mixture, and toss.

Roast the vegetables for 2 hours, until they have softened and browning, but not blackening. Toss the vegetable after 60 minutes.

Add the roasted vegetables to a large saucepan with 3 liters of cold water.

Add the cup of retained soaking water from the dried mushrooms.

Put over a low heat and allow the broth to come up to a simmer – occasional bubbles.

Simmer for 1.5 hours

Add the 1 Tbsp chilli flakes, 1 Tbsp sichuan pepper, and 1 Tbsp chilli bean sauce.

Simmer for another 30 minutes.

Strain all the solids from the broth. Strain again through a fine strainer.

Dice the 4 mild chillis into 1cm sections.

Blanch in the broth for 2 minutes. Remove and set aside.

Test the "mala-ness" (spiciness – numbing qualitof the broth. Add more chilli or sichuan pepper accordingly. Keep in mind there will be more sichuan pepper added to the bowl.
Serving
Warm 4 bowls.

Place 6 dumplings in each bowl.

Add 1 tsp soy sauce, 1/2 tsp ground sichuan pepper, 1/2 tsp ground white pepper, and 250 – 350ml of mala broth.

Sprinkle over some diced blanched red chillis, diced green onion, and add a splash of chilli oil.