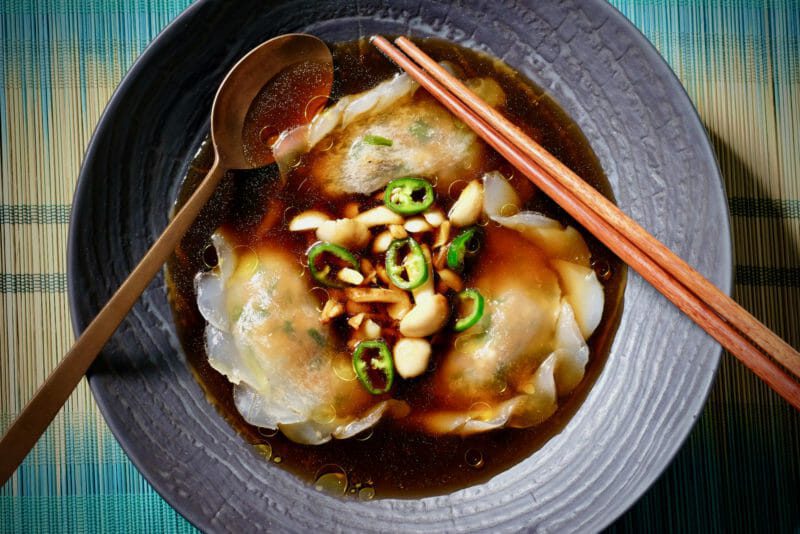 Packages of tasty, succulent duck breast, these duck dumplings are served in a mushroom and smoky bacon consommé. The consommé may look unassuming, but its intensity and clarity of flavour will take you by surprise.
A consommé is like a plain paper bag with a surprise inside. It does not indicate what you will experience when a spoonful of this flavourful liquid enters your mouth. That umami-packed mushroom concoction is an excellent accompaniment for these delicious and succulent dumplings.
The Dumplings
The paper bag analogy is perhaps more applicable to the dumplings. The shiitake mushrooms and thyme, the aromatics, and flavour-enhancing condiments soy sauce and oyster sauce, combine to make that already delicious duck even more impressive. A surprise!
The duck breasts in this recipe have been cooked sous vide. If you do not have a sous vide machine, brown the breasts, skin side down in a pan, then finish them in the oven. And the most convenient option, buy a roast duck.
And the packaging… I used store-bought dumpling wrappers that were a little transparent because they were wheat starch-based as opposed to wheat flour. You are more likely to find wonton wrappers or gyoza wrappers. Such wrappers would be more opaque than those pictured above but will work just as well.
Wrapping dumplings can take some practice—a great visual guide is the following YouTube video.
Dumplings come in a wide variety of styles and appear in many of the world's cuisines. This Serious Eats article is excellent background reading should you wish to extend your knowledge of dumplings.
The Consommé
A consommé is a clear soup made from a richly flavoured broth whose suspended solids have been removed by blending with egg whites. Consommés have been around since the middle ages. While typically made using meat-based broths, the process works at least as well for other base ingredients. This kimchi consommé with pork belly was particularly memorable, as was this fermented fish consommé.
Making a consomme can be a little intimidating the first time. It was for me. However, it is not that difficult, and the reward is worth that extra step.
This mushroom and smoky bacon consommé, built on a chicken stock and vegetable base, includes the unique flavours of fresh portobello mushrooms and dried shiitake and porcini mushrooms. Real smoked bacon imparts the sort of smokiness that can only come from an ingredient that has been smoked instead of treated with a smoke flavouring. Try to find the real thing at a delicatessen. It is worth it.
Duck dumplings in a mushroom and smoky bacon consommé
Packages of tasty, succulent duck breast, these duck dumplings are served in a mushroom and smoky bacon consommé. The consommé may look unassuming, but its intensity and clarity of flavour will take you by surprise.
Print Recipe
Ingredients
Duck dumplings
2

duck breasts

Salt and pepper

4

sprigs of thyme

2

cloves

garlic

finely diced

2

Tbsp

Shaoxing wine

or Mirin or dry sherry

1

Tbsp

soy sauce

1

Tbsp

oyster sauce

3

spring onions

the green parts, diced

1

Tbsp

truffle oil

optional

30

dumpling wrappers
Mushroom and smoky bacon consommé
400

g

portobello mushrooms

200

g

fresh shiitake mushrooms

20

g

dried porcini mushrooms

or dried shiitake mushrooms

100

g

smoked bacon

try to get the real stuff from a deli

1

Tbsp

oil or rendered duck fat

750

ml

brown chicken stock

1250

ml

water

1

large carrot

4

stalks celery

1

large leek

5

cloves

garlic

1

Tbsp

fish sauce

1

tsp

balsamic vinegar

1

tsp

sugar
Instructions
Duck dumplings – the night before
Score the skin of the duck breast, or use a skin piercer like this >

Sprinkle with salt and pepper and leave uncovered in the refrigerator overnight. This dehydrates the duck a little, helping to intensify its flavor.
Duck dumplings – on the day
Wipe any salt and moisture from the duck breast with paper towels.

Place the duck breast skin side down into a cold skillet then heat slowly to a medium low heat. After 10-15 minutes you should have a tablespoon or two of duck fat and the skin should be getting quite golden brown.

Remove the duck from the skillet and allow to cool for 10 minutes.

Pour the duck fat into a small bowl and keep for sautéing the mushrooms. It is delicious.

Place the duck breasts, diced garlic, and thyme sprigs into a sous vide bag or ziplock bag.

Expel the air from the bag and seal.

Sous vide the duck 1 hour 30 minutes at 58 degC.

Rehydrate the dried shiitake mushrooms in boiling water. Let sit for at least 30 minutes.

When the duck has finished cooking, chill the sous vide bag in ice water.

Remove the duck breasts from the sous vide bag and discard the thyme and remove any garlic pieces from the skin.

Finely chop the duck breasts, skin and all, together with the rehydrated shiitake mushrooms. You should aim for a "minced" consistency. You could use a food processor for this though be careful not to over-process.

Mix in the diced spring onions, truffle oil (if using), the Shaoxing wine, oyster sauce, and soy sauce. Make sure everything is well distributed.

Wrap about a Tbsp of the mixture into each wrapper.

Sit each dumpling on a slice of carrot in a steamer.

Steam the dumplings for 10 to 12 minutes.
Mushroom and smoky bacon consommé
Wash and finely dice the portobello and shiitake mushrooms, leek, one carrot, celery, and garlic.

Rinse the dried mushrooms to remove any grit.

Dice the bacon.

Put a large frypan or wok over a medium heat and add the bacon. Fry until starting to brown.

Remove the bacon and set aside. Keep as much of the rendered fat in the pan as possible.

Add 1 more Tbsp oil or duck fat to the pan.

Add the diced carrot, celery, and leek and sauté until the leek has softened. Add the mushrooms and stir in. Cook until the mushrooms have expelled their moisture and are starting to brown. Stir often.

To a large saucepan, add the water, stock, bacon, vegetables, dried mushrooms, and sautéed mushrooms.

Bring up to a simmer and simmer for 90 minutes to extract as much flavor from the vegetables as possible.

Allow to cool for at least 15 minutes.

Strain the mushroom broth into another saucepan. Press down on the solids to extract as much liquid as possible. Discard the vegetables and bacon.

Add the egg whites to the broth and immediately use an immersion blender to combine well.

Return to a medium heat. As the egg whites cook they will rise to the surface along with sediment and other fine particles in the broth, forming a "raft". This will take 10 – 15 minutes.

Carefully make a ladle sized hole in the raft and ladle out any froth that collects.

When the consommé is clear, remove from the heat.

Without disturbing the raft too much, ladle out or pour out the consommé into another container. Discard the raft.

Strain the consommé one more time through muslin.

Bring the consommé to a high simmer. Any remaining unwanted proteins will rise to the surface. Skim them off.

Add the fish sauce, balsamic vinegar, and sugar.

When the sugar has dissolved, check and adjust seasoning if necessary.

Serve warm, or refrigerate until ready then re-heat.
Garnish
Remove the root base from the shimeji mushrooms and stir fry until starting to brown.