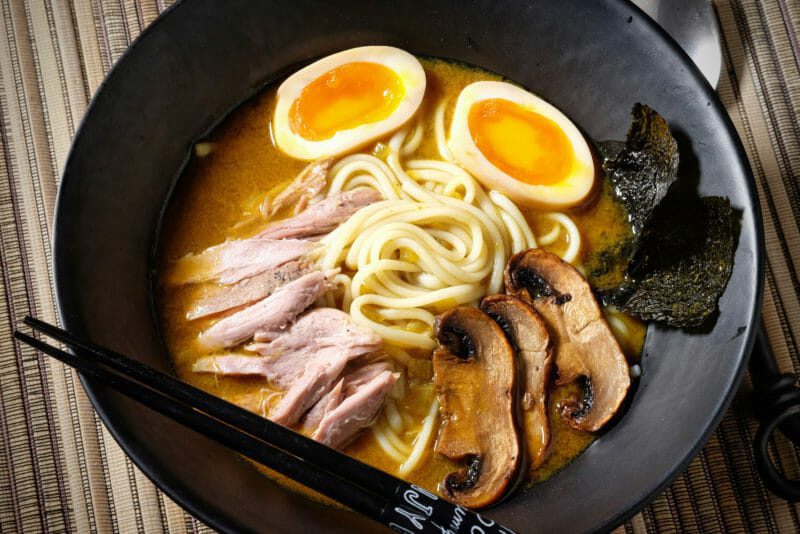 This hearty curry soup with its satisfyingly chewy udon noodles and the tasty, succulent sous vide duck leg meat is a dish that will leave you feeling content. 
Curry udon, in its many forms, is a fixture on the menus of Japanese udon restaurants. The rich curry soup brings comfort, especially in the colder months.
Japanese curry
Curry is quite significant in Japan, enjoyed at home and widely available in restaurants. Some claim it rivals ramen as Japan's most popular comfort food.
The curry powder used to make the curry sauce is quite essential. While originating from the familiar South Asian roots, Japanese style curry has evolved in a very different direction. As with how South Asian style curry made its way to Vietnam, the story of how curry made its way to Japan is similarly intriguing. You can find links to these stories in the Food Stories section.
I used S&B Oriental Curry Powder, one of the most famous and widely available Japanese curry brands. You could also use a curry sauce mix – S&B and Vermont being the most popular brands in Japan. Or make you own from the individual ingredients! Maki at JustHungry.com also does a good analysis of which spices are actually in Japanese curry.
The soup in any good duck curry udon dish is much more than a watered-down Japanese curry. Together with the addition of soy sauce and mirin, the dashi base gives this soup a very different, perhaps more refined character. The quality of the dashi is critical. No instant dashi, please! Get some kombu, some dried shiitake mushrooms, and katsuobushi of course, and make your own.
Udon noodles
This dish uses a slightly thinner udon noodle compared to the more common chunky noodle used in this mushroom udon dish. There is a lot of debate about the respective merits of fresh versus refrigerated, versus frozen, versus dried udon noodles. As so much of this debate is about personal preference, try different udon noodles until you find one that works for you. Or make your own.
Sous vide duck leg
Duck breast, cooked using the sous vide method, is delectable, and no stranger to delectabilia. Duck leg requires a substantially longer cooking time, but rewards you with tender, juicy, and delicious mouthfuls of duck.
Cooking duck leg in this way has similarities to the confit method. The duck is cooked in its fat, though that is where the comparison ends. You can read more on this and why I use the cooking time I did, at this comprehensive Serious Eats article.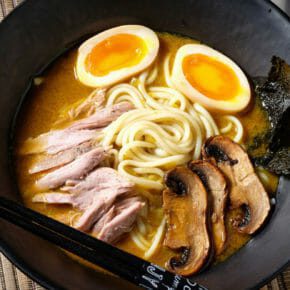 Duck Curry Udon
This hearty curry soup with its satisfyingly chewy udon noodles and the tasty, succulent duck is a dish that will leave you feeling very satisfied. 
Print Recipe
Ingredients
Duck
2

duck legs

salt and pepper
Curry soup
4

servings udon noodles

200g dried noodles

2

cups

dashi stock

2

cups

brown chicken stock

bones from sous vide duck legs

Congealed duck juices from the sous vide process

2

Tbsp

duck fat

and/or butter or oil

1

small onion

4

cloves

garlic

crushed

3

Tbsp

Japanese curry powder

or 2 cubes of curry roux

2

Tbsp

flour

1

Tbsp

soy sauce

2

Tbsp

mirin

2

Tbsp

cornstarch

2

Tbsp

water
Ajitsuke Tamago (soft boiled and marinated eggs)
4

eggs

1/4

cup

soy sauce

1/4

cup

mirin

1/4

cup

sake

20

g

katsuobushi

optional

2

Tbsp

sugar
Garnishes
2

portobello mushrooms

or equivalent weight of button mushrooms

Nori
Instructions
Duck
Season the duck legs, massaging the salt and pepper into the duck.

Put the duck legs into a vacuum bag and seal (or use a ziplock bag and the water displacement method).

Sous vide at 56 degC for 12 hours.

Plunge the bag into ice water to cool then store in the refrigerator until ready to use (will be ok for a few days in the bag is not opened).

Remove the duck legs from the bag. Separate off any solidified fat. There should be enough to sauté the onion for the curry soup.

Separate off the congealed duck juices and retain for the curry soup stock.

Remove the skin, then remove the duck meat from the bones. Break the meat up into bite sized pieces.

Keep the bones for the curry soup stock.
Ajitsuke Tamago (soft boiled and marinated eggs)
Combine the soy sauce, mirin, sake, and sugar in a saucepan over a medium heat and bring up to a boil.

Remove from the heat and add the katsuobushi.

Allow to cool for 10 minutes then strain.

Bring a medium saucepan full of water to a boil then reduce to a simmer.

Pierce the eggs at the wider end with a needle or egg piercer. This removes the air pocket and makes them easier to peel.

Lower the eggs into the water and cook for exactly 6 minutes. Turn the eggs occasionally in the first minute to help the yolks be centered.

Transfer the eggs to an ice bath to halt the cooking.

Carefully peel the eggs, starting at the wider end that was pierced..

Put the eggs and soy marinade into a zip-lock plastic bag, remove any air, and seal.

Store in the refrigerator for 48 hours, moving occasionally to ensure even coverage of the marinade.

Drain after 48 hours and discard the marinade. Store in the refrigerator until needed.
Curry soup
In a saucepan add the dashi stock, chicken stock, duck bones, congealed duck juices, and dried shiitake mushrooms. Bring to a boil then reduce to a simmer. Simmer for 30 minutes.

Strain the stock into a bowl.

Finely dice the onion.

Sauté the onion in the duck fat (and/or butter) until softened. Then add the garlic. Sauté for a few more minutes.

Sprinkle on the flour and curry powder. Stir into a paste.

Slowly add the stock, one ladle at a time, stirring continuously.

Once all the stock is added you should have a delicious slightly thickened curry soup.
Mushrooms
Preheat the oven to 180 degC.

Slice the mushrooms and lay flat on parchment paper on a baking tray.

Drizzle with a little olive oil and soy sauce.

Bake for 15 minutes, turning the mushrooms over half way through.
Serving
Warm the bowls.

Add a portion of udon noodles, pour in a portion of curry soup, and top with duck, egg, mushrooms, and nori.