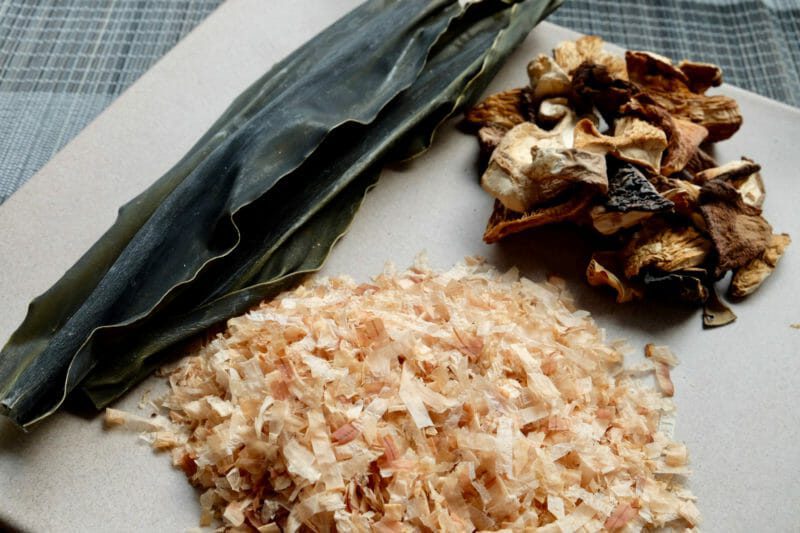 Dashi stock is a foundation component of many Japanese and Korean dishes. It is packed with umami, so the taste of whatever you layer on top of it is greatly enhanced. This "how to make dashi" recipe provides a straightforward method and great result.
There are so many views/versions/perspectives/passions on how to make great dashi stock. The Serious Eats site does a nice job of bringing some greatly needed clarity (as usual).
I settled on the following straightforward method in this recipe after some experimentation. The result is a great dashi, without the gymnastics required by some other methods!
Instant dashi, also known as hondashi, is widely used, even in Japan. I have tried a few of these instant dashi concoctions. The difference between real dashi and hondashi was as stark as the difference between an instant chicken stock powder and a chicken stock made from simmering chicken bones and aromatics for a few hours. In other words, significant.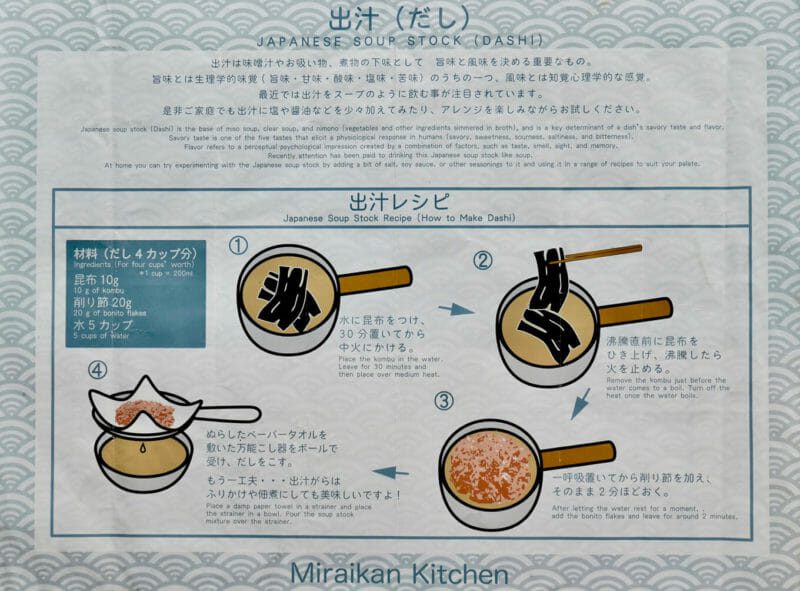 It is worth the effort to make your dashi from the base ingredients, if you have the time, and can get those ingredients.
I picked up this useful poster in Japan. The method is similar to what I provide here.
This dashi recipe is a "first dashi" or ichiban dashi. It is intended for use in a broth such as this kimchi consommé, this shiitake dashi broth, or this onsen tamago.
The "second dashi" or niban dashi, would be used in curries, stews, or sauces where the refinement of ichiban dashi is less important. Follow the step in the recipe to prepare the niban dashi and store in the freezer for use later.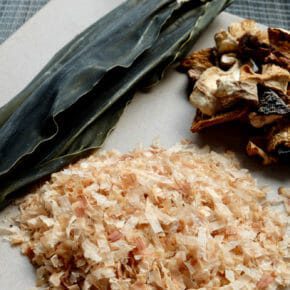 How to make dashi
Print Recipe
Instructions
In a saucepan, add the 6 cups of water and the the kombu. If using shiitake mushrooms, add those too. Allow to soak for a few hours or overnight.

If you are short on time, instead of soaking the kombu for hours, you could heat the water in the saucepan to 60 degC and maintain for 1 hour.

Put the saucepan over a medium heat and bring the water and kombu up put to a simmer.

Just before it starts to boil, remove from the heat.

Add the bonito flakes and steep until they sink to the bottom, 5-10 minutes.

Strain the dashi broth through a very fine sieve or muslin. Set aside the steeped kombu and bonito flakes.

[Optional – to make niban dashi – see comments above] In a clean saucepan, add 4 cups water together with the strained ingredients – the kombu and bonito flakes. Bring to a boil then remove from the heat and add another handful of bonito flakes. Allow to cool then strain. Use as a stock.