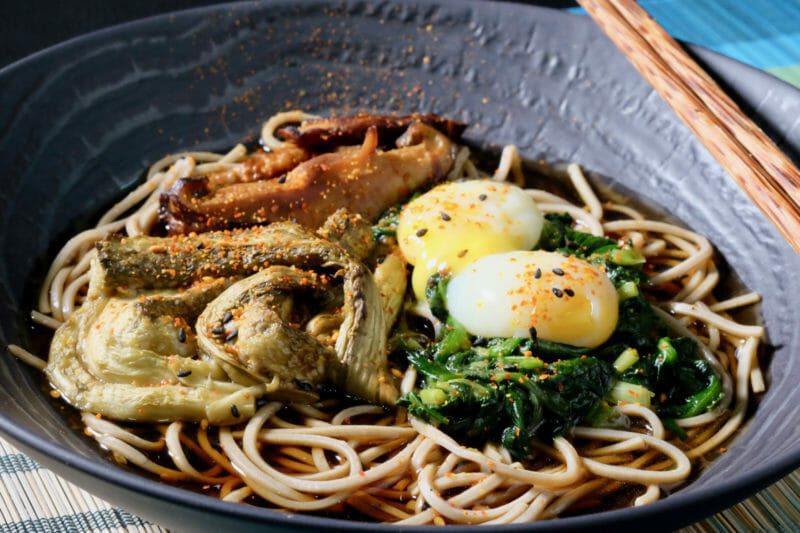 The luxurious, velvety texture of the grilled eggplant, spinach, and onsen quail eggs are a worthy accompaniment for the classic soba noodles and tsuyu broth.
The soba noodles
Soba noodles with tsuyu is a classic combination in Japanese cuisine. Delicious and nutritious as a dish on its own, it can also be an umami-packed base for a range of toppings. Check out the soba with crispy skin duck and soba with natto and kimchi. This soba noodles with eggplant dish is about texture as well as taste. The soft boiled quail eggs and smoky grilled eggplant deliver a velvety mouthfeel, complementing the slightly chewy soba noodles.
Soba noodles primarily use buckwheat flour. Some also have a small proportion of wheat flour to provide some gluten structure. Cooking soba noodles is not the same as wheat or rice noodles. For a more detailed guide on cooking soba noodles, visit this Food52 post.
The tsuyu (broth)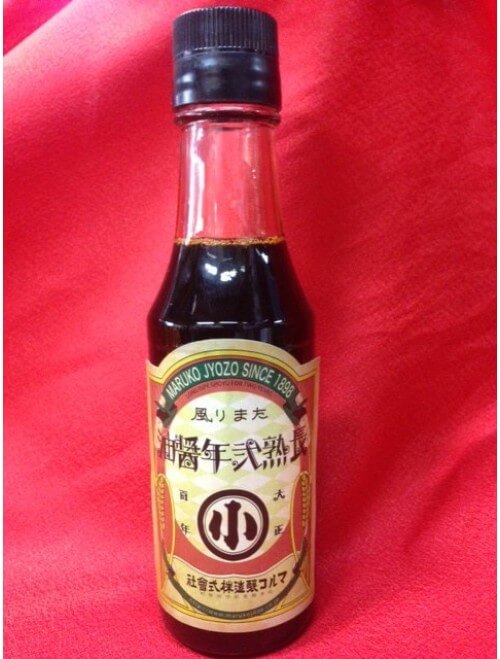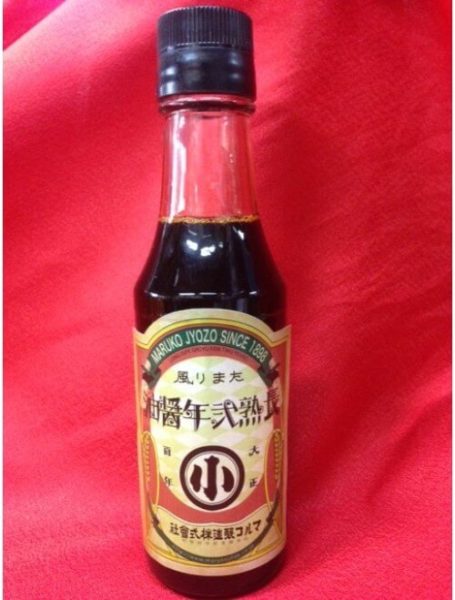 Tsuyu is a combination of dashi, soy sauce, and mirin. Sometimes some sake is added as well, as we do here. Proportions will vary depending on the intended use-dipping sauce or a soup base. It also depends on the strength of the soy sauce. I used a naturally brewed 2 years aged soy sauce. As it was quite concentrated, a ratio of 16:1:1 (dashi:soy-sauce:mirin+sake) worked for this broth. For a lighter soy sauce, a ratio of 8:1:1 might be more appropriate. Start with 16:1:1 and add more soy sauce and mirin until you get to that perfect balance.
Using kombu and shiitake based dashi makes this soba noodles with eggplant recipe a really delicious vegetarian treat. If you are a flexitarian or pescatarian, use dashi prepared with katsuobushi. It adds even more umami, as well as a smoky richness to the broth. Check out how to make dashi.
The toppings
Japanese eggplants (the long thin variety) that have been broiled or grilled until charred have a wonderful smoky character and luxurious smooth texture. Be sure to pierce them in several places first to avoid them exploding. If you enjoy grilled eggplant, you may also like this Sticky Rice with a Smoky Grilled Eggplant Dip or this Grilled eggplant XO flatbread.
Chicken eggs are good for you, but soft boiled quail eggs pack in even more nutrients by volume as they have bigger yolks. Onsen eggs, or hot spring eggs, are simmered in hot water. This is a common method in places with lots of geothermal activity, such as Japan and New Zealand. For those who don't have such a hot spring available, a sous vide device is the perfect substitute, resulting in perfectly cooked eggs. It is worth buying a sous vide device just for this. Check out this onsen tamago for another example of this method in action.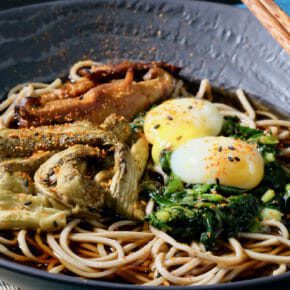 Soba noodles with grilled eggplant, spinach, and quail eggs
The luxurious, velvety texture of the grilled eggplant, spinach, and onsen quail eggs are a worthy accompaniment for the classic soba noodles and tsuyu broth.
Print Recipe
Instructions
Eggplants
Grill/broil the eggplants whole, skin on, until the skins are charred black.

As soon as the eggplants are cool enough to handle, carefully peel off the charred skin.

Place in a colander, sprinkle with a pinch of salt, and allow any juices to drain.

Reheat in the oven at 140 degC for 15 minutes before serving.
Dashi
In a saucepan (not aluminium) soak the kombu and dried shiitake mushrooms in the 5 cups of water overnight, or for at least 3 hours.

Put the saucepan over a medium-low heat and wait until it simmering and soon to boil.

Remove from the heat. Remove the kombu and discard.

Remove the mushrooms and set aside. We will dice and sauté those.

If you are making a vegetarian version, that's it. Set the dashi aside ready for the final assembly.

If you are making a non-vegetarian version, now is the time to add the katsuobushi. Let it steep in the hot dashi until it sink to the bottom.

Strain the dashi through a fine strainer, and then through muslin. Set aside ready for the final assembly.
Spinach
Wash and coarsely chop the spinach.

Finely dice the spring onions.

In a wok or large high sided fry pan, sauté the spring onions inn the butter for 2 minutes.

Add the spinach and sauté until starting to wilt.

Add the salt and truffle oil (if using), toss, and remove from the heat.
Quail eggs
Sous vide the quail eggs at 64degC for 40 minutes.

Plunge into an ice water bath.

Very carefully, peel the shells from the quail eggs.
Sautéd mushrooms slices
Using the shiitake mushrooms from the preparation of the dashi stock, dry with paper towels if necessary, and remove stems.

Slice across the longest edge to get good sized pieces.

Add a little oil to a skillet and sauté the sliced mushrooms until golden.
Soba, tsuyu, and serving
Cook the dried soba noodles according to the package, or until al dente. That will normally be 5 to 7 minutes. Start sampling at 5.

Drain the noodles in a colander and place under cold running water to stop the cooking and wash away any starch. Allow to drain.

To make the tsuyu, add 4 cups of the dashi, together with the soy sauce, mirin, and sake to a saucepan.

When nearly ready to serve, bring up to a simmer, and simmer for 5 minutes to evaporate off the alcohol.

Distribute soba noodles between bowls.

Top with grilled eggplant, spinach, quail eggs, and sautéd mushroom slices.

Pour over a portion of the dashi broth.

Sprinkle with chilli flakes, diced spring onions, or nori flakes.