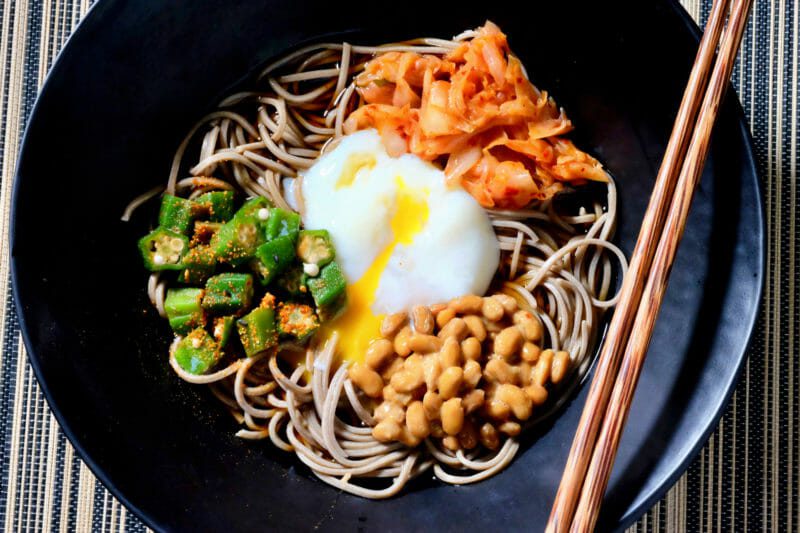 A salad to surprise, challenge, and delight your guests. As healthy as it is delicious, you will feel good after eating this cold soba noodle salad.
The base ingredient of a cold soba noodle salad is, of course, soba noodles. One of my favourite types of noodle, soba is a very healthy alternative to noodles made with refined wheat or rice flour. And soba noodles have a great nutty flavour.
Natto
For many, the least familiar ingredient in this salad will be the natto. A popular snack in Japan, natto is fermented soybeans. It is are typically served with a little soy sauce and mustard. Very complementary to sake or beer, natto is also great with red wine!
The beans are surrounded by a slimy substance, which can be quite off-putting at first. But the great taste soon overcomes those first impressions. Fermented foods are typically packed with savoury umami flavours, and natto is no exception. It not only tastes great. The probiotics volume makes natto a very healthy snack, or in this case, a very healthy ingredient.
While you could try to make your own natto, you should be able to find it in a Japanese or Asian market, or online.
Kimchi
Kimchi will, of course, be much easier to the source. Most supermarkets will have it, as does Amazon. Alternatively, make your own. Minimalist Baker has easy to follow instructions for vegan kimchi.
A very versatile ingredient, with its own distinct spice, savory umami flavours, and colonies of probiotics, kimchi is a regular on delectabilia.
Okra
Okra, or ladies fingers, is a green vegetable. Actually, a seedpod originating in Africa and South Asia. Today, many tropical countries produce okra, and it is available in most places. It has a slimy interior, reminiscent of natto—great taste and texture.
Add an egg and mix…
Rounding things out, a poached egg tops the cold soba noodle salad. More accurately, this is an onsen egg. Onsen eggs are slowly poached in the shell. You can't go wrong with a poached egg!
Before eating this soba noodle salad, mix it all together…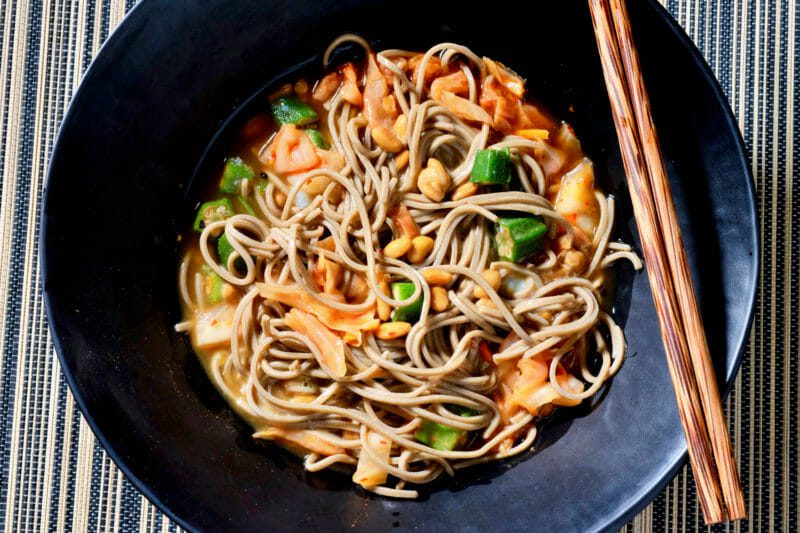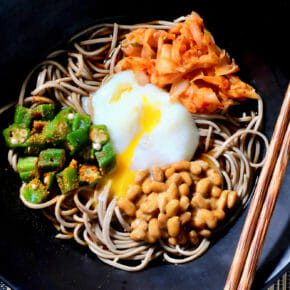 Cold soba salad with natto, kimchi, okra, and poached egg
A salad to surprise and challenge your guests. As healthy as it is tasty, you will feel good after eating this cold soba noodle salad.
Print Recipe
Ingredients
Okra salad
8

okra pods

1/2

Tbsp

mirin

1/2

Tbsp

soy sauce

1

tsp

shichimi togarashi

Japanese spice powder, or use a good chilli powder
Instructions
Poached eggs
Cook the eggs with an immersion circulator (sous vide at 63 degC for 60 minutes).

Alternatively, if you don't have a sous vide setup, cook the eggs at 75 degC for 13 minutes. Use a digital thermometer and be careful to keep the water as close as possible to 75 deg. The margins of error with this method are so much less than with sous vide. It would pay to do a test or two first.

Plunge the eggs into some ice water to stop the cooking.

Carefully crack and peel the shell from the wider end of the end, until you have a hole big enough to "pour" the egg into a bowl ready for plating.
Natto
Briskly whisk the soy beans together with the seasonings that come in the package.
Kimchi
Dice the kimchi into appropriately sized pieces if necessary.
Okra
Wash the okra.

Bring a saucepan of water to the boil and blanch the okra for 4 minutes.

Immediately immerse the okra in a bowl of ice water to stop the cooking.

Add the mirin and soy sauce to another bowl and stir to combine.

Top and tail the okra then cut into 1 cm sections.

Toss in the soy sauce and mirin. Let sit for an hour or so.

Sprinkle with shichimi togarashi or chilli powder before serving.
Tsuyu
In a saucepan, add the soy sauce, mirin, and sake.

Bring to a boil and boil for a minute. This causes the alcohol to evaporate.

Remove from the heat and allow to cool.

Add dashi to the soy sauce, mirin, and sake mixture.
Putting it all together
Boil the soba noodles according to the packet instructions. Usually 5 to 7 minutes.

Drain and refresh under cold running water.

Lay some soba noodles in a bowl.

Spoon on about 3 Tbsp each of natto, kimchi, and okra. Add a poached egg to the centre.

Pour in about 1/4 cup of tsuyu and serve.

To eat, mix the ingredients together and enjoy.