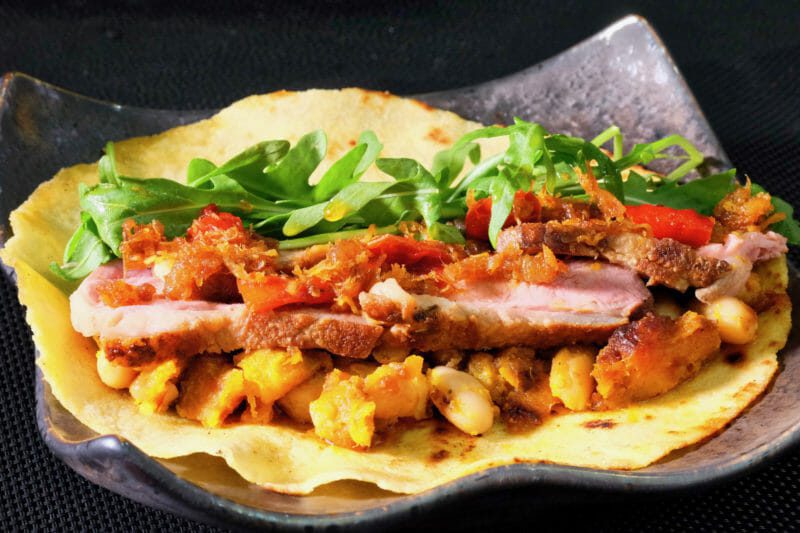 Drawing on some techniques from Mexico and some flavours from Hong Kong, this duck taco recipe with roast pumpkin and beans and XO sauce is as bold as it is complex.
Tortillas
Tortillas are what we wrap our taco ingredients in. They are a thin unleavened flatbread originating in Central America. Originally made with ground corn, wheat flour, or a combination of both, they became widespread after the arrival of Europeans. Tortillas are best known for their role in enchiladas, quesadillas, as well as tacos. While you can buy pure corn tortillas, they are a lot harder to procure than wheat flour tortillas or the corn and wheat tortillas I used. Check out what you can get locally, or try Amazon.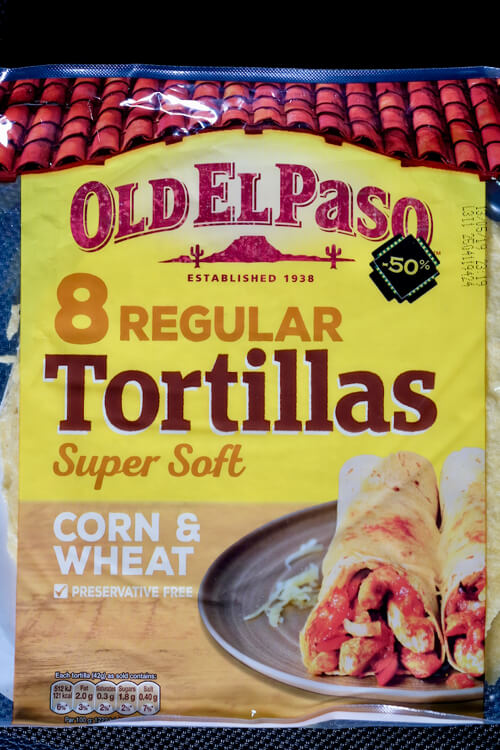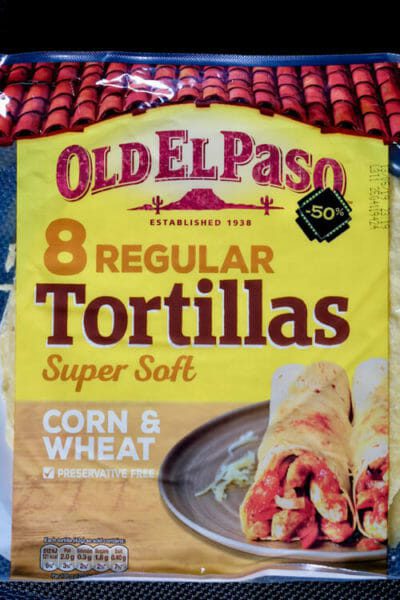 Consideration was given to whether or not to call this a duck taco as it bears little resemblance to the classic Mexican varieties. However, after learning about the incredible diversity of this culinary phenomena when watching the excellent Netflix series Taco Chronicles, it was clear this was very much a duck taco recipe.
Sous Vide Duck
I used 2 duck breasts for these tacos, cooking them using the sous vide method (1 hour 30 minutes at 58 degC). I seared the skin before and after the sous vide and retained the rendered duck fat. You could alternatively buy a pre-roasted duck and use that. Take care, though; pre-cooked duck can be heavily seasoned. Given the complexity of the XO sauce and pumpkin, the pure duck flavour of these sous vide duck breasts worked perfectly in this taco recipe. Adding heavily seasoned ingredients would interfere with that balance.
Roast pumpkin and beans
The roast pumpkin and white beans were the foundation within this duck taco, much as refried beans are in many Mexican tacos. The spices – cumin, paprika, and pepper, brought some complexity to the sweetness of the pumpkin. The white kidney beans (aka cannellini beans) bring something special. It is hard to pin down what it is, though – perhaps a nutty creaminess? They also work their magic in a couple of other favourite recipes: this roasted fennel, cauliflower, and cannellini bean soup, and this chicken breast on a white bean puree.
XO sauce
XO sauce is a Cantonese condiment originating in Hong Kong in the 1980s. It was more relish than sauce. It was named after XO cognac, though it doesn't contain any. In Hong Kong at the time, XO had become a generic term for high quality. This delicious relish contains dried shrimps and scallops, red chillis, ham, garlic and canola oil. In short, jam-packed with umami.
I bought my XO sauce from a local Cantonese restaurant. You will be able to find it at an Asian grocery or on Amazon. Or you could make your own.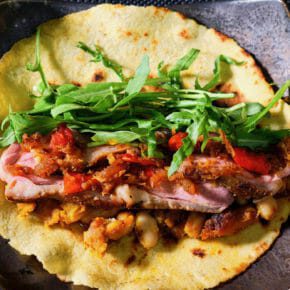 Duck taco with roast pumpkin, beans, and XO sauce
Drawing on some techniques from Mexico and some flavours from Hong Kong, this duck taco recipe with roast pumpkin and beans and XO sauce is as bold as it is complex.
Print Recipe
Ingredients
1

butternut pumpkin

1kg

1/2

tsp

ground cumin

1/2

tsp

smoked paprika

1/2

tsp

salt

1

tsp

freshly ground pepper

Duck fat

rendered from the duck breasts. Or olive oil if using pre-roasted duck.

1 400

g

can cannellini beans

drained and rinsed

2

duck breasts

skin on

8 to

tortillas

corn tortillas preferred, corn and wheat flour also very good

Arugula

aka rocket. Or simply shredded lettuce leaves will work too

4

Tbsp

XO sauce
Instructions
Duck breasts
Score the duck skin diagonally at 5-10mm intervals

In a cold heavy pan, preferably a cast iron skillet, lay the duck breast skin down.

Put the skillet over a medium-low heat. After a few minutes you will start to see fat rendering from the duck.

Continue cooking until the skin is a light gold colour. We are going to brown it again, so don't go too far. Should have accumulated 3-5 Tbsp duck fat. Keep that for roasting the pumpkin.

Allow the duck breasts to cool (while preparing the pumpkin).

Add a sprinkle of salt to each breast and put into individual sous vide bags.

Remove the air and seal with a vacuum sealer, or the immersion method.

Sous vide for 1 hour 30 minutes at 58 degC.

Plunge the bags into cold water until cool enough to handle.

Bring the skillet to a medium heat.

Lay the duck breasts in the skillet again skin side down and sear until golden brown.

Allow to cool and rest for 5 minutes.

Lay skin side down on a cutting board and slice into thin slices.
Roast pumpkin
Preheat the oven to 180 degC.

Cut, de-seed, remove skin, and dice the pumpkin into roughly 15x15mm pieces.

Spread the pumpkin pieces on a baking tray. Drizzle with duck fat. Sprinkle over the cumin, paprika, salt and pepper.

Roast for 50-60 minutes, tossing half way through, until getting caramelised crispy edges.

Drain on paper towels.

In a large bowl gently stir together the white beans and roasted pumpkin. It doesn't matter if the pumpkin breaks up a bit.
Assembly
Bring a skillet up to a medium heat and smear with some vegetable oil.

Add a tortilla and cook until starting to brown. Turn over and do the same on the other side.

Repeat for each tortilla.

Spoon on some pumpkin and bean mixture.

Add some slices of duck.

Spoon on some XO sauce.

Add some arugula leaves.

Serve. Guests should roll up the tortilla and eat.