The tenderness and succulence of pork tenderloin cooked sous-vide style is awesome. Paired with a blackberry balsamic reduction and a fresh mango salsa, this dish tasted like summer.
The pork tenderloin
Pork tenderloin is one of those cuts that is easy to do badly. It is so lean that it becomes dry and unpleasant to eat if it gets even a little overcooked. And it is pork, so there are safety concerns about undercooking it. There is one easy solution to this dilemma – sous vide. Cooking the tenderloin at a low temperature for a long(ish) time results in a perfectly cooked piece of pork. A quick sear in a hot skillet at the end enables the Maillard reaction to do its thing.
Looking at the photograph above, you might think the pork is undercooked due to its pink colour. In fact, it is cooked "medium". What makes it safe to eat is the pasteurization effect of the sous vide cooking method. Bacteria are killed off at 54.5 deg C, so cooking for 2 hours at 60 deg C makes this tenderloin completely safe to eat.
Thanks to SeriousEats for Kenji's great post on how to sous vide pork tenderloin.
Maybe the years of conditioning eating roast pork with apple sauce conditioned me, but pork does seem to go really well with fruit. In season at the time, I cooked this were blackberries, passionfruit, and mango. The market had great selections of all three. Inspired by a Massimo Bottura recipe where he used both a sweet sauce and an acidic sauce, I decided on a fresh mango and passionfruit salsa. The blackberry balsamic reduction delivered the balancing acid.
The blackberry balsamic reduction
Reducing the blackberries with balsamic vinegar and garlic resulted in a wonderfully aromatic concoction that contrasted and complimented the buttery tenderness of the tenderloin. If you can't get blackberries, try blueberries.
The fresh mango salsa
The fresh mango salsa didn't really need anything to complement. It was so delicious on its own. However, it would also go really well with grilled or fried fish, as did this mango and walnut salad. This fruity concoction brings the expected sweet and sour notes and a little bitterness from the cacao nibs. Very dark chocolate is up there with red wine for me, so tracking down and incorporating this wonderful ingredient was very satisfying. For similar reasons, cacao nibs also worked very well in this red quinoa citrus salad and these banana walnut sourdough waffles.
And what about the greens(?) – here represented by okra prepared in a Japanese inspired style. This method worked so well in this soba dish that it gets a repeat performance.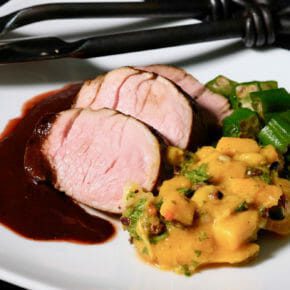 Pork tenderloin sous vide with a backberry balsamic reduction
The tenderness and succulence of pork tenderloin cooked sous-vide style is awesome. Paired with a blackberry balsamic reduction and a fresh mango salsa, this dish tasted like summer.
Print Recipe
Instructions
Pork tenderloin
Put the tenderloin into another zip-lock bag, together with the soy sauce and mirin.

Distribute the liquids around the tenderloin, then expel the air and seal the bag.

Sous vide at 60 degC for 2 hours.

Remove the tenderloin from the bag. Retain the juices for the blueberry balsamic reduction.

Pat the tenderloin dry then brown in a very hot skillet or using a handheld torch.
Salsa
Toss all the ingredients together, cover and refrigerate for an hour or so for the flavours to meld.
Okra
Wash the okra.

Bring a saucepan of water to the boil and blanch the okra for 4 minutes.

Immediately immerse the okra in a bowl of ice water to stop the cooking.

Add the mirin and soy sauce to another bowl and stir to combine.

Top and tail the okra then cut into 1 cm sections.

Toss in the soy sauce and mirin. Let sit for an hour or so.

Sprinkle with shichimi togarashi or chilli powder before serving.
Blackberry balsamic reduction
In a sauté pan over a medium heat, add the diced shallots. Sauté until transparent.

Add the garlic and sauté for another minute.

Add the blackberries and balsamic vinegar and boil until the balsamic vinegar is almost completely reduced.

Add the pepper and water/meat juices mixture.

Return to a boil and boil until the blackberries are breaking down and the mixture is starting to thicken.

Remove from the heat and allow to cool a little.

Blend until smooth.

Pass though a sieve to remove any remaining solids including the many blackberry seeds.
Serving
Slice the tenderloin into 1cm thick slices.

Lay several tenderloin pieces on a plate.

Spoon some blackberry balsamic reduction around one side.

Spoon some okra, and some salsa on the other side of the tenderloin slices.