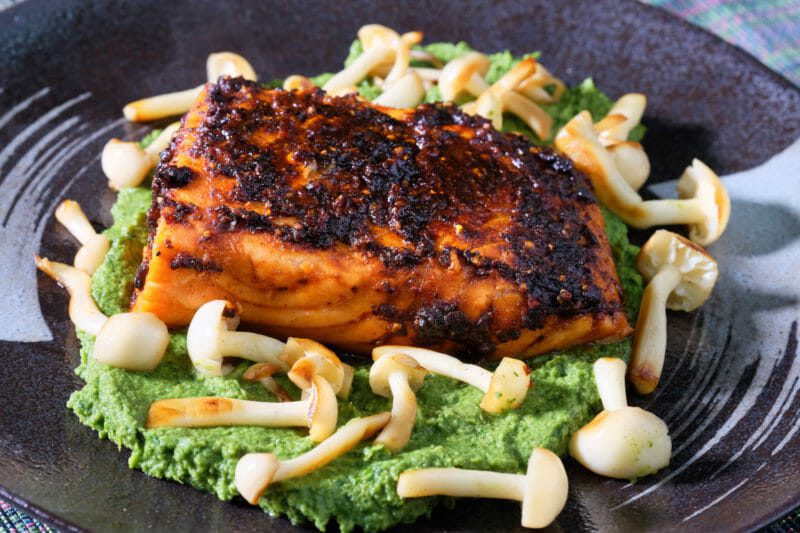 Salmon's versatility invites experimentation. This paprika, citrus, and honey crust complements the succulent and creamy baked salmon, resulting in a complex symphony of flavour and texture.  
Spanish smoked paprika is one of my favourite spices. Perhaps related to red peppers being one of my favourite vegetables. A friend brought me some during a recent trip to Spain, and it is being well used. There is really no comparison to the generic supermarket variety. The rich smoky aroma in truly intoxicating. The magic here is how that pairs with a succulent piece of salmon.
Such a flavorful combination needs some balance, a counterweight. The spinach hummus provides this. The creamy nutty chickpea base is enhanced with spinach, coriander, and a head of slow roasted garlic. So not only does this green foundation look great under the bright orange paprika crusted salmon, but is has a deep complex flavour with fresh herb and vegetable overtones. 
I haven't decided whether the mushrooms enhanced this dish or not. They certainly didn't detract from it, but perhaps something else might work better. Grilled artichokes maybe?
I would like to mention the genesis of the idea for this dish. The smoked paprika roasted salmon with spinach triggered a development process which led to what you are reading about here. I treat all recipes as an inspiration rather than an endpoint – something for me to change. And in that spirit I present this recipe for you to change.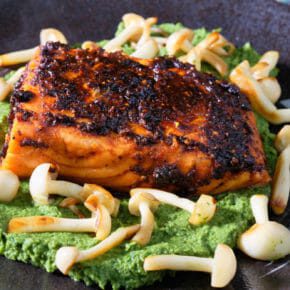 Paprika crusted salmon on spinach hummus and mushrooms
Print Recipe
Ingredients
Spinach hummus
400

g

can chickpeas

3/4

cup

cooked spinach

1/2

cup

fresh coriander

tightly packed

1

head

roast garlic

2

Tbsp

tahini

2

Tbsp

lime juice

4

Tbsp

aquafaba

the water from the can of chickpeas
Paprika crusted salmon – Marinade
4

Tbsp

fresh orange juice

about 1 orange

2

Tbsp

fresh lemon juice

about 1 lemon

1

Tbsp

honey

1

Tbsp

extra virgin olive oil

1

Tbsp

grated fresh ginger

1

Tbsp

minced garlic

1

Tbsp

smoked paprika

1/2

tsp

salt
Paprika crusted salmon – Paprika crust
600

g

salmon fillet

1

Tbsp

paprika

1

tsp

freshly ground black pepper

1

Tbsp

brown sugar

1

tsp

ground cinnamon

2

tsp

finely grated orange peel

2

Tbsp

olive oil

1/2

tsp

salt
And
1

punnet white beech mushrooms

about 125 g
Instructions
Spinach hummus
Roast the garlic per the instructions here.

Drain the chickpeas, retaining the liquid (the aquafaba).

Using a sieve or muslin cloth, squeeze any residual water from the spinach.

Coarsely chop the garlic and coriander. The food processor will do the rest!

Add drained chickpeas, spinach, garlic, coriander, tahini, lime juice, and aquafaba to a food processor.

Process until smooth.
Paprika crusted salmon
Combine all the marinade ingredients.

Remove skin and pin bones from the salmon if necessary.

Seal the marinade and salmon in a zip-lock bag and marinate in the refrigerator for 2-3 hours.

Pre-heat the oven to 200 degC, including a baking tray.

Combine the paprika crust ingredients into a paste.

Remove the salmon from the marinade.

Rub the paprika paste into the salmon fillets. Have a slightly thicker layer on the top of the fillets.

Apply some oil to a foil covered baking tray and lay the salmon on to it.

Bake until the internal temperature of the salmon reaches 50 degC.

Remove from the oven, cover and let rest for 10 minutes.

If the top needs to be a little more crisp, use a cooking torch.
White beech mushrooms
Sauté the mushrooms in a skillet over a medium heat until starting to brown.
Plating
Smear some spinach hummus on a plate. Top with a salmon fillet. Add some white beech mushrooms.