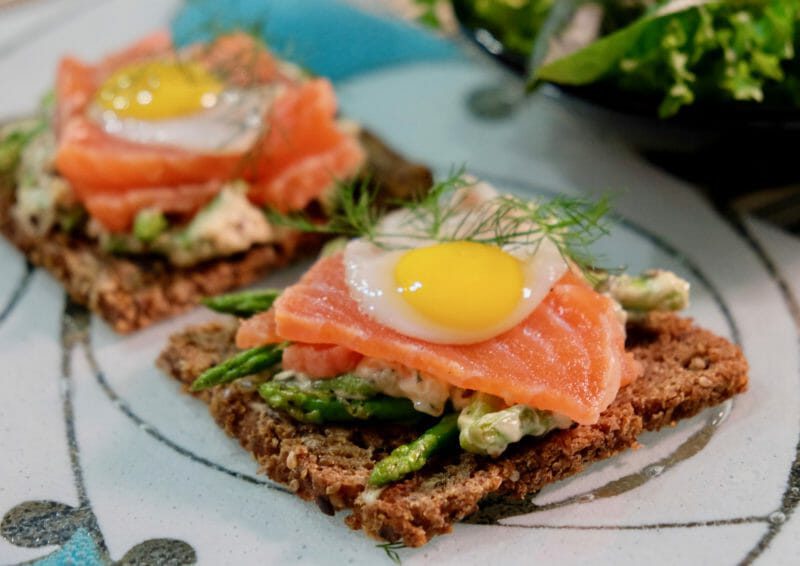 Pumpernickel bread is a dark sourdough whole rye bread which is delightfully moist and nutty. Paired with the citrus cured salmon, asparagus in white wine sauce, and the quail eggs, we get complex yet complimentary layers of flavours.
The combination of salmon, asparagus, and egg is timeless. These three ingredients just compliment each other so well. Usually it is a salmon fillet, steamed asparagus, and a poached egg. This dish adds a few additional layers of flavour.
The asparagus with white wine sauce on toast would be a great breakfast or lunch in its own right. The salmon and egg are adding to something that is already amazing.
The citrus cured salmon (recipe here) is almost like salmon sashimi, except much more complex in flavour. Also known as gravlax, it is used in a number of recipes on delectabilia. Cured salmon, although it requires some planning ahead, is very easy to prepare. So delicious, and so healthy. Remember – experiment with the quantities of the citrus components, the gin, and the spices used.
To top off this delicious multi-layered citrus cured salmon toast is a quail egg. A chicken or duck egg would be too big and would overpower or mask the other flavours of this dish. A quail egg is just the right size – just the right amount of runny yolk to crown this combination.
The pumpernickel bread used here as the base is the European variety. The dark brown colour and dark chocolate notes are the result of the Maillard reaction. Pumpernickel evolved in a different direction in North America. The North American version relies on molasses, coffee, or cocoa powder to create the dark brown colour. I would be interested to hear from readers how the North American version goes in this recipe.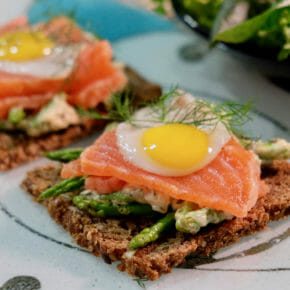 Pumpernickel topped with asparagus in a white wine sauce, citrus cured salmon, and quail eggs
Print Recipe
Ingredients
White wine sauce
4

shallots

4

cloves

garlic

10

g

butter

1

glass

white wine

about 100ml – use good wine

5

Tbsp

sour cream or Creme friache
Instructions
Finely chop the shallots and garlic

Sauté shallots and garlic in the butter, until just starting to brown

Add the glass of wine and simmer for a couple of minutes to evaporate off the alcohol.

Add the creme fraiche or sour cream, stir in, bring back to a simmer and simmer for a couple of minutes.

Add dill and pepper. Simmer 1 more minute.

Remove from heat, transfer to a bowl. Refrigerate until ready to serve.

Remove the lower third of the asparagus. Chop the into 15cm pieces.

Sauté asparagus in 10 g butter until al dente. Remove from heat and Refrigerate until ready to serve.

Fry quail eggs sunny side up, being careful not to over cook, as they are small.

Toast the pumpernickel a little in the oven or toaster.

Combine asparagus and dressing and warm in the microwave.

Layer some asparagus and dressing on the pumpernickel, top with finely sliced citrus cured salmon, then top with a quail egg and sprig of dill.