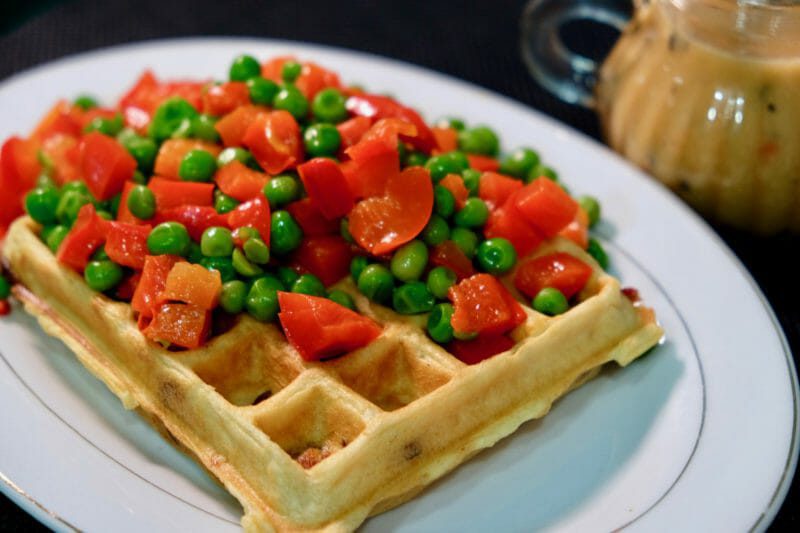 These Chinese sausage waffles have that freshly baked bread aroma from the yeast. Layered on that is the sweet umami character of the Chinese sausage. This pairs perfectly with the miso enhanced red pepper and pea salad.
Waffles made using yeast as a rising agent can be almost bread like. They have that wonderful yeasty character of freshly baked bread. Adding Chinese sausage adds sweet umami notes putting this waffle at the top of my make again list.
The warm pea and roasted red pepper salad with miso dressing is sweet and packed with umami. It provides a nice counterpoint to the strong notes of the chinese sausage and the yeastiness of the waffles.
These waffles have a lot of potential beyond this pairing though. I had extra waffles which I had frozen, reheated and eaten a couple of weeks later, and they were so good with a green leaf salad and some salad dressing. There is potential to explore many more combinations with these Chinese sausage waffles.
Chinese sausage, or lạp xưởng in Vietnamese, is a strong tasting sausage usually used in moderation to add flavour. Wikipedia has a good overview of the Chinese sausage, while the Meats and Sausages site goes into much more detail. It plays a role similar to chorizo or chouriço in Mediterranean cuisine. In fact, you could do a version of this dish using chorizo, just as you could substitute Chinese sausage for the chouriço in Jen's baked zucchini dish.
The Ratatouille on a polenta waffle is a similar dish where an interesting vegetable preparation compliments an interesting waffle.
You will be able to find chinese sausages at an Asian market. This photo was taken in Singapore's Chinatown…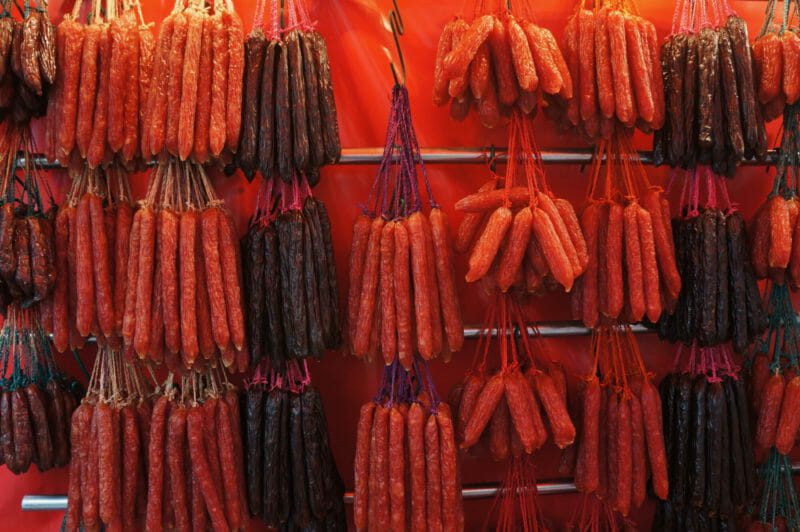 Chinese sausage (Lạp xưởng) waffles topped with a warm pea and roasted red pepper salad
Print Recipe
Ingredients
Waffles
1 1/2

cups

all purpose flour

1

cup

milk

50

g

butter

2

tsp

bakers yeast

1/2

cup

warm water

1/2

tsp

salt

1/2

Tbsp

sugar

1

tsp

baking soda

2

eggs

1

head

Roasted garlic

6

lap xuong sausages

chinese sausages
Pea and roasted red pepper salad
2

red peppers

2

Tbsp

olive oil

1

cup

peas

I used frozen peas
Sesame miso vinaigrette
1

large mild chilli

1

juice of a lemon

2

Tbsp

miso

1

Tbsp

soy sauce

1

Tbsp

rice vinegar

1/4

cup

grape seed oil

or other good neutral tasting vegetable oil

1/2

Tbsp

sesame oil

1

tsp

sesame seeds

1

tsp

finely grated ginger
Instructions
Preparing the waffle batter
Add the milk and butter to a saucepan and heat over a low heat.

Once the butter is melted, whisk it in then add 1/2 tsp salt and 1/2 Tbsp sugar.

Once the sugar and salt have dissolved, remove the milk from the heat and allow to cool until lukewarm.

Add 1/2 cup warm water to a large bowl.

Add the yeast, stir, then allow to sit until foam forms on the surface (5-15 minutes, depending on the yeast).

Add the milk mixture to the yeast in the the large bowl and stir.

Slowly add the flour to the milk and yeast, whisking until smooth.

Cover and refrigerate for at least 5 hours or overnight.
Making the waffles
Slice up the lap xuong sausages.

Stir fry in a little vegetable oil until fragrant. Drain on paper towels.

Whisk the eggs.

Mash the roast garlic cloves.

Add the roast garlic, eggs, and baking soda to the batter and whisk together.

Add the lap xuong and mix in to the batter.

Make the waffles according to the waffle maker instructions. Usually about 1/2 cup batter per waffle.
Pea and roasted red pepper salad
Halve and trim the red peppers. Smear with olive oil.

Bake for 45 minutes at 200 degC.

Allow to cool.

Boil the peas until done. Be careful not to overcook. This is not the recipe for mushy peas!

Drain and allow to cool.

Cut the roasted red peppers into 5mm pieces.

Mix peppers and peas together.
Sesame miso vinaigrette
Whisk all ingredients in a bowl.
Notes
The pea and red pepper salad does not work so well if it is cold, so ensure it has been warmed before you serve it.