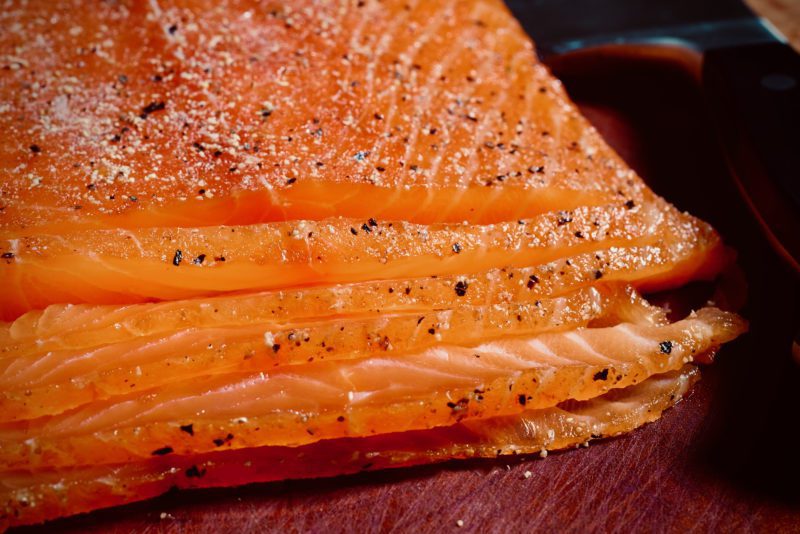 There is something sensual about the taste and texture of cured salmon. Smoky lapsang souchong tea adds a distinctive edge, a little like smoked salmon but so much more.
Cured Salmon
Curing refers to food preservation and flavouring processes, especially for preserving meat and fish. The technique dates back to Mesopotamia 5,000 years ago and was commonplace throughout Europe and Asia by Medieval times.
The technique usually involves storing fish or meat in salt for a period of time. Salting food draws out the water content. With less water, bacteria have more difficulty growing, hence the preserving action. Sugar is often added to counteract the saltiness. It also has an additional effect, encouraging the growth of beneficial Lactobacillus bacteria.
This Science of Cooking article and this Wikipedia page are good resources for more on cured fish and meat.
Cured salmon, also known via its Nordic origins as gravlax, is a favourite on delectabilia. Try this citrus cured salmon or this gin cured version, or this really interesting miso cured salmon. The lapsang souchong tea-smoked salmon is in good company!
The cold-smoked salmon you may buy at your local supermarket or deli is cured salmon that has been cold smoked to add flavour. This producer has an excellent description of the process. In this recipe, we do something similar, but instead of cold smoking, we include smokey lapsang souchong tea in the curing mix. Not only does the salmon benefit from the smokey character of this tea, but the tea contributes flavour enhancing umami.
Lapsang Souchong Tea
Lapsang Souchong is a Chinese black tea produced by drying tea leaves over a pinewood fire. It originated during the Qing Dynasty (1644-1912) in the Wuyi mountains. The British adopted the style – Twinings Lapsang Souchong tea is widely available. Though the more original Chinese product may also be available.
According to sources cited in this Wikipedia article, lapsang souchong is also used in stocks for soups, sauces, and stews due to its smokey character and flavour enhancing umami. Tea marbled eggs made using lapsang souchong are also an unusual treat.
What To Do With Smoky Tea Cured Salmon
Pizza topping. Cook the pizza base with just some blue cheese and fresh mozzarella. When done, lay on slices of cured salmon.
Wrapped around a piece of Roquefort blue cheese as an hors d'oeuvre or amuse bouche.
In a baguette with salad, mayo, and a splash of tabasco.
Use in place of the duck in this rice paper roll recipe.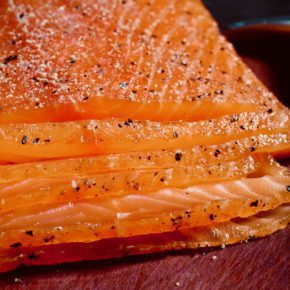 Smoky Lapsang Souchong Tea Cured Salmon
There is something sensual about the taste and texture of cured salmon. Smoky lapsang souchong tea lifts this cured salmon to new heights, a little like smoked salmon but so much more.
Print Recipe
Ingredients
750

g

sashimi grade salmon fillet

skin on

100

g

brown sugar

100

g

salt

50

g

lapsang souchong tea

grated rind of a lime or lemon

1

tsp

freshly ground pepper

for the cure

1

Tbsp

freshly ground pepper

to sprinkle on the cured salmon
Instructions
Combine the sugar, salt, tea, grated rind, and 1 tsp pepper in a bowl.

lay some plastic wrap on to a flat surface.

Spread some of the curing mix on to plastic wrap. Add the salmon fillet, skin side down.

Top the fillet with the remaining curing mix.

Seal in the plastic wrap.

Place wrap in a high sided tray and add another tray on top. Weigh with a couple of cans of something.

Refrigerate for 36 hours, turning every 8 or so.

Wash off the cure and dry with paper towels.

Sprinkle with freshly ground pepper.