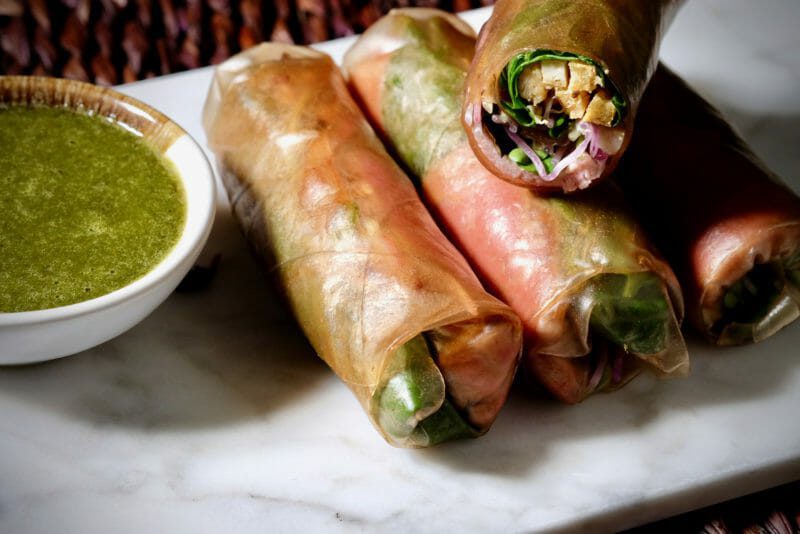 The complexity of the duck, marinated and slow-cooked, is perfectly balanced with fresh herbs, vegetables, and tofu in these rice paper wraps. The green herb sauce draws out these flavours while adding a whole other layer of deliciousness.
Rice paper wraps, also known as fresh spring rolls, summer rolls, or gỏi cuốn in Vietnamese, feature prominently in South East Asia's cuisines. Though ingredients vary between regions, the dipping sauces differ even more. This version doesn't belong anywhere specifically but draws on my experiences of eating rice paper rolls in Vietnam, Thailand, Cambodia, and Singapore. So, what I present here is a culinary interpretation of some great memories of South East Asia rather than a particular country's cuisine.
The protein
Most interpretations of summer rolls use pork or shrimp as the primary protein. Versions using thinly sliced cured salmon are popular in Australia. Basa (catfish) is used in this recipe for tasty fish and dill spring rolls. These marinated duck summer rolls use thin slices of marinated and slow-cooked duck breast. The inherent richness of the duck is balanced and complemented by the marinade ingredients. These ingredients owe their allegiance to the duck rather than any particular cuisine. They work.
The other contents
The other contents of these marinated duck rice paper wraps draw on various influences. Wonderfully delicious vegetarian gỏi cuốn inspires the crispy fried tofu. A version that I have eaten many times in Saigon. Japanese tamagoyaki is the inspiration for the egg. Tamagoyaki is a really great way to eat an egg. And then there are the vegetables. That crunch of fresh vegetables and herbs (the 'summer') is essential to the experience of eating summer rolls.
Prepare all the ingredients for the rice paper wraps before starting to assemble…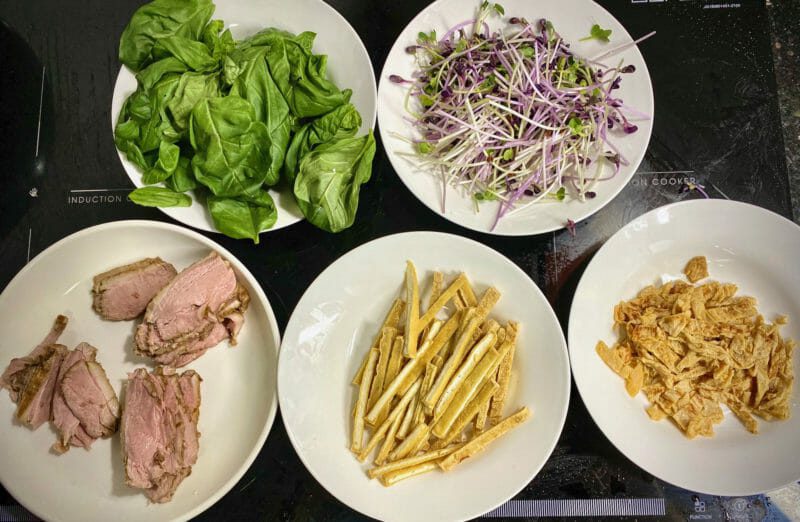 The rice paper
If you are familiar with rice paper, the rice paper wrapping these rolls in the photograph above has a golden hue. These summer rolls use rice paper made from organic brown rice. It was a little tastier than the white rice version, but the difference is minimal. Use the rice paper that you can buy at your local Asian market.
Once you have the rice paper and all the ingredients, things get a little trickier. How do you wrap these rice paper rolls? For the first video demonstration on delectabilia, I asked someone who knows what they are doing to demonstrate…
The green herb sauce
A dipping sauce is such an essential ingredient for spring rolls. They can range from a simple fish sauce, sugar, and lime juice concoction to a complex fermented bean-based sauce such as the one I used with this fried duck and herb spring rolls dish. The base of this green herb sauce is tentsuyu, a Japanese dipping sauce that you may know from eating tempura at Japanese restaurants. Enhancing this base are fresh herbs, fresh green chillis, anchovies, and a little yuzu kosho (fermented chilli and yuzu). The result is a flavour-enhancing, umami-packed dipping sauce with fresh spicy palate stimulating effects, a perfect complement to these marinated duck summer rolls.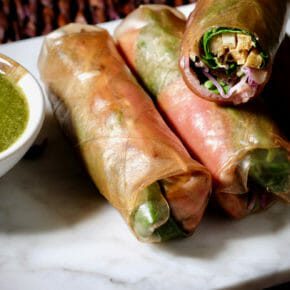 Rice paper wraps with duck and a green herb sauce
The complexity of the duck, marinated and slow-cooked, is perfectly balanced with fresh herbs, vegetables, and tofu in these rice paper rolls. The green herb sauce draws out these flavours, while adding a whole other layer of deliciousness.
Print Recipe
Ingredients
Marinated duck
1

duck breast

1

Tbsp

dark soy sauce

1

Tbsp

Worcestershire sauce

1

Tbsp

extra virgin olive oil

2

Tbsp

balsamic vinegar

2

Tbsp

liquid honey

4

cloves

garlic

crushed

grated zest of a lime
Green herb sauce
3

spring onions

3

large mild green chillis

100

g

fresh herbs

basil, mint, parsley….

2

cloves

garlic

150

ml

dashi

made from hondashi is OK

2

Tbsp

mirin

3

Tbsp

soy sauce

1

tsp

smoked paprika

1

tsp

yuzu kosher
Other ingredients
Rice paper

pictured is brown rice paper

200

g

fired firm tofu

1

red bell pepper

1

large egg

1

Tbsp

mirin

1/2

Tbsp

soy sauce

50

g

radish sprouts

50

g

fresh basil
Instructions
Marinated duck
Score the skin of the duck breast, or use a skin piercer like this >>

Place the duck breast skin side down into a cold skillet then heat slowly to a medium low heat. After 10-15 minutes you should have a tablespoon or two of duck fat and the skin should be getting quite golden brown.

Remove the duck from the skillet and allow to cool.

Pour the duck fat into a small bowl and keep for another recipe. It is delicious.

Mix together the marinade ingredients while the duck is cooling.

Place the duck breast and marinade ingredients into a zip-lock bag, expel as much air as your can, and seal.

Allow to marinate at room temperature for 2 or 3 hours, or preferably put in the refrigerator and marinate overnight.

Remove the duck breast from the marinade and put in a sous vide bag or just pour the marinade out of the zip-lock bag and use that. The duck breast should still have a coating of the marinade.

Expel the air from the bag and seal.

Sous vide the duck 1 hour 30 minutes at 58 degC.

Chill the duck breast in ice water. Store in the refrigerator until ready to make the summer rolls.
Green herb sauce
Blend all the ingredients together
Summer rolls
Heat cooking oil in a pan to 160 degC.

Slice the tofu into thin strips. See photo of the fillings above.

Fry the tofu strips in the oil until crispy. Drain on paper towels and set aside.

Whisk together the egg, 1 Tbsp mirin, and 1/2 Tbsp soy sauce.

Drain the oil from the fry pan so just a coating remains.

Bring to a medium low heat.

Pour in the egg mixture into the pan and tilt tilt it so that it becomes a thin film all around the pan.

Cook until done then lift out and cut into strips. Set aside.

Slice the duck breast into very thin slices. Use a very sharp knife.

Roll up the ingredients in the rice paper as per the video above.