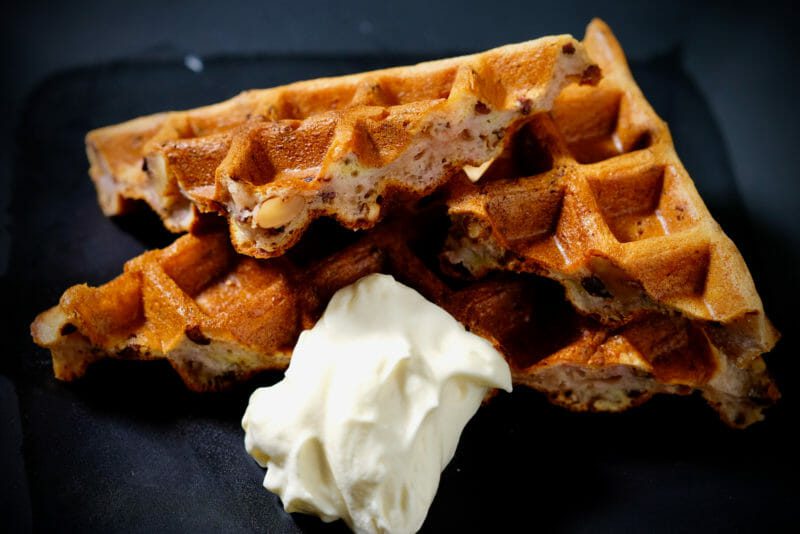 The crisp golden surface encases a slightly chewy and intensely flavoured centre. The banana, walnuts, cacao nibs, and sourdough starter contribute their unique strengths to shape these awesome sweet sourdough waffles.
Like so many aspiring bakers, I nurtured a sourdough starter during the COVID-19 lockdown. While I continue working on bread making (!), some spinoff projects have had more success. This banana sourdough waffles recipe being one example. The sourdough starter contributes in three significant ways. 
Why sourdough?
First, there is fermentation. A long cold fermentation gives the waffles structure and lightness. The recipe includes baking soda to aid leavening; however, it is the leavening from the sourdough starter that makes these waffles unique.
Second, the sourdough starter brings some acidity, some sour taste to complement the sweetness of the bananas, and work with the buttermilk and baking soda for leavening.
Third, the taste of the yeast from the sourdough starter adds a flavor component that only a recently alive yeast can.
The recipe specifies a "ripe" sourdough starter. A ripe starter is a starter that has been fed in the last few hours and is now at its peak level of yeast activity. In other words, it has risen as high as it is going to and will soon start sinking as the gases escape. With your starter at this active stage, it is also time to begin your next sourdough loaf.
Bananas and walnuts are a classic combination. They work so well together, whether in bread, muffins, or this sourdough waffles recipe. Enough said.
Cacao nibs?
Cacao nibs are a by-product of the chocolate-making process. They are segments of cacao beans, fermented, dried, roasted, and crushed. They are a little bitter but with an intense chocolate taste. This bitter chocolate-ness adds an exciting dimension to the banana walnut waffles.
The blossoming cacao growing industry in the Mekong delta resulted in cacao nibs appearing in gourmet markets. Not only cacao nibs, but great Vietnam produced chocolate. Marou is a favourite. Even the NY Times is on to it: The Best Chocolate You Have Ever Tasted. Buy some on Amazon. There is a good article about cacao nibs here. You can also buy them online at Amazon. If you don't have cacao nibs, substitute with 90% or 100% pure dark chocolate, chopped into small (3x3mm) pieces.
For another cacao nib recipe, try this red quinoa citrus salad.
These banana sourdough waffles make a great breakfast when served with Greek yoghurt. They also make a great dessert. If you have a good reason to treat yourself, substitute the yoghurt for whipped cream.
Make extra, as these banana sourdough waffles freeze well. Wrap those that you do not use in plastic wrap and put them in the freezer. When ready to use, pop them in the toaster to defrost and crisp up. So easy.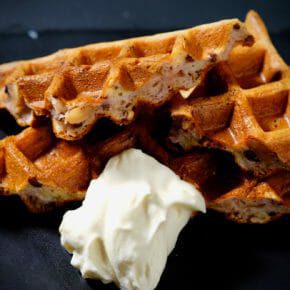 Banana, walnut, and cacao nib sourdough waffles
The crisp golden surface encases a slightly chewy and deeply flavored center. The banana, walnuts, cacao nibs, and sourdough starter contribute their unique strengths to shape these awesome sweet waffles. 
Print Recipe
Ingredients
1 1/2

cups

all purpose flour

400

ml

buttermilk

50

g

butter

100

g

ripe sourdough starter

1/2

tsp

salt

1

Tbsp

sugar

1

tsp

baking soda

2

eggs

1

cup

mashed ripe banana

1/2

cup

finely chopped toasted walnuts

1/2

cup

cacao nibs
Instructions
Preparing the waffle batter
Add the buttermilk and butter to a saucepan and heat over a low heat.

Once the butter is melted add 1 Tbsp sugar.

Whisk the buttermilk and butter mixture until the sugar has dissolved.

Remove from the heat and allow to cool until lukewarm. Make sure it is only lukewarm. If it is too hot it will kill the yeast from the sourdough starter.

Add the sourdough starter to the buttermilk mixture and stir to combine.

Slowly add the flour to the buttermilk and sourdough starter, whisking until smooth.

If necessary, add some water so that it is the consistency of a waffle batter (which is a little thicker than a pancake batter).

Cover and refrigerate overnight.
Making the waffles
Whisk the eggs.

Fold the eggs, salt, and baking soda into the waffle batter.

Fold in the mashed banana, toasted walnuts, and cacao nibs.

Make the waffles according to the waffle maker instructions.