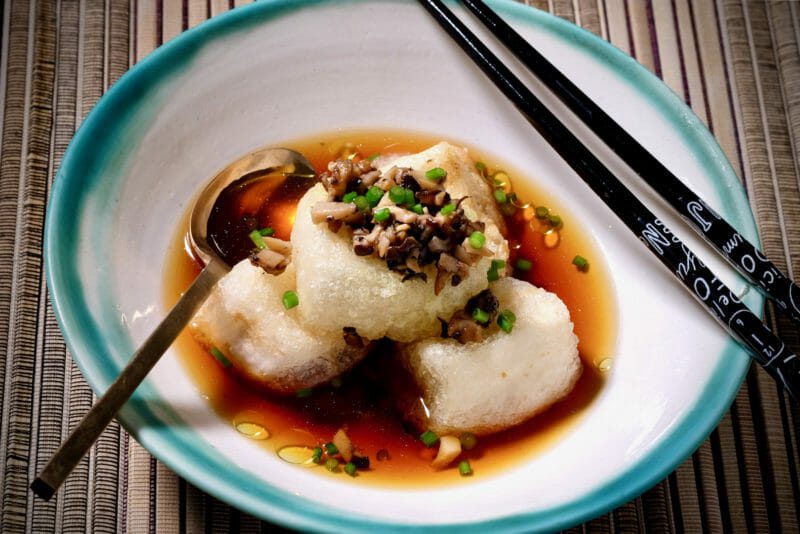 Agedashi is silken tofu encased in a gelatinous yet crisp coating of potato starch and swimming in umami-packed tsuyu. The truffled mushrooms add delicious complexity to this already luxurious agedashi tofu recipe.
This Onsen Tomago is a popular dish on delectabilia. One of the reasons it works is the addition of truffle flavour. Egg and truffles are a combination made in (utopia of your choice). So, would the taste of truffle enhance the agedashi tofu like it enhanced the slow-cooked egg? Indeed it does. 
The importance of quality ingredients
Because of the simplicity of this dish, its success relies heavily on the quality of the ingredients. Make real dashi. No hon-dashi here! Buy a bottle of high-quality Japanese soy sauce. Use the best-preserved truffle and truffle oil that you can buy or afford.
Like wine, sake prices and quality vary widely. Best to avoid the cheapest. Unless you are a sake fan and will drink a whole bottle, buy a smaller 300ml bottle. Be sure to enjoy what you don't use in this recipe. My preference is to drink sake slightly chilled.
Mirin is aged rice wine. There are versions for drinking like Hakusen Shuzo's hon-mirin. Hon-mirin is the real thing, whether for drinking or cooking. You will also find aji-mirin, which is cheap imitation mirin. What is the difference? Try your best to find hon-mirin if you do not have it already.
While the tofu may not contribute much to the flavour of this agedashi tofu recipe with truffled mushrooms, it contributes in a very significant way to hosting the other flavours of this dish. The delicate texture of the silken tofu, and the contrast with its crispy coating, are as crucial to this dish as the flavour-packed tsuyu and truffled shiitake mushrooms. 
Potato starch – the secret ingredient
In many situations, potato starch acts in a similar way to cornstarch. For example, when used for thickening a casserole. Bob's Red Mill has more details. However, in this situation, where it is dusted on tofu and fried in hot oil, the outcome is very different. The process of frying the potato starch covered tofu results in an elastic gelatinous layer around the tofu, with a surface that is just a little crisp. 
Potato starch is not as widely available as cornstarch. Since potato starch is an ingredient in tempura and karaage (Japanese fried chicken), Japanese groceries will likely stock it. Look for katakuriko. Gourmet grocery stores are likely to stock brands like Bob's Red Mill. Also available on Amazon.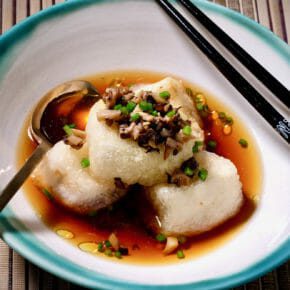 Agedashi tofu with truffled mushrooms
Agedashi is silken tofu encased in a gelatinous yet crisp coating of potato starch, and swimming in umami packed tsuyu. The truffled mushrooms add a delicious complexity to this already luxurious dish.
Print Recipe
Ingredients
Fried Tofu
400

g

silken tofu

salt

to sprinkle over the tofu

1/2

cup

potato starch

katakuriko

Oil for shallow frying
Instructions
Tsuyu
Combine the ingredients in a saucepan and bring up to a high simmer.

Simmer for 5 minutes to evaporate off the alcohol.

Remove from the heat.

Reheat if necessary before use.
Fried Tofu
Lay out several layers of paper towels.

Sprinkle salt onto the paper towels.

Carefully cut the tofu into bite sized pieces and place on the paper towels.

Sprinkle some more salt onto top of the tofu pieces.

Lay some more layers of paper towels on top of the tofu.

Allow to sit for 20 minutes to allow the salt to draw out some of the moisture.

Put the potato starch onto a plate.

Heat the oil in a pan to 150 degC.

Coat pieces of tofu with potato starch and carefully put in the hot oil. Don't crowd the pan. Do 5 or 6 at a time. Because of the water content of silken tofu, it may splatter a bit at first.

The fried tofu will become quite crispy while still looking white. There is no nee to cook them until golden. Or maybe just slightly golden.

Drain on paper towels.
Garnish
Remove the stems and finely dice the shiitake mushrooms.

Stir-fry the mushrooms until starting to brown and significantly reduced in size. Transfer to a bowl.

Finely dice the truffle slices and add to the mushrooms, together with 2 tsp truffle oil. Stir to combine. Cover in plastic wrap.

Finely dice the chives.

Put 4 pieces of fried tofu in a dish.

Top with some truffled mushroom mix.

Pour some tsuyu into the base of the dish. Don't pour over the tofu as that will make it soggy.

Drizzle some truffle oil into the tsuyu.

Sprinkle some diced chives over the top.