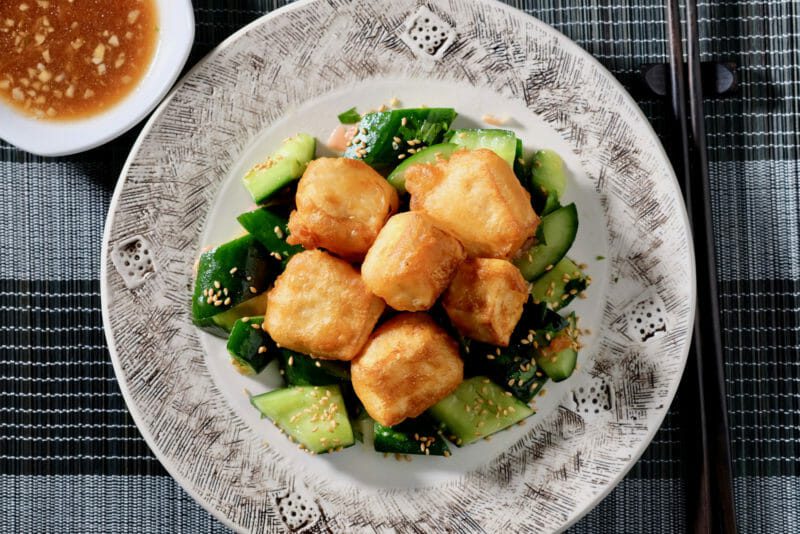 This Asian inspired dish layers creamy tofu encased in crispy tempura batter on top of fresh crunchy smashed cucumber that has been smothered in zingy ginger and sesame oil salad dressing.
My favourite dishes are those that include contrasts in taste and/or texture. Colour contrasts are a bonus. This dish certainly has such contrasts. The tempura tofu was such a delight to bite into. So crisp yet with a silky smooth centre. The fresh and crunchy ginger coated smashed cucumber salad was a lively second act, refreshing the palate ready for the next bite of tofu.
To get the greatest contrast between the crunch of the batter and the creaminess of the tofu, I used silken tofu for this tempura tofu. The downside is that silken tofu is very delicate and breaks easily. Regular tofu works too, but don't use a firm tofu. There is a great guid here on types of tofu.
I usually buy a tempura flour mix, though it is easy to prepare yourself. Sift together 1 cup of all purpose flour, 1 tablespoon of rice starch, and one tablespoon of corn starch. A number of tempura batter recipes use an egg. I prefer it without the egg. Just lightly combine the flour mix with very cold sparkling water and use. Light and crisp. A well chilled lager beer works well too.
Tempura tofu is such a versatile ingredient. You can pair it with such a wide range of accompaniments. There is this corn salsa for example.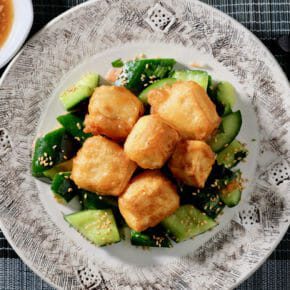 Tempura tofu on smashed cucumber with sesame oil and ginger
This Asian inspired dish layers creamy tofu encased in crispy tempura batter on top of fresh crunchy cucumber that has been smothered in a zingy ginger and sesame oil dressing.
Print Recipe
Ingredients
Tofu
400

g

silken tofu

150

g

tempura flour mix

1

can

lager beer

well chilled

Oil for shallow or deep frying
Smashed cucumber
4

medium sized cucumbers

2

tsp

salt

2

Tbsp

rice vinegar

3

tsp

sesame oil

3

tsp

ginger juice

squeezed from about 2 "thumbs" worth of freshly grated ginger

3

tsp

soy sauce

1

tsp

salt

2

tsp

sugar

4

cloves

garlic

crushed

2

Tbsp

Japanese pickled ginger

1

Tbsp

extra virgin olive oil

1/2

cup

rinsed coriander leaves removed from their stems

2

tsp

sesame seeds
Instructions
Tofu
Cut tofu into bite sized pieces (1.5 to 2cm per side). Handle with care. Silken tofu is delicate.

Whisk lager beer into the tempura flour mix until it reaches a heavy cream consistency.

Bring the oil to a high heat.

Coat the tofu pieces in the batter, then add to the oil. Turn over after a couple of minutes.

When golden all over, remove from the oil and drain on paper towels.
Smashed cucumber
To smash the cucumber, cut into 10cm pieces and halve length ways.

Lay cut side down. Place the flat edge of a large knife on top of the cucumber and punch down lightly on it so that the cucumber breaks up a bit. The skin should crack and the seeds separate. Discard the seeds.

Dice the larger portions into bit sized pieces.

Place the smashed cucumber into a colander, sprinkle with 2 tsp salt and toss.

Place a bowl under the colander and allow the moisture to drain from the cucumber for 1 to 2 hours in the refrigerator.
Dressing and final preparation
To prepare the dressing, in a bowl combine the rice vinegar, 1 tsp salt, and 2 tsp sugar. Stir until the sugar and salt have dissolved.

Stir in the sesame oil, ginger juice, soy sauce, and half the crushed garlic.

When ready to serve, shake off any remaining liquid from the cucumber.

Drizzle with the olive oil, add the remainder of the garlic, pickled ginger, and coriander leaves and toss.

Drizzle with the 1/2 the dressing and toss until well coated.

Garnish with sesame seeds.

Use the other half of the dressing as a dipping sauce for the tofu.