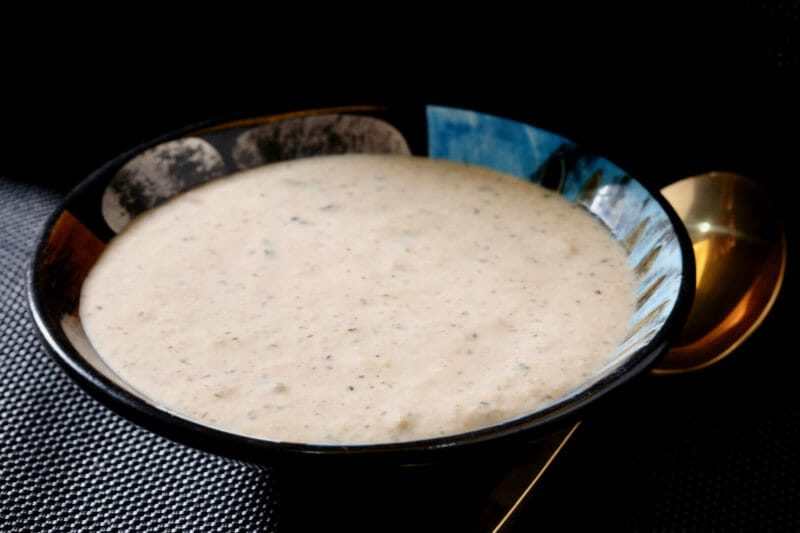 Came across some giant shiitake mushrooms from Dalat in an organic vegetable shop. It turns out they make a divine cream of shiitake mushroom soup.
This is not the only cream of mushroom soup recipe on delectabilia. This recipe is simpler and arguably has a more interesting flavour. However, it relies on these very special mushrooms, which may not (yet) be easy to find in your locality. By "giant", I mean about 10cm diameter. You could get a similar depth of flavour by using portobello mushrooms. Larger, more mature mushrooms do tend to have deeper flavours.
Shiitake mushrooms originate in East Asia. They are an important ingredient in Japanese, Chinese, Korean, and Vietnamese cuisines. They are often purchased in dried form and in that form are used in many delectabilia recipes. Dried shiitake mushrooms impart an amazing depth of flavour and umami components to dashi, stocks, and soups. But we digress. This soup uses fresh shiitake mushrooms. You may not find the giant variety that prompted me first to make this soup. The more common smaller fresh shiitake mushrooms also make a delicious soup. You may find them in larger supermarkets or an Asian market.
While their skin is the typical brown of the smaller shiitake mushrooms, there is a lot more white flesh inside the giant shiitake mushrooms. Hence the colour of this soup is near white, yet it has a distinct but mellow mushroom flavour. I served this cream of shiitake mushroom soup to quite a diverse group of guests, and it was a hit across cultures and ages.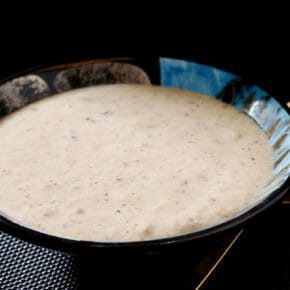 Cream of giant shiitake mushroom soup
Came across some giant shiitake mushrooms from Dalat in an organic vegetable shop. Turns out they make a divine cream of shiitake mushroom soup.
Print Recipe
Ingredients
1

Tbsp

olive oil

20

g

unsalted butter

1

onion

5

cloves

garlic

200

g

fresh giant shiitake mushrooms

or normal-sized fresh shiitake mushrooms. Ideally organically grown

10

sprigs fresh thyme

Just a suggestion. More or less if you like

2

Tbsp

flour

1 1/2

cups

milk

1 1/2

cups

vegetable stock or water

1/2

cup

cooking cream

2

tsp

mustard

1/2

cup

grated parmesan

1

tsp

salt

1

tsp

black pepper

6

tsp

truffle oil
Instructions
Bring a large saucepan to a medium heat and add the olive oil and butter.

When the butter has melted, add the onion to the saucepan and sauté until softened.

Add the garlic, mushrooms, and sprigs of thyme. Sauté until the mushrooms have expelled their moisture and it has evaporated.

Remove the thyme stalks, leaving behind as many leaves as possible. Most of them would have detached during the cooking.

Add the flour to the pan and stir into the mushrooms. It will form a paste with the olive oil and butter.

Continue cooking until the paste is golden brown.

Slowly add the milk, stirring constantly.

Slowly add the stock or water.

Add the mustard, salt, and pepper and simmer for 20 minutes.

Remove from the heat and add the cream.

Use an immersion blender to blend until smooth, then return to a low heat.

Add the grated parmesan and stir in until combined.

If necessary, add more vegetable stock, water, or milk to bring to a suitable soup consistency.

Serve each bowl with a tsp of truffle infused oil drizzled onto the soup.