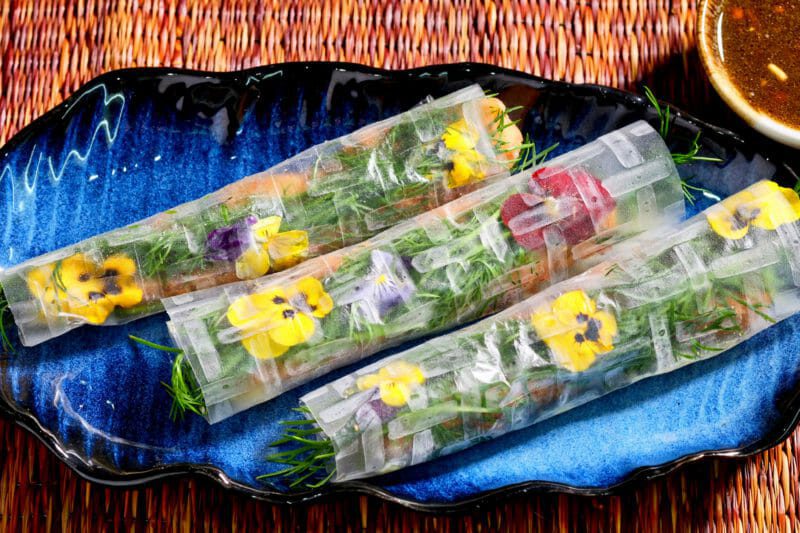 These Vietnamese rice paper rolls, packed with fried fish and dill, were inspired by the first thing on the menu of a Highway 4 restaurant in Hanoi – Catfish Spring Rolls. Simple and so delicious.
The fish and dill rice paper rolls
The Highway 4 group of restaurants is quite an institution in Hanoi. As a guest in Vietnam, and a resident of Saigon, I have to say visiting a Highway 4 restaurant needs to be on every Hanoi visit itinerary. In addition to the Catfish Spring Rolls, try the Crickets roasted w/Lemon Leaves & Pork Fat. Really delicious. And do a Sơn Tinh rice spirit tasting. I prefer the "Adventurous Flavours" version.
If you found this recipe by searching for rice paper rolls, chances are you were looking for the more traditional kind. Sometimes these are called summer rolls or fresh spring rolls. For example, these fresh spring rolls with duck. These Vietnamese rice paper rolls use rice paper (bánh tráng) in their original form. That is, dry. The rice paper is not moistened but remains paper-like. This results in a great crunchy wrap around the fresh and fried ingredients inside.
Highway 4 doesn't use edible flowers! I had some on the day, and they worked well under the transparent rice paper. Entirely optional. The fresh dill, however, is critical.
Highway 4 have produced their own entertaining video of how their Catfish Spring Rolls are made…
The dipping sauce
Highway 4 uses a wasabi soy sauce to accompany their Fish Spring Rolls. I decided on something a little more complex. The "bite", rather than coming from wasabi, comes from yuzu kosho, another Japanese ingredient. Yuzu kosho is a Japanese condiment made from chillis fermented together with salt and the rind and juice of the yuzu fruit. As a fermented product, it contributes considerable depth to the sauce, as well as heat and citrus notes.
You will be able to find yuzu kosho in a Japanese grocery, or perhaps an Asian store, and certainly on Amazon. An alternative to yuzu kosho is Doubanjiang, a spicy fermented bean condiment from the Sichuan province of China. Use the same amount as you would yuzu kosho.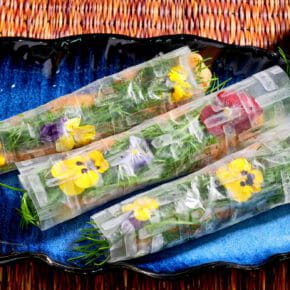 Fish and dill rice paper rolls
These Vietnamese rice paper rolls, packed with fried fish and dill, were inspired by the first thing on the menu of a Highway 4 restaurant in Hanoi – Catfish Spring Rolls. Simple and so delicious.
Print Recipe
Ingredients
Spring rolls
500

g

white fish fillets

basa or sea bass

fresh dill

1

Tbsp

dried chilli flakes

1/4

cup

cornflour

1/2

cup

all purpose flour

edible flowers

optional

vegetable oil for shallow frying
Instructions
Spring rolls
Chop some of the dill so that you have about one Tbsp chopped dill.

Separate the rest of the dill into sprigs for laying into each spring roll.

Cut the fish into approx. 1.5cm square by 8cm long pieces.

In a large bowl, add the fish pieces, chilli flakes, and chopped dill and toss until the fish is well coated.

Add the cornflour and toss again until well coated.

Finally add the flour and toss once again.

Lay the fish pieces on a tray and refrigerate until ready to cook.

Heat the oil in a pan and fry fish on all sides until golden.

Drain on paper towels.

Cut the rice paper to a size of about 10cm x 15cm. If they are very dry and brittle, wipe them with a moist towel. Not too moist as we don't want them to get soggy.

Lay a piece of fish about 15mm from the short edge of a piece of rice paper.

If using edible flowers, put several face down next to the fish.

Lay some dill sprigs next to the fish, on top of the flowers (if using).

Roll up and seal with a line of mayo.
Dipping sauce
Peel the ginger and garlic.

Process the ginger and garlic in a food processor until "minced" – should not be a pulp but still a little chunky.

Combine the minced ginger, garlic, yuzu kosho, lemon juice, vinegar, soy sauce, and sesame oil in a shaker and shake to combine. Store in the refrigerator for at least an hour for the flavours to meld.

Sprinkle the sesame seeds onto the dipping sauce before serving.