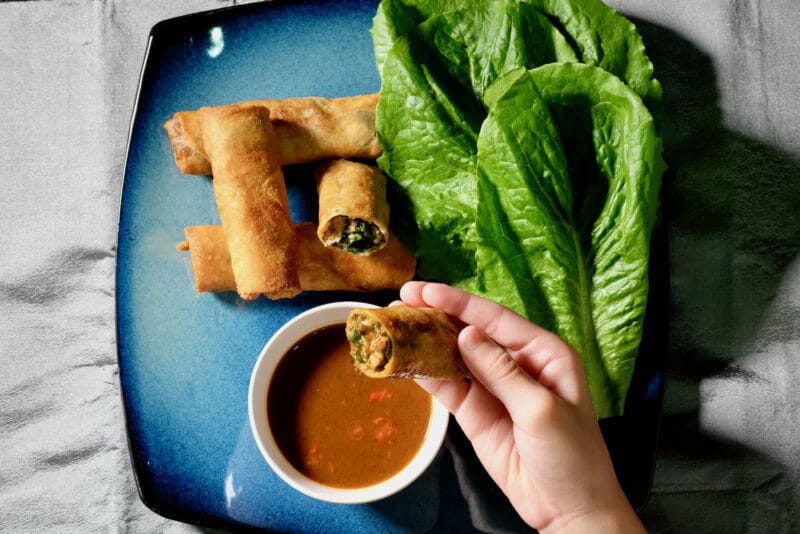 These duck and herb springs rolls would be great with a wide range of sauces. With this very special dipping sauce, they are phenomenal.
The spring rolls are packed with tender, succulent duck breast, crispy duck skin, and an assortment of herbs and aromatics. These taste amazing as they are. Alternatively, you could pair them with many dipping sauces: soy-based, fish sauce-based, salsa, ponzu. The three dipping sauces served in this gyoza recipe would work very well.
However, I wanted to try something a little different. The challenge, then, was to recreate a dipping sauce that accompanied some delicious vegetarian fresh spring rolls that we sometimes get from the local market. This sauce was so good, but it wasn't easy to work out what made it so good. Usually, market vendors keep their recipes very secret. Luckily this one was kind enough to give me just enough information to create something similar and just as good.
The mystery ingredients were the fermented black beans and the chilli bean sauce, both ingredients frequently used in Chinese cooking. The fermented ingredients bring complexity to the taste profile of this sauce. This would be impossible to get in any other way. When it all comes together, the flavours merge into something unique, and this exceptional dipping sauce becomes a perfect match for these duck and herb spring rolls.
The "Earth" episode of the Netflix series Cooked by Michael Pollan explores the role fermented foods play in the world's cuisines. And to get really serious about it, try the Noma Guide to Fermentation.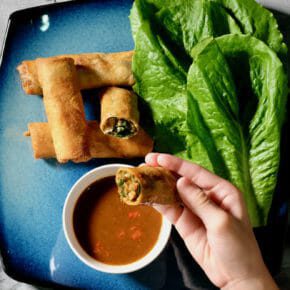 Duck and herb spring rolls. Very special dipping sauce.
While these duck and herb springs rolls would be great with a wide range of sauces, with this very special dipping sauce, they are phenomenal.
Print Recipe
Ingredients
Spring rolls
2

duck breasts

1/2

cup

basil

finely chopped

1/2

cup

parsley

finely chopped

1/2

cup

green onions

finely chopped

2

tsp

grated ginger

1

egg

1

tsp

yuzu kosho

or 1/2 tsp salt and 1/2 tsp tabasco

1

tsp

freshly ground black pepper
Very special dipping sauce
Instructions
Duck breasts
Score the duck skin diagonally at 5-10mm intervals

In a cold heavy pan, preferably a cast iron skillet, lay the duck breast skin down.

Put the skillet over a medium-low heat. After a few minutes you will start to see fat rendering from the duck.

Continue cooking until the skin is a light gold colour. We are going to brown it again, so don't go too far. Should have accumulated 3-5 Tbsp duck fat. Keep that for roasting something else.

Allow the duck breasts to cool a little.

Add a sprinkle of salt to each breast and put into individual sous vide bags.

Remove the air and seal with a vacuum sealer, or the immersion method.

Sous vide for 1 hour 30 minutes at 58 degC.

Plunge the bags into cold water until cool enough to handle.

Bring the skillet to a medium heat.

Lay the duck breasts in the skillet again skin side down and sear until golden brown.

Allow to rest for 10 minutes.

Lay skin side down on a cutting board. Slice into thirds length ways. Then slice into thin slices width ways.
Spring rolls
Separate the egg white from the yolk, retaining both.

Whisk the egg yolk to break it up a bit.

Toss together the diced duck breast, basil, parsley, green onions, ginger, whisked egg yolk, yuzu kosho (or salt), and pepper.

Lay a spring roll wrapper on a board oriented as a diamond.

Spoon about 2 Tbsp of the mixture on to the wrapper, half way between the front corner and the horizontal centre line.

Roll the wrapper up. When you get to half way, brush some egg white on to the three remaining corners. Fold the two side corners in, then keep rolling.
Dipping sauce
Bring the first 6 ingredients to a simmer and simmer for 10 minutes.

Blend the ingredients together with an immersion blender.

Simmer a further 5 minutes.

Add the diced chili (or make optional) and sprinkle on the fried shallots before serving.