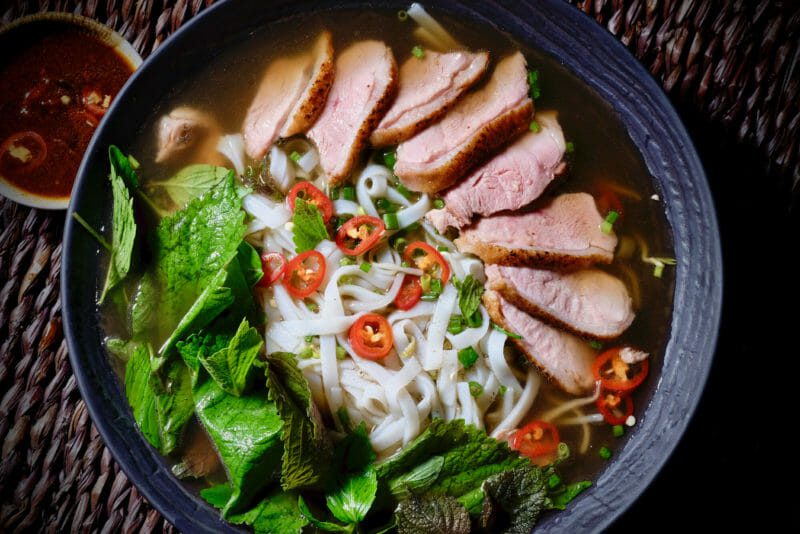 Phở has taken its rightful place as one of the great soups of the world. However, if you are avoiding beef, what do you do? This duck pho will more than satisfy you, bringing the wonderful flavour of duck to this aromatic broth.
Pronunciation
Phở is widely mispronounced outside of Vietnam. This is not surprising as Vietnamese has some of the most difficult tones of any language. The word phở is no exception. Phở is pronounced "fur" with a slight lowering then rising tome. Think of the shape of the letter "J" and let the tone follow that curve.
The History of Phở
Phở first made its appearance in Vietnamese literature in the early 1900s. Exactly how it came to be though is the subject of some debate. Up until that time, Vietnamese cuisine featured pork and chicken rather than beef. As with many dishes considered as part of a national cuisine, many are in fact fusion dishes. A great book, World Food: An Encyclopedia of History, Culture and Social Influence, goes into this phenomena in some depth.
Regarding phở, there are historical links to a Cantonese "cow meat noodles" dish commonly sold by Chinese immigrants in Hanoi around 1900. There are also links around the same time to the French dish pot-au-feu. The French, being partial to beef rather than pork, sought out better quality beef than the water buffalo that were common at the time. The reality is that both of these influences, combined with Vietnam's own water buffalo noodles, evolved into the phở we know today. Saigoneer has a great article on the origins of phở if you want to know more.
Beef, Chicken, or… Duck
Traditionally the protein of choice is beef. In Vietnam today, chicken phở is also widely available. While a satisfying bowl of noodles, chicken phở does not reach the height of beef phở. However, what if one is trying to avoid a significant contributor to greenhouse gas emissions. There is no shortage of duck recipes on delectabilia. While classified as poultry, duck has a richness and complexity that, in my opinion, makes it a much more interesting ingredient than beef. And like chicken, farming ducks for food has a minimal effect on the environment.
One step you may not be familiar with is washing the duck in soju. This removes the gamey taste of duck that many people dislike. You could also use cheap vodka for this step. The should be no gamey taste evident in this duck pho.
The spices in the broth
Whether beef, chicken, or duck, or indeed a vegetarian version like this black and white bean phở, the aromatics and spices that gives phở its unique character. These include charred onion and ginger, cinnamon, star anise, cloves, and cardamom seeds. To get the most authentic phở, don't cut corners with the aromatics and spices and how they are prepared. Really char the onions and ginger. Please find all of those spices and be sure to toast them.
Seasoning the broth
It may seem strange to use fish sauce to season the broth. Move on. It works. In fact, phở purists include a dried sea worm (sá sùng) in the broth. Rest assured that fish sauce not only seasons this duck pho broth but adds its share of flavour enhancing umami. And with no fishy taste!
The noodles
In Vietnam, phở actually refers to the type of noodles used. They are a flat rice noodle of Chinese origin. These medium width (5mm) rice noodles also feature in Chinese (as in chow fun), Thai (as in pad thai), and Korean dishes, so should not be hard to find. Do not, under any circumstances, substitute wheat flour noodles.
The dipping sauce
The dipping sauce, while not an ingredient in the soup, is an important component of this recipe. In Vietnam, dipping sauces accompanying phở are common in the South, but rare in the North, where phở is a more minimalistic dish. In the South, a mix of chilli sauce and fermented black bean sauce (tương đen), or hoisin sauce, is used.
We go to a bit more trouble here than a typical Vietnam phở restaurant would. This sauce has the fermented black beans and the chilli, combined with a few other umami-rich ingredients. This umami concoction serves to amplify the wonderful taste of the duck and the intoxicating spices of the broth. The same magical sauce was used in this duck and herb spring rolls recipe.
Important to note is that this sauce is not for adding to the duck pho broth. Instead, take a piece of duck, dip it in the sauce, and enjoy.
It is not uncommon to see people adding chilli and hoisin sauces to a phở broth. This should not be done. The chef has crafted his/her broth to stand on its own merits. If you need to add salt-laden sauces to make the broth tasty, best find a better phở restaurant!
The herbs
Another difference between the Northern and Southern style of phở is the option to customize your bowl with various herbs and fresh chilli. This is typical of phở served in the South of Vietnam. You will have to localise your selection of herbs depending on where you live. If you can't get what is specified in the ingredients list, you can't go wrong with basil, mint, and coriander.

Duck Phở
Phở has taken its rightful place as one of the great soups of the world. However, if you are avoiding beef, what do you do? This duck phở will more than satisfy you, bringing the wonderful flavour of duck to this aromatic broth.
Print Recipe
Instructions
Pho broth
Add the grated ginger to the soju and wash the duck pieces with this mixture. This helps remove the gamey flavour of the duck.

Pierce the skin in places with a pork skin piercing tool

Sprinkle all over with salt, then keep in the refrigerator for at least one hour. Overnight would be best.

Broil or grill the duck wings and duck legs until golden brown (we just want the skin browned. They don't need to be cooked right through).

Halve the onions and ginger, keeping the skin on, and char under a broiler until starting to blacken. Better yet, char over a naked flame.

Add the charred onions and ginger, and the browned duck wings and legs to a large saucepan.

Add water so that it covers everything in the saucepan (about 4 litres).

Bring to a boil then reduce to a simmer. Skim off any scum as it forms.

Add the duck breasts on top of the other ingredients, but they should still be submerged.

Simmer until the internal temperature of the duck breasts is 58 degC (Check first at 20 minutes).

Remove the duck breasts from the stock, pat dry, and allow to cool.

Add the spices in the spice list to a skillet and toast over a medium heat until fragrant (2 to 3 minutes).

Transfer the spices, together with the rock sugar and fish sauce, to the saucepan.

Put the duck breasts uncovered in the refrigerator (so that the skin dries out some more).

Continue simmering for 1.5 hours, skimming as necessary.

Carefully remove the duck legs from the stock. They should be fall-apart tender by this stage. Set aside to cool.

Remove the duck wings from the stock and discard (or give to your dog).

Strain the stock through a fine strainer.

Adjust seasoning if necessary by adding more fish sauce. Don't worry, it won't taste fishy.
Dipping sauce
Bring the first 6 ingredients to a simmer and simmer for 10 minutes.

Blend the ingredients together with an immersion blender.

Simmer a further 5 minutes.

Add the diced chili (or make optional).
Assembly
Wash and remove stalks from the herbs. Slice up the chilli.

Bring a skillet to a high heat and sprinkle in a little oil.

Sear the duck breast skins until golden brown (4 minutes).

Remove the leg meat from the bones and set aside.

Slice the duck breasts into thin slices (about 2 mm thin).

Bring a large saucepan of water to the boil and add the pho noodles. Cook according to the packet (likely around 3 minutes).

Drain the noodles and refresh under cold water. Toss with a little vegetable oil to prevent them sticking together.

When ready to serve, dunk a serving of noodles into boiling water for a few seconds to reheat. Put in a bowl. Top with green onion, finely diced red red onion, and duck breast and leg pieces.

Pour over the soup.

Allow guests to add their own herbs, bean sprouts, and chilli.