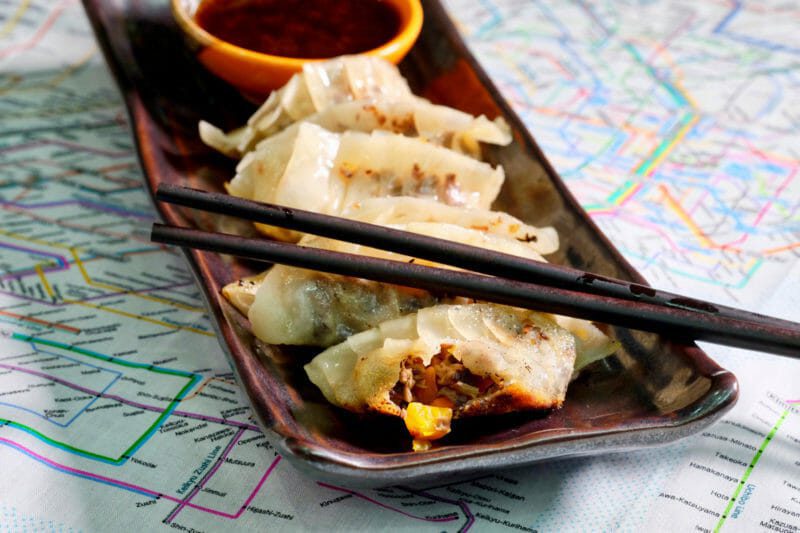 Reimagining bò kho as a gyoza filling and dipping sauce. Bò kho is a delicious Vietnamese beef curry soup, typically eaten with noodles or bánh mì. These bo kho gyoza (aka beef gyoza or beef curry dumplings) will have you looking for more.
I love eating bò kho on a weekend morning when you can take your time savouring the wonderful aromas, the tender pieces of beef and sweet pieces of carrot, and the tasty soup soaked up in a piece of bánh mì. Encapsulate the tender beef and carrot in gyoza wrappers and create a dipping sauce out of the aromatic bò kho broth….  challenge accepted.
Gyoza are a Japanese interpretation of the Chinese jiaozi, a dumpling traditionally filled with minced pork. These bo kho gyoza, or beef curry dumplings, are just one exploration of alternative gyoza fillings. Check out these gyoza variations with a ponzu dipping sauce. 
The meat
The quality of bo kho in Saigon can vary widely, as is typical of street food. The beef can be melt-in-your-mouth delicious or leather-like. Of course, I needed to achieve the melt-in-your-mouth delicious version and the beef being a significant source of flavour for the broth. To achieve this, I used brisket and cooked it in low heat for a few hours. The pieces of beef were perfectly tender, and the broth rich and delicious. Other cuts such as beef shank would work as well. It needs to be a cut with lots of connective tissue. There is a great guide on suitable cuts for stew type dishes at Serious Eats.
Transforming street food
Another issue with trying to recreate street food, there are as many recipes as there are vendors. What I have achieved here (after a few less than satisfactory attempts) is up there with the best bò kho I have eaten in Saigon.
One challenging aspect of this transformation was turning a tasty broth into a dipping sauce. I needed to concentrate and enhance the already amazing flavour of the broth. Adding soy sauce (salt and umami) and rice vinegar (bite) and then reducing the liquid by half resulted in a very delicious dipping sauce. You will be plunging these beef curry dumplings into that sauce and trying to scoop up as much as you can.
As with slow-cooked stews generally, it is best to cook the base bò kho the day before and keep it in the refrigerator overnight. On reheating the next day, its flavours will have intensified. 
Enjoy with Saké.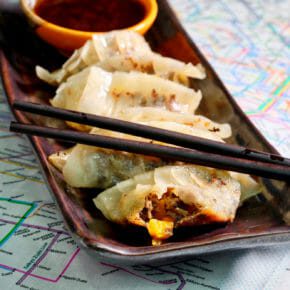 Bò kho gyoza (aka beef gyoza or beef curry dumplings)
Reimagining bò kho as a gyoza filling and dipping sauce. Bò kho is a delicious Vietnamese beef curry soup, typically eaten with noodles or bánh mì. These bo kho gyoza (aka beef gyoza or beef curry dumplings) will have you asking for more.
Print Recipe
Ingredients
Bò kho
500

g

brisket, beef shank, or chuck steak

cut into 20mm square cubes

3

Tbsp

cooking oil

5

cloves

garlic

4

stalks lemongrass

3

star anise

2

tsp

ground black pepper

1

Tbsp

raw sugar

1/2

tsp

fennel seeds

3

whole cloves

1

bay leaf

1

stick cinnamon

1

Tbsp

dried chilli flakes

3

Tbsp

tomato paste

2

tsp

Chinese 5 spice powder

1

piece

fresh ginger

thumb size

1

onion

3

carrots

2

cups

coconut water

1

cup

water

3

Tbsp

fish sauce
For the gyoza and dipping sauce
2

Tbsp

soy sauce

2

Tbsp

rice vinegar

40

gyoza wrappers

Boiling water
Instructions
Bò kho
Peel and cut the ginger into thin slices.

Finely dice the onion and garlic.

Peel and cut the carrots into bite sized pieces.

Bruise the lemongrass and cut in half if they are too big for the pot.

In a large bowl toss the beef cubes in the flour. Dust them off then season with salt and pepper.

Heat the oil in a dutch oven or other heavy bottomed pan. When hot, sear the beef cubes on all sides until golden. Work in small batches to ensure each piece does get browned rather than stewed. Transfer the browned beef to another bowl and repeat. When all the beef is browned, reduce the heat to medium.

Add the onion, ginger, and garlic, and cook until the onion has softened.

Stir in the tomato paste, chilli flakes, curry powder, and 5 spice powder and cook for another minute or two.

Add the coconut juice, water, browned beef cubes, fish sauce, and lemongrass.

Bring to a boil then reduce to a simmer.

Add the star anise, fennel seeds, cloves, bay leaf, and cinnamon stick to a muslin spice bag and add to the pot.

Cover and simmer over a low heat for 3 hours, until the beef is tender but not falling apart. Start checking at 2.5 hours.

Add the carrots and simmer for a further 45 minutes.

As an alternative to simmering on the stove top, use a casserole dish and cook covered in the oven at 140 degC.

Remove the lemongrass and spice bag.

Allow to cool then refrigerate overnight.
Bò kho gyoza
Remove any fat that has hardened on the surface.

Bring the bò kho up to a medium simmer and simmer for 15 minutes.

Use a slotted spoon to move the beef and carrot to another bowl.

Finely chop the beef, then the carrots, and mix together. Keep the carrots slightly more chunky that the beef.

Heat a skillet and add half the sesame oil. Place half the gyoza in a single layer in the pan.

Fry over a medium-low heat.

When the wrapper is starting to brown (about 2 minutes), add boiling water, enough to reach a 1/3 of the gyoza's height.

Add a lid to the pan and steam for 3 to 4 minutes until most of the water has been absorbed or evaporated.

Take the lid off and add more sesame oil to the bottom of the gyoza.

Cook for 2 – 3 minutes more with the top on. Be careful not to burn the gyoza.
Bò kho gyoza dipping sauce
Strain the soup and return 2 cups of soup to a clean saucepan.

Add the soy sauce and vinegar to the soup.

Bring the soup to a boil then reduce to a high simmer. Simmer until reduced by half. Allow to cool.