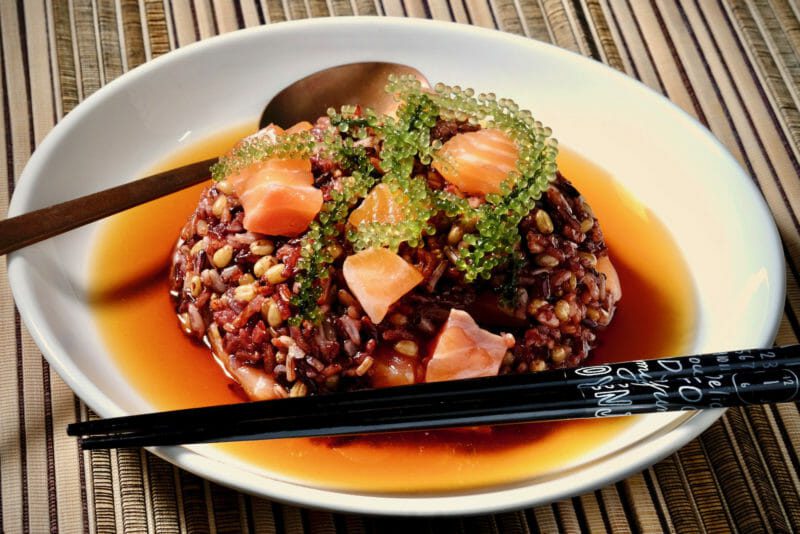 Chazuke, meaning tea over rice, is a comfort food in Japan. Here we swap out the white rice for tasty mixed rice and stir through savoury miso cured salmon, a sake chazuke.
What is chazuke?
Chazuke, or ochazuke, in its most basic form, is sushi rice with green tea or dashi poured over it and topped with something salty. Typical toppings include Japanese pickles, salted fish roe, and salted salmon. Often enjoyed as a light home-cooked meal or snack, chazuke is also served at izakaya to enjoy with your beer or sake.
The mixed rice
White rice, white flour, and the many types of noodles and pasta made from these processed ingredients do not provide significant nutrition. They are empty calories. That is, they provide energy only, but no fibre or nutrients. Hence my excitement when I found this mixed rice. Black rice, brown, red, and sticky rice certainly make for a much more interesting taste experience, great texture, and so much more healthy. A mixed rice chazuke was the perfect way to put the mixed rice centre stage.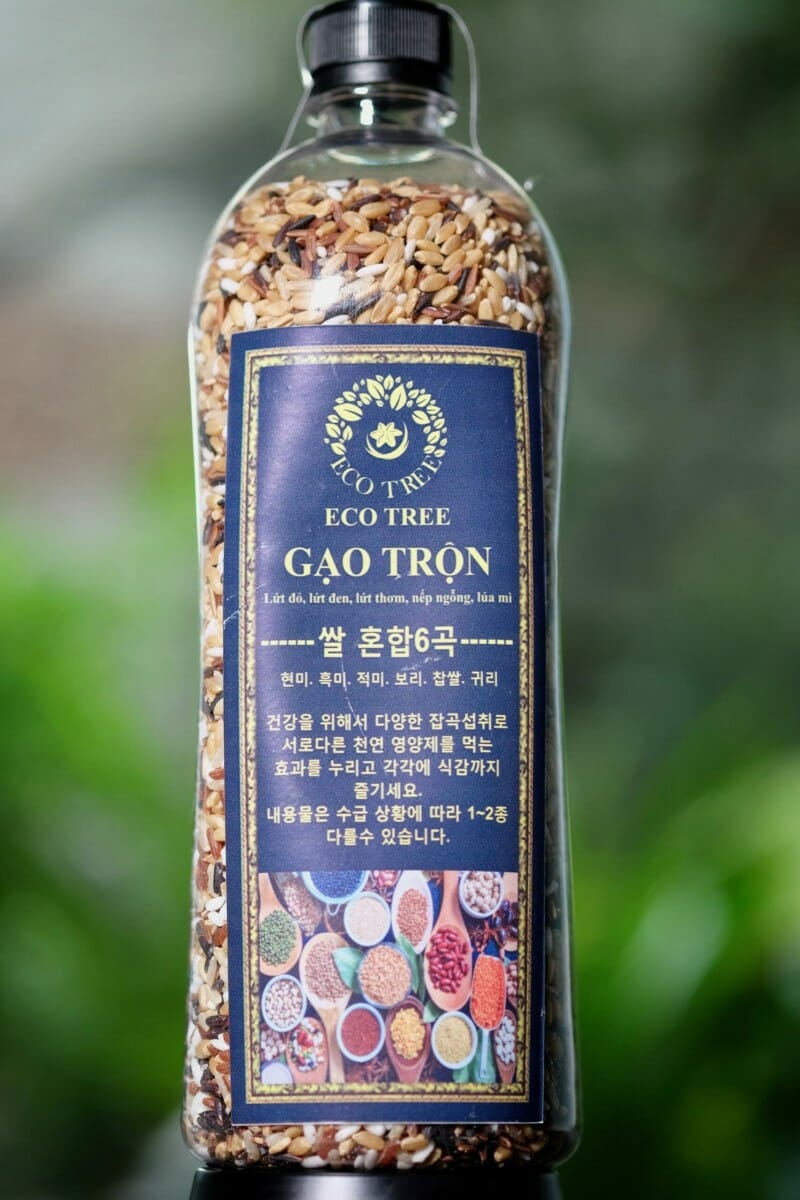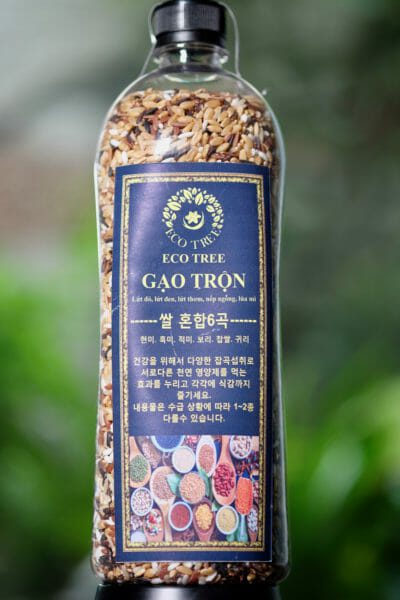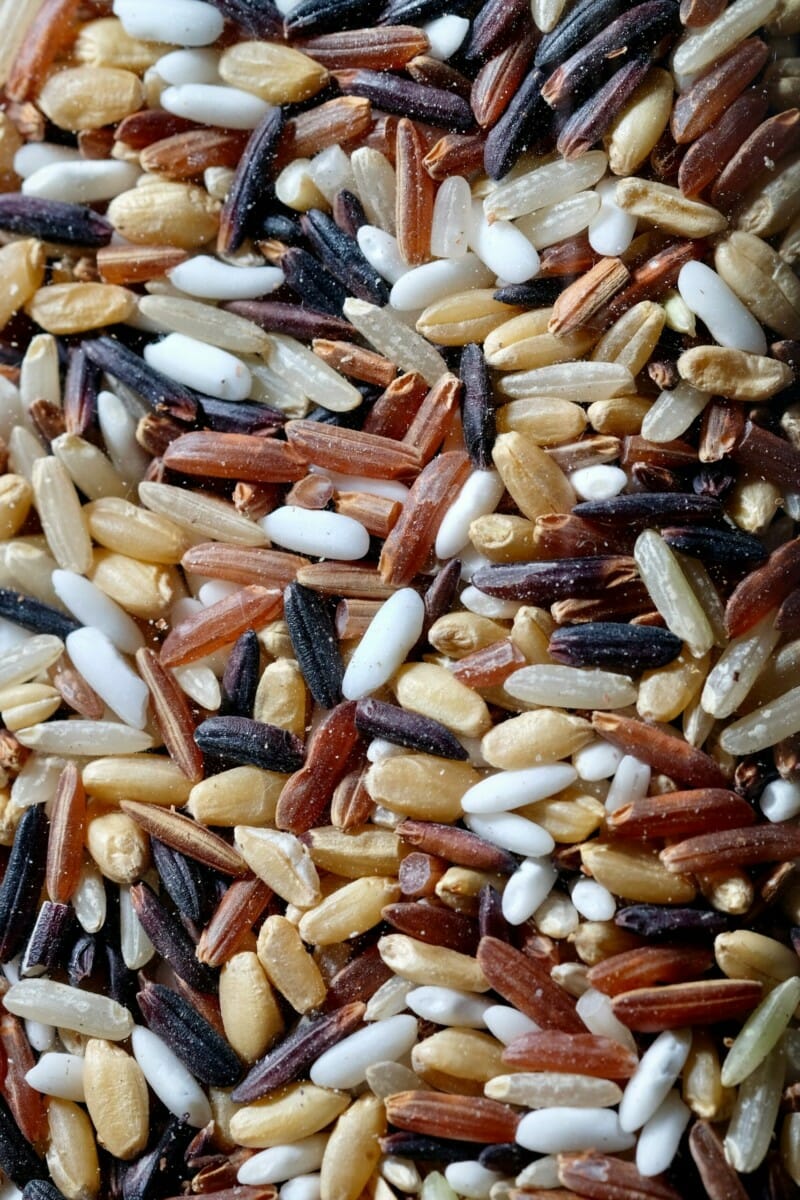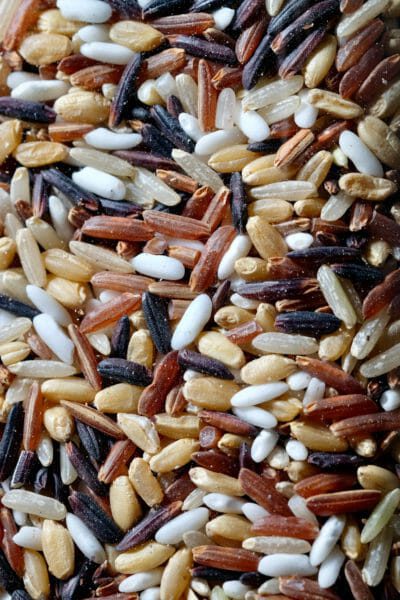 You may not be able to buy a mixed rice product such as the above. You almost certainly will be able to buy the individual components at a good supermarket. Just add them in equal portions. If you have a rice cooker, use brown rice proportions and settings (usually 1.5 cups water per cup of rice). For cooking mixed grain rice in a saucepan, use 2.5 cups of water per cup of rice.
White rice is not a common ingredient in delectabilia recipes. Black rice appears more frequently. There is the empty calories issue, but also black, brown, and red rice are just so much tastier, and so perfectly suited to sake chazuke (in Japanese, salmon is しゃけ pronounced shaké, which is different from the drink, sake). 
The cured salmon
The curing of fish and meats has a long history in Europe, Scandinavia, and Asia. This food preservation process involves keeping the fish or meat packed in a mixture of salt and sugar. The curing process draws out the water content, retarding the growth of the microorganisms that cause decay.
The origins of sushi involved cured fish and rice as opposed to fresh fish. This technique originated in the rice fields of the Mekong Delta. Used to preserve the fish was a mix of vinegar, salt, and rice. See the recipe for fermented fish consommé for some pictures of fermented fish at a market and a great recipe that uses it.
This technique was adopted in Japan during the Yayoi period, 1,500 years ago. During this period large scale rice cultivation began. Narezushi, fermented fish pickled with rice, is the first documented form of sushi. It continued to evolve into what we enjoy today. Interestingly, vinegar is still used to flavour sushi rice.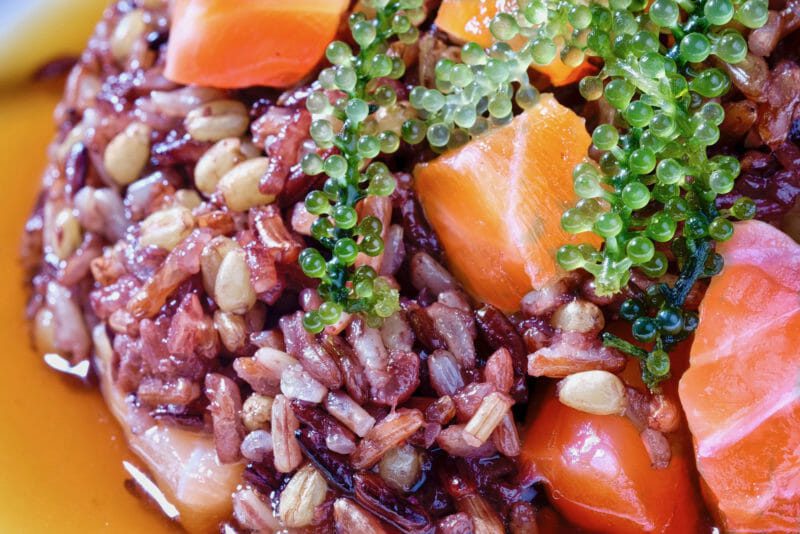 Salmon responds very well to the curing process. See other cured salmon dishes on delectabilia. Adding miso, mirin, and soy sauce to the essential curing ingredients of salt and sugar adds distinctive additional flavours as only the products of fermentation can. And as well as tasting great, miso cured salmon has this historical connection to the origins of sushi.
The tsuyu
Tsuyu is the result of seasoning dashi with soy sauce, mirin, and sake. This combination is similar to what you would get as a dipping sauce with tempura at a Japanese restaurant. Tsuyu provides the seasoning for two other popular dishes on delectabilia: this onsen tamago, and this agedashi dish.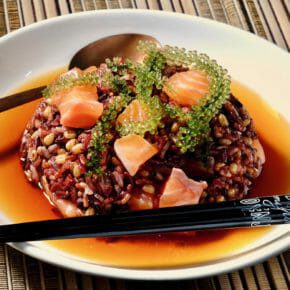 Mixed rice chazuke with miso cured salmon
Chazuke is a comfort food in Japan. Literally tea over rice. Here we swap out the white rice for a tasty mixed rice and stir through delectable miso cured salmon.
Print Recipe
Ingredients
Miso cured salmon
Mixed rice
2

cups

mixed rice

black rice, brown rice, red rice, and sticky rice. Or some similar combination.

5

cups

water for soaking

3

cups

water for cooking if using a rice cooker

5

cups

water for cooking if using a saucepan
Garnish
Instructions
Miso cured salmon (one day ahead)
Combine the curing ingredients.

Smear the cure all around the salmon and wrap in plastic wrap.

Place the wrapped salmon on tray or plate and place in the refrigerator. Liquids will be expelled from the salmon, so ensure the tray or plate contains them.

Cure the salmon for 24 hours. Best not go longer than that as it can become too salty. Wash off the cure, dry, then rewrap in plastic wrap and place back into the refrigerator until needed.
Mixed rice
Wash the rice until the washing water runs clear.

Pre-soak the rice in the 5 cups water for a minimum of 3 hours, or as long as overnight.

Rice cooker: use the setting for brown rice.

Saucepan: Put the rice and water into a saucepan and bring to the boil. Cover, reduce the heat to low, and simmer for 45 minutes. If all the water hasn't been absorbed, cover again and continue cooking over a low heat for another 10-15 minutes.

Fluff up the rice, then keep covered until ready to serve so that it continues to steam.
Tsuyu
Combine the ingredients in a saucepan and bring up to a high simmer.

Simmer for 5 minutes to evaporate off the alcohol.

Remove from the heat.

Reheat if necessary before use.
Plating
Cut the skin from the salmon and then dice the salmon flesh into 10-15mm square pieces.

Toss the cubed salmon together with the rice.

Add a "bowl" of mixed rice and salmon to a high sided plate.

Pour in some tsuyu.

Top with sea grapes or something else visually and taste appropriate.