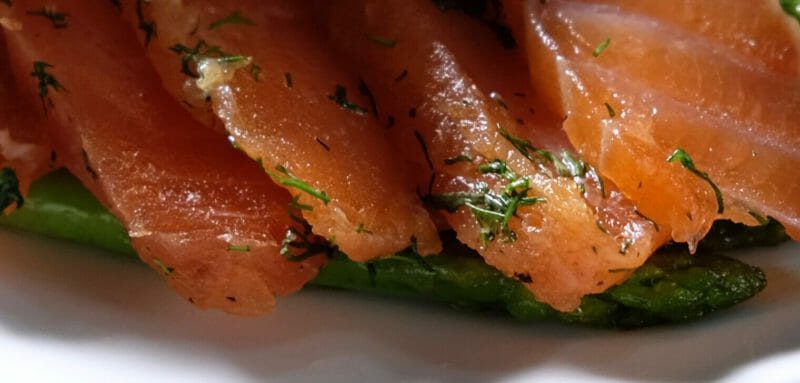 Gravlax has its origins in Scandinavia in the Middle Ages where it was used as a way to preserve the salmon. The citrus, gin, and star anise add new layers of flavour to what can be achieved with the basic curing process.
You will find many methods and ingredients for preparing cured salmon. This is my preferred method, at least at the time of writing! I will continue to experiment with different curing, spice, and flavour combinations. You should too.
Speaking of alternatives, here is a recipe for salmon cured in a mixture featuring beetroot. The beetroot imparted a beautiful ruby colour, as well as its characteristic sweetness.
If you have not prepared salmon in this way before, perhaps start with this simple Swedish recipe. Here the salmon is simply cured in salt and sugar, and flavored with some pepper and dill. You will then have a base-line with which to compare versions with more complex flavour profiles.
This salmon preparation is great to eat on its own. Or, serve in a dish such as this pumpernickel topped with asparagus in a white wine sauce, citrus cured salmon, and quail eggs. Or simply smear on some crème fraîche for a delicious hors d'oeuvre.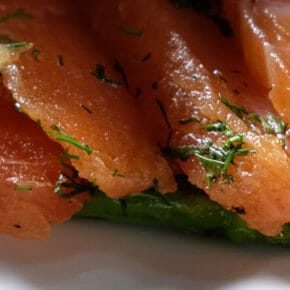 Citrus Cured Salmon
Print Recipe
Ingredients
2

kg

salmon. Ideally 2 cuts the same size and thickness.

2

star anise

1

Tbsp

juniper berries

1

Tbsp

black pepper

1

Tbsp

fennel seeds

4

Tbsp

gin

1/2

cup

raw sugar

1/2

cup

rock salt

Zest and juice of one lime

Zest of one orange
Instructions
Grind the star anise, juniper berries, black pepper, fennel seeds, and rock salt to a powder.

Put in a bowl and add raw sugar, lime and orange zest, lime juice, and gin. Mix well.

Spread some of the curing mix on to plastic wrap. Add two salmon fillets, side by side, skin side down.

Top both fillets with curing mix. add a generous layer of fresh dill to one of the fillets.

Fold the fillet without the dill over the top of the one with the dill.

Seal in the plastic wrap.

Place wrap in a high sided tray and add another tray on top. Weigh with a couple of cans of something.

Refrigerate for 24 to 48 hours, turning every 6 or so.
Notes
After curing, wash off all the salt and spices under running water and dry with paper towels. Remove the skin with a sharp knife. Slice the salmon thinly across the grain before serving. Can be refrigerated for several days.