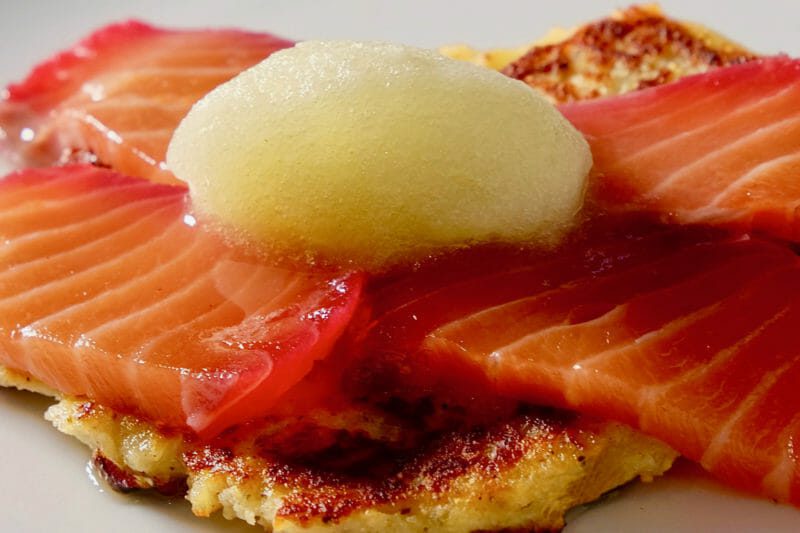 The velvety beetroot cured salmon looks so beautiful, almost like a jewel. That sparkle on top is a gin and cucumber sorbet. It contributes a cool fresh sensation to balance the richness of the beet cured salmon. A potato pancake forms the foundation of this delicious combo.
Each of the three components of this dish are quite special in their own individual way. Even the potato pancakes. They are made in a similar way to gnocchi. It is very light on the inside yet satisfyingly crisp on the surface. The use of a potato ricer to mash the potatoes is highly recommended. It really helps give the potato mixture a very light consistency.
Beet cured salmon or Beetroot cured salmon
The process of curing fish in salt to extend its "shelf life" dates back 5000 years. Salmon, being the very versatile ingredient that it is, responds to the curing process very well. Not only does cured salmon keep longer, but the process also concentrates its flavours and creates a wonderful velvety texture. Check out this citrus cured salmon and this miso cured salmon for alternative styles of cured salmon.
Adding grated beetroot to the curing mixture adds more to the look of the beetroot cured salmon than it does to the taste. There is some residual beetroot flavour, but it is more about the beautiful ruby red colour that seeps in from the surface of the salmon.
Gin and cucumber sorbet
The cucumber, fennel, and gin sorbet is an adaption of a Martha Stewart recipe. I substituted the celery in that recipe with fennel, as the anise flavour of fennel goes so well with cured salmon. If you can source it, I strongly recommend using Hendricks Gin. According to its web site, Hendricks is "A Gin Made Oddly". Among the ingredients is cucumber. This somehow allows it to integrate well with cucumber as a cocktail and as a sorbet component. Try a cucumber martini made with Hendricks. Wonderful. Whether or not you make this recipe or drink a Hendicks gin cocktail, be sure to visit their web site. It is one of the best product sites around.
This dish makes an interesting appetiser, yet easily scales and would make a great lunch or main if served with a salad.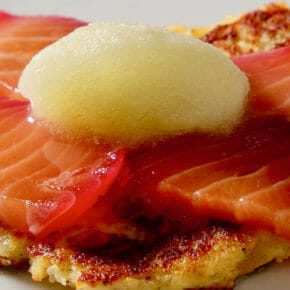 Gin cucumber sorbet on beetroot cured salmon
Servings:
8
people as an appetiser
The velvety beet cured salmon looks so beautiful, almost like a jewel. That sparkle on top is a gin and cucumber sorbet. It contributes a cool fresh sensation to balance the richness of the cured salmon. A potato pancake forms the foundation of this delicious combo.
Print Recipe
Ingredients
Beetroot cured salmon
1

large fillet of salmon

500g, consistent thickness, skin on

1

Tbsp

coriander seeds

1

Tbsp

fennel seeds

1

tsp

black pepper

1/2

cup

salt

1/2

cup

sugar

2

limes grated rind only

or zest of a couple of oranges

1

cup

beetroot

cooked, peeled, and grated
Cucumber fennel and gin sorbet
2

large cucumbers

2

Tbsp

lime juice

1

bulb fennel

1

sprig parsley

1/3

cup

raw sugar

2/3

cup

water

2

Tbsp

gin

see comments above
Potato pancakes
2

cups

mashed potato

6 medium potatoes or 3 large ones. Yukon Golds preferred

1

Tbsp

olive oil

2

eggs

lightly whisked

1

Tbsp

crème fraîche

or sour cream or Greek yogurt

1/2

cup

parmesan cheese

finely grated

1/3

cup

all purpose flour

1 1/2

tsp

salt

1/2

tsp

freshly ground black pepper
Instructions
Beetroot cured salmon
Wash around 4-5 medium beetroot, wrap in foil with a little olive oil, and roast for an hour at 200 degC. Alternatively, boil for 30 minutes.

When cool, slide the skins off the beetroot and grate.

Crush the coriander seeds with a mortar and pestle.

Grate the rind from the oranges.

In a bowl, combine the sugar, salt, coriander seeds, orange rind, pepper, and grated beetroot.

Lay the salmon fillet on a suitably sized tray, skin side down.

Pour the curing mixture on top of the salmon and distribute evenly.

Cover the salmon with some plastic wrap.

Put another suitably sized plate or tray on top of the salmon and way it down with something heavy (like a saucepan or a couple of cans of something). This will help press the moisture from the salmon.

Leave in the refrigerator for 48 hours.

Wash off the curing mixture and pat dry with paper towels.
Cucumber fennel and gin sorbet
Wash and finely dice the fennel bulb, green stalks and leafy bits included.

Add the sugar and water to a saucepan and bring to the boil.

Stir in the fennel, remove from the heat, and allow to cool.

When cool, strain the fennel from syrup and discard the fennel.

Peel, de-seed, and chop the cucumbers. Add the cucumbers to a blender together with the syrup, lime juice, and gin. Blend until smooth.

Pour the mixture into a bowl, cover with plastic wrap, and refrigerate until well chilled (1 to 2 hours).

Add the cucumber mixture to an ice cream maker and process according to the unit's instructions. If you have the cheaper variety, you will need to have put the ice cream maker bowl into the freezer 24 hours earlier.

After churning in the ice cream maker, transfer to a suitable container with a lid (wide and flat rather than tall and deep) and put in the freezer for at least 2 hours.
Potato pancakes
Pre-heat the oven to 180 degC.

Wash the potatoes, keeping the skin on.

Pat the potatoes dry, smear with olive oil and sprinkle with salt.

Pierce the potatoes a few times with a fork. This will allow steam to escape.

Bake the potatoes in the oven until done, about 50 minutes. They are done when piercing with a knife offers no resistance.

When the potatoes have cooled off a little, half them length wise and scoop out the flesh.

Use a potato ricer to mash the potato flesh. Alternatively, use a normal potato masher. Or even a fork. A potato ricer makes the lightest fluffiest pancakes.

Stir in the whisked eggs, flour, crème fraîche, 1/2 tsp salt, pepper, and parmesan.

Bring a skillet to a medium high heat and add the oil.

Drop in the pancake mixture, 2-3 Tbsp per pancake.

Cook until golden and crisp on the bottom, then turn over and do the other side.

Drain on paper towels.
Plating
Slice the salmon very thinly, leaving the skin behind.

Lay some salmon slices on top of a potato pancake.

Spoon some cucumber sorbet on to the salmon.