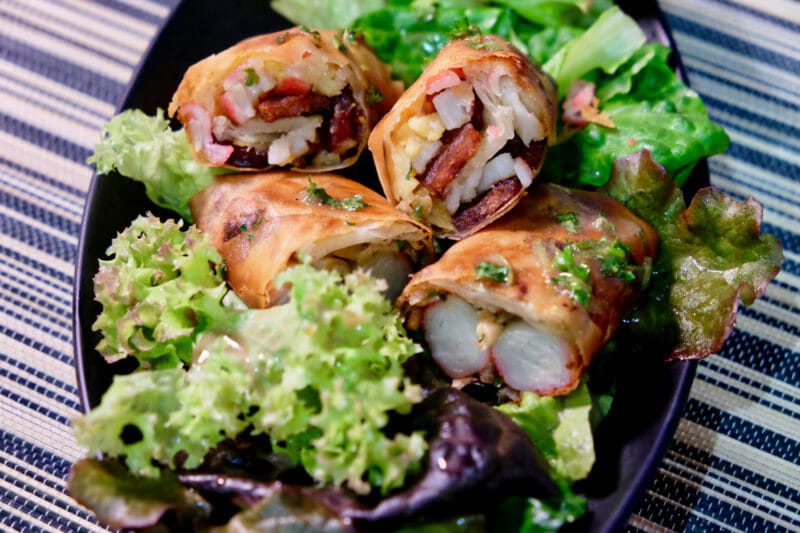 Spring rolls feature significantly in cuisines across South East Asian. The fillings vary considerably by location. Taking that as my cue, these crab surimi spring rolls are in their own category or deliciousness.
If your only experience of spring rolls is from a Chinese Takeaway, you need to bury that deep in the memory archives, better yet, purge it altogether. Spring rolls are truly wonderful. While inspired by the spring rolls found across South East Asia, especially Vietnamese spring rolls, the ingredients in these two fillings deviate from those typical in Asia. Yet, they are most certainly Asian inspired.
There are so many combinations of ingredients that would result in delicious spring rolls. I will continue to experiment as I hope you do too. I am sharing these crab surimi spring rolls now because they did work so well. The crab surimi and chinese sausage worked particularly well together.
Also take a look at these mussel spring rolls. So different, yet also so very delicious. The chilli jam topping in that recipe would also work here.
You will be able to find spring roll wrappers at a local asian market, probably frozen. Thaw them out, prepare the fillings, then wrap as per the guide in the recipe…
Spring rolls – crab surimi, chinese sausage, and chick peas; crab surimi, caramelised fennel, and black garlic
Print Recipe
Ingredients
20

crab surimi sticks

3

bulbs fennel

150

g

enoki mushrooms

2

onions

4

chinese sausages

1/2

cup

cooked chick peas

4

cloves

black garlic

optional

mixed green leaf salad
Instructions
Crab surimi, caramelised fennel, and black garlic spring rolls…
Dice the fennel root and onions.

Saute over a low heat until caramelized, about 20 minutes.

Trim the stalky parts of the evoke mushrooms, then chop into 10mm pieces.

Saute the enoke mushrooms in 10 g butter until station to brown (about 10 minutes)

Peel the garlic cloves and cut into 1/8th's.

Gently combine the caramelised fennel, mushrooms, and black garlic.

Lay out a spring roll wrap in a diamond orientation.

Put a couple of crab sticks in the centre, then top with some of the fennel, mushroom, black garlic mixture.

Wrap according to this photo.
Crab surimi, chinese sausage, and chick pea spring rolls…
Cut the chinese sausages into rounds, 3-4mm thick.

Saute in vegetable oil until starting to brown. Remove from heat.

Saute the chinese sausage over a medium heat until some of its fat has rendered,

Remove from oil and drain on paper towels.

Chop the crab surimi into similar sized pieced as the chinese sausage.

Mash the chick peas with a fork.

Gently combine the sautéed chinese sausage, chopped crab sticks, and mashed chick peas.

Wrap according to this photo.
Cook the spring roles
Fry spring rolls in hot oil until lightly brown.

Allow to drain and cool on paper towels for 10 minutes.
Notes
Serve with a green salad.