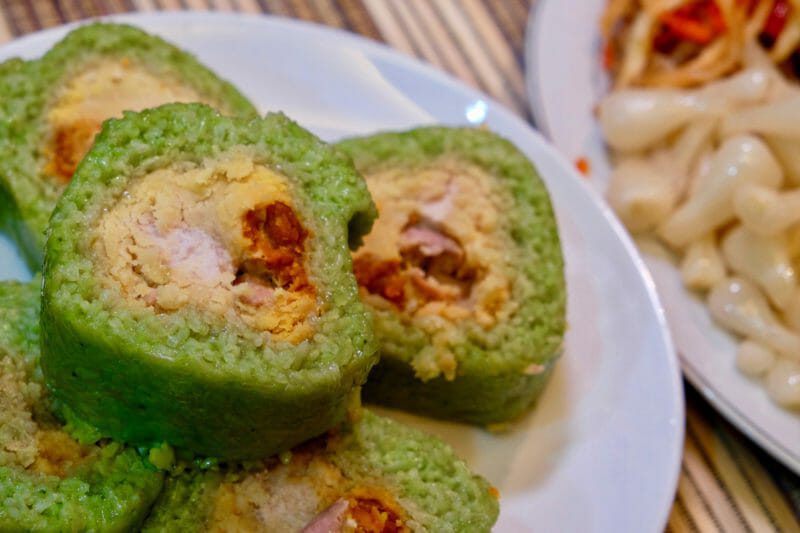 The Lunar New Year, or Tét in Vietnamese, is a time for shutting up shop and eating and drinking with family and friends. With the markets all closed, there is a need for food that will keep for up to a week in Vietnam's heat. So, presented here are two of those foods – bánh tết and chả.
Bánh Tết
The picture below is of bánh tết with some traditional condiments. Bánh tết is similar to bánh chưng but made into a cylindrical shape. The bánh tết in these photographs consists to glutinous rice coloured by soaking in green vegetable water, mung bean paste, pork meat and fat, and salted egg yolk. In addition, to the side are various pickles, dried shrimp, and 1000 year old eggs.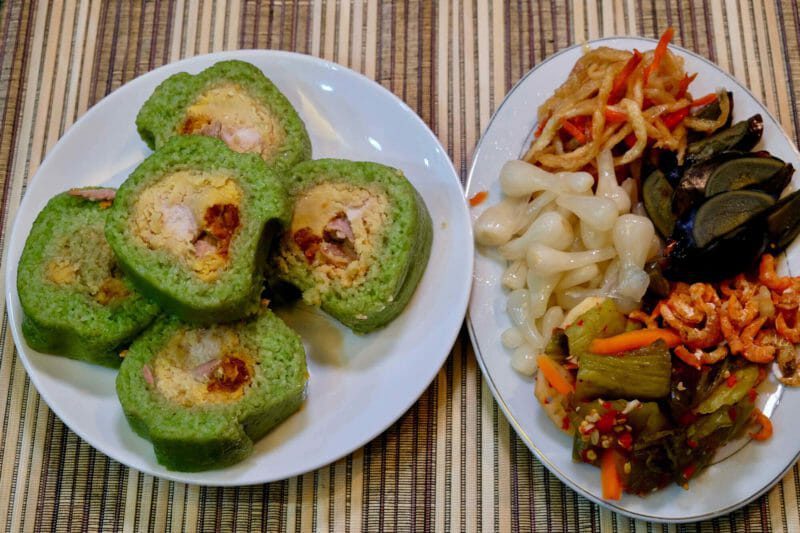 To learn more about how bánh tết is made, this video will be useful…
Chả
There are many examples of how French cuisine influenced Vietnamese cuisine. One of those is cold cuts or meat loaves, chả in Vietnamese. There are three different varieties in the image below.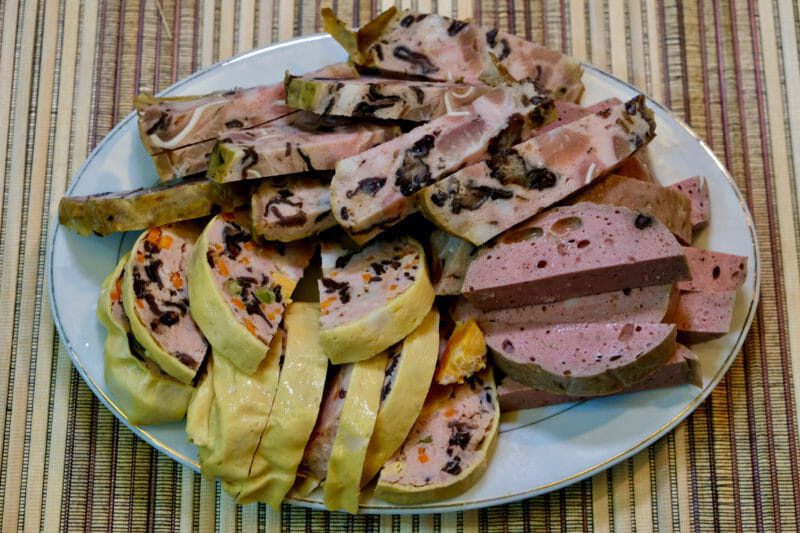 Top: Vietnamese head cheese (giò thủ) consisting of wood ear mushrooms, pigs ear, snout, and tongue. Nice video of how it can be made at home, should you be so inclined…
Lower left: This colourful roll goes by the name of chả trứng muối ngũ sắc,  or colourful salted egg roll. Ingredients include carrots, peas, wood ear mushrooms, salted egg,  ground pork and fish. Certainly, this was my favorite of this selection. For more on this, here is a video of how it is made, in Vietnamese with English subs…
Lower right: a ground beef meat loaf, chả bò, similar to a beef bologna, with a lot of ground black pepper. This is similar to the ubiquitous Vietnamese pork roll, or chả lụa, as commonly used in Vietnamese banh mi. Further, this is a good video of how it is made here…
Vietnamese cuisine is so much more that phở and bánh mì. But like phở and bánh mì, many of Vietnam's tastiest treats, like the bánh tết and chả described here, draw on other great cuisines of the world. For example, this Vietnamese curry.