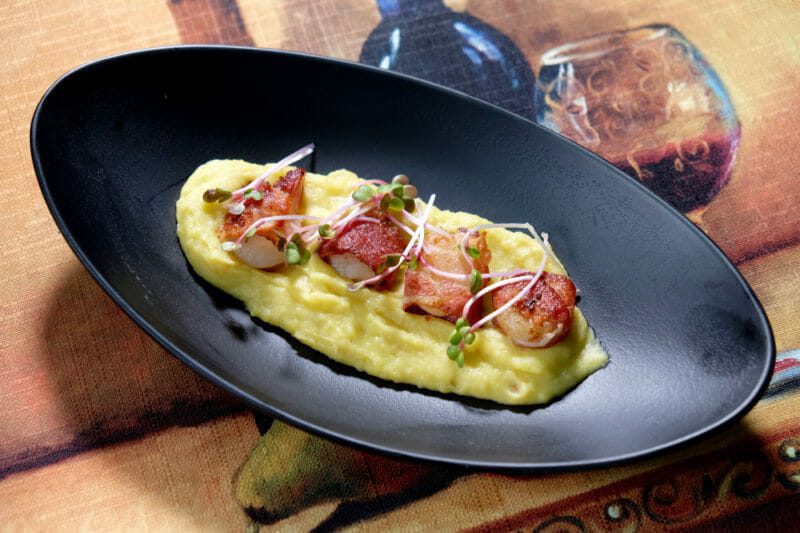 Pairing seafood and meat – surf and turf – has long been a thing. Scallops and cured meat are particularly complementary. These pancetta wrapped scallops were delicious. And the sweet potato truffle puree made them even more delicious.
You may have already had bacon wrapped around a prawn as finger food at a function or several. This recipe is a more refined version of that classic combination. Bacon would overpower scallops, and I love scallops so didn't want this to happen. Pancetta is a milder and much more interesting relation of bacon. Prosciutto or speck would also work. This speck wrapped asparagus was particularly good.
And the other thing missing from those "bacon-prawn" experiences was a complimentary base. The sweet potato and truffle oil puree delivers a sweet earthy foundation to the salty sweetness of the scallops wrapped in pancetta. Scooping up some sweet potato with a scallop makes for a very satisfying mouthful.
The flavour of truffle contributes a wonderful earthiness. Using actual truffles is a luxury most of us do not have. Truffle oil still delivers the earthy flavour, with a slightly more affordable price tag. Beware though, not all truffle oils are infused with actual truffle, but instead have a chemical recreation of that distinct flavour. This New York Times article goes into the issue in some depth.
The recipe and photo indicates 4 scallops per person. Depending on how heavy/rich the main course to follow is, you could reduce that to two scallops. On the other hand, if you are making this as a tapas dish, four scallops works well.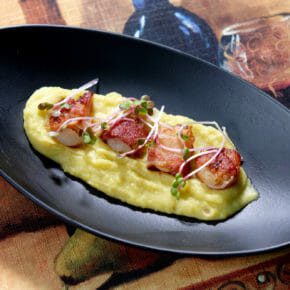 Scallops wrapped in pancetta on a sweet potato truffle puree
Print Recipe
Ingredients
16

scallops

100

g

pancetta

2

large sweet potatoes

1

Tbsp

truffle oil

Radish sprouts or similar ganish
Instructions
Boil the sweet potatoes until very tender. Drain and allow to cool a little. Mash.

Add truffle oil, salt and pepper to the sweet potato mash. Blend until smooth, or force through a fine sieve.

Wrap each scallop in a piece of pancetta.

Saute in olive oil over medium high heat until pancetta starts getting crispy.

Serve on the sweet potato truffle puree, and top with some sprouts