A rich and hearty soup, chowder comes in many variations. The magic of miso adds a layer of deliciousness to this clam chowder, making it quite distinctive. It has that hearty seaside character, but with an extra special something.
Inspirations
A recipe sheet picked up at a specialist miso producer, Soybean Farm, in the Kichijoji district of Tokyo led to the creation of this dish. As well as producing a wide range of miso styles, the owner of the store, Mr Tsuchihira, tries to give people ideas on how to use miso in different cuisines, including western-style dishes. I just had to try adding miso to clam chowder.
This recipe deviates from the classic, not just with the addition of miso. The use of dashi as a soup base further enhances the ensemble of flavours in this soup. Using sake instead of white wine is another. If you are a sake lover, you will know why that is a good idea. If not, start here.
The Origin of Clam Chowder
Chowders, essentially soups containing milk or cream and thickened with potato, originated in French and English cuisines. The colonial expansion of those European nations introduced this style to the North American north-east. Clams were abundant in this region, leading to the most famous of clam chowders, the New England clam chowder.
New York added tomato to the creamy chowder. This was a unique and somewhat contentious move. The result: Manhatten clam chowder. The West Coast didn't stray as far from the original. San Francisco clam chowder is genuinely delicious. You will find the best San Fransisco clam chowders around Fisherman's Wharf – where I personally first experienced the North American clam chowder style.
However, eating shellfish in a hearty and creamy soup was not new to me. Introduced to New Zealand in the 1870s, clam chowder found a natural home there. Often pipi's got used instead of clams. Pipi's are a similar though somewhat stronger-tasting shellfish indigenous to New Zealand. Lots of fond memories of pipi chowder on a cold winter day.
While clams work well in this style of soup, so does corn. Check out this roasted corn and miso chowder for a delicious vegetarian version of this classic style.
Two Tips for Making a Great Clam Chowder
Use fresh clams. However, sourcing fresh clams will be impractical for many. So alternatively, use fresh shelled clams packaged in their juices. Such a product is what I used for this recipe. As a last but still perfectly satisfactory option, use canned clams.
Some chowder recipes use potatoes to thicken the soup. This recipe includes sweet potatoes, but they are there more to contribute flavour than as a method of thickening. Thickening of the chowder is achieved in two ways. First using a roux, and second by whisking in an egg yolk. I am not a fan of soups and chowders that are too thick. A thinner soup allows you to taste so much more of it. The egg yolk ensures you still have a wonderfully creamy mouth feel.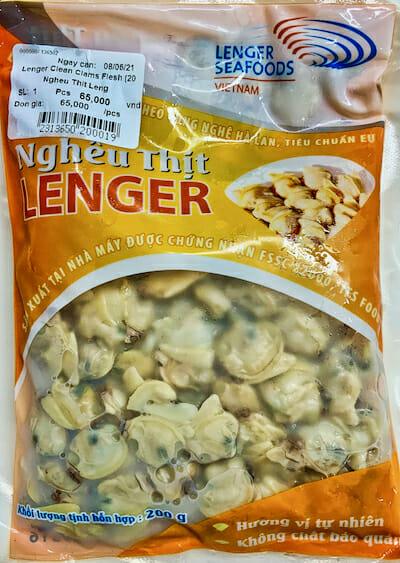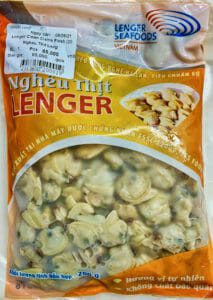 Everything is Better With Butter Miso
Miso, essentially, is fermented soybeans. The soybeans get mixed with salt and koji-inoculated rice, barley, or rye. This mixture is left to ferment for months – the longer the fermentation, the deeper the flavour. Packed with umami, a savoury, earthy taste that enhances any flavours it gets combined with, miso is something you need in your refrigerator.
Not only does it enhance flavour, but the nutrients and probiotics in miso make it particularly healthy (though be aware of the salt content). It sounds like something we should be eating more often, and indeed we do.
Shiso Oil
A member of the mint family native to the mountainous regions of Vietnam, China and India, shiso is now found worldwide. Shiso, its Japanese name, is also known as perilla, Chinese mint, and beefsteak plant. It has a refreshing flavour not dissimilar to mint and basil with hints of cumin. It provides a delicious counterpoint to the miso clam chowder.
Making the shiso oil needs to start a day ahead as it will take some time to drip through the coffee filter. What you get is a transparent, bright green, and fragrant oil.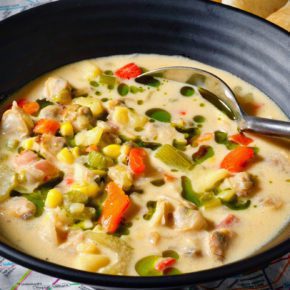 Miso Clam Chowder with Shiso Oil
A rich and hearty soup, chowder comes in many variations. The magic of miso adds a layer of deliciousness to this clam chowder, making it quite distinctive. It has that hearty seaside character, but with an extra special something.
Print Recipe
Ingredients
Shiso oil (1 day ahead)
10

shiso leaves

150

ml

grapeseed oil

or other neutral tasting oil like canola

Coffee filters
Miso clam chowder
20

g

butter

100

g

onion, diced

100

g

celery, diced

100

g

smoked bacon lardons

100

g

corn kernels

4

cloves

garlic, crushed

2

Tbsp

flour

100

ml

sake

700

ml

dashi

350

g

clams, shelled and washed to remove any sand. Ideally purchase a pack of shelled rinsed clams in their own juice.

100

g

sweet potato, peeled and diced into 1×1 cm cubes

150

ml

cooking cream

1

egg yolk

100

g

shiro miso

white miso

1

tsp

freshly ground pepper

1

Tbsp

fish sauce

salt to taste
Instructions
Shiso oil (prepare one day ahead)
Bring a saucepan of water to the boil.

Have a bowl of ice water ready.

Blanch the shiso leaves in the boiling water for 15 seconds.

Plunge the blanched shiso into the iced water to cool.

Blend the blanched shiso and grapeseed oil in a blender until smooth.

Place a coffee filter(s) over a strainer and bowl. Strain the blended mixture overnight.
Miso clam chowder
In a heavy based saucepan or high-sided skillet, sauté the bacon until starting to brown.

Add the onion, corn kernels, and celery and sauté until the onion softens and the corn kernels go bright yellow.

Add the garlic and sauté for a minute or two longer.

Sprinkle in the flour and stir so that it forms a paste around the sautéed ingredients.

Slowly add the sake and the dashi, stirring constantly. The soup should have the consistency of heavy cream.

Add the clams, clam juices, and the potato cubes and simmer until the potato is cooked, about 10 – 15 minutes.

Whisk the miso and egg yolk into the cooking cream, ensuring there are no lumps.

Add the pepper, fish sauce, and cream mixture to the soup.

Simmer for around 5 minutes for the flavours to meld and the soup to thicken. Not too long though, as the miso will lose its magic.

Taste to determine if more salt is required. It will depend on how much salt the bacon and miso contributed.

Serve topped with a drizzle of shiso oil.